Browser outdated: Flight search is not supported in IE version 10 or lesser. Please visit malaysiaairlines.com with supported browser.

Browser update: Please use Microsoft edge for better experience.
Flight search is not supported in IE version 10 or lesser. Please visit malaysiaairlines.com with supported browser.
Please use Microsoft edge for better experience.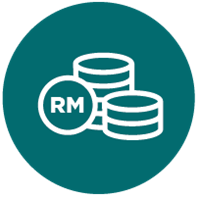 Economic
Profitability and Resilience
Our brand and what we are known for - quality, reliability, performance, convenience, and innovation. Hence, placing ourselves in the shoes of our passengers' and customers' and to identify how the sustainability case can be made better for one or more of them.
| Sustainability Matters | Description |
| --- | --- |
| Direct and Indirect Economic Benefits | Direct economic impacts are often measured as the value of transactions between our organisation and its stakeholders, while indirect economic impacts are the results – sometimes non-monetary – of the transaction. |
| Cyber Risk Management | Managing cyber risk effectively is a complex operation that would require MAG to adopt a multidisciplinary and multifunctional approach to ensure that all aspects of cyber risks are effectively monitored. |
| Branding and Customers | Our attentiveness and efforts to continuously enhance our service quality to our customers and brand perception in our key markets. |
| Business Continuity | As a global service provider, it is imperative for us to continuously enhance our capabilities to respond swiftly and ensure continuity of critical business functions and processes in the event of a disruptive incident, crisis or disaster. |
| Efficient Operations | The consideration of Economic, Environmental and Social aspects across our core business operations (including procurement practices, fleet management, quality assurance, etc.) and our ability to remain profitable. |
Direct and Indirect Economic Benefits
Malaysia Aviation Group Flies in Malaysia's First Vaccines

MAG's cargo subsidiary MASkargo successfully flew in the first batch of COVID-19 vaccines to Malaysia. Over 300,000 doses of the Pfizer BioNTech vaccine were transported via a Passenger-to-Cargo (P2C) flight utilising the Airbus 330-300 aircraft in close collaboration with the Ministry of Science, Technology & Innovation, Ministry of Transport, Ministry of Health, Pfizer and DHL Express.
Malaysia Airlines' Refreshed B737-800NG Aircraft

Malaysia Airlines unveiled its newly refreshed B737-800 NG aircraft, which boasts a new and premium cabin experience with truly unique features including new seats, innovative in-flight entertainment – MHstudio, and refurbished interior that pays homage to Malaysian identity from the moment they board the flight.
The all-new features of the refreshed B737-800 NG fleet will reduce carbon footprint from the reduction of the weight of each aircraft - with the much lighter seats, use of soft cabin dividers and moving away from seatback screens to offer innovative in-flight entertainment features allowing for wireless streaming on board for passenger convenience. All these efforts will improve aircraft fuel burn per passengers by 8%, resulting in a lower carbon footprint on the planet.
MASkargo Lends Support in Sending Medical Supplies to Wuhan
MASkargo uplifted disposable medical protective gear for use at various hospitals across the Hubei province in China via flight MH386 from Kuala Lumpur to Shanghai Pudong. This is in collaboration with local relief organisation #OpsHarapan in light of the Novel Coronavirus outbreak in Wuhan.
Flies Intubation Boxes for Charity Project
In 2020, MASkargo uplifted a number of intubation boxes for frontliners in government hospitals as part of an initiative called The Acrylic Intubation Box Charity Project by a group of Anaesthetist doctors at the KPJ Rawang Specialist Hospital.
The intubation boxes were distributed to seven Government hospitals including Hospital Universiti Sains Malaysia, Kubang Kerian; Hospital Raja Perempuan Zainab II, Kota Bharu,; Hospital Sultanah Aminah, Johor Bahru; Hospital Queen Elizabeth, Kota Kinabalu; Hospital Umum Sarawak, Kuching; Hospital Melaka and Hospital UITM Selayang.
MASkargo Flies Humanitarian Aid to Da Nang
Despite the travel restrictions and closure of international borders, MASkargo were able to continue delivering essential services by flying more than 30 tonnes of humanitarian aid to the Da Nang International Airport in Vietnam. Flight MH7982 utilised the A330-300 passenger aircraft that departed from Kuala Lumpur to Da Nang.
MAB Engineering Go Digital with AMOS

One notable achievement in this area is that the MAB Engineering's Skywise team won awards in 2019 for innovation. The AMOS software eliminated dependencies on multiple legacy systems and excel sheets which resulted to significant improvements for our Engineering and Maintenance team's productivity including through:
Efficiency / Visibility - One platform for all, giving transparency in operation (transaction/data/records) thus eliminating working in silo.


Airworthiness control - Real time fleet tracker enabling faster decision-making processes.


Operational Control - Data is available at our fingertips allowing for proactive actions by focusing into root cause.


Financial Control - Single source of data for engineering financial calculation and eliminating complex interface.


Big Data – AMOS as a central data source, allowing for faster analytical output using Skywise platform.
Implementation of Electronic Flight Bag (EFB)
The Electronic Flight Bag (EFB) is a tool to help digitise key information for pilots, such as flight route optimisation, weather conditions, and fuel information as well as manuals and safety regulations. It supports pilots by optimising performance during flights towards safety, timeliness, and fuel efficiency, among others. iPads were distributed to our pilots in January 2020 as part of Flight Operations' digital initiative.Through this initiative, we were able to reduce 18kg and 22kg on our Narrow Body and Wide Body aircraft with the potential to increase to 28kg and 32kg respectively, ultimately decreasing the overall fuel consumption. Pilots are also able to access documents faster which reduces cockpit workload and risk of error.
AeroDarat Services (ADS) Goes Digital with e-AHAN, Above the Wing and Below the Wing Platform
Realising the need to enhance operational efficiency and reduce paper waste, ADS were able to digitise the Aircraft Handling Acknowledgement Note (AHAN) to e-AHAN, which improved accuracy in capturing ground handling services. Since the introduction of E-AHAN, ADS managed to improve 40 – 60% of its billing processing time through embracing digitisation initiatives.
ADS embarked another milestone on the digitisation of processes by introducing the Above the Wing Service Knowledge (ASK) Portal. ASK is mainly deployed to ADS customer airlines and improves the efficiency of reporting by 70%. Employees also have access to training, assessment and reference materials right at their fingertips.
Besides, ADS' in-house digital development team deployed the Below the Wings (BTW) Apps for its domestic operations, allowing them to digitise and consolidate more than 100 reports into 30 digital forms.