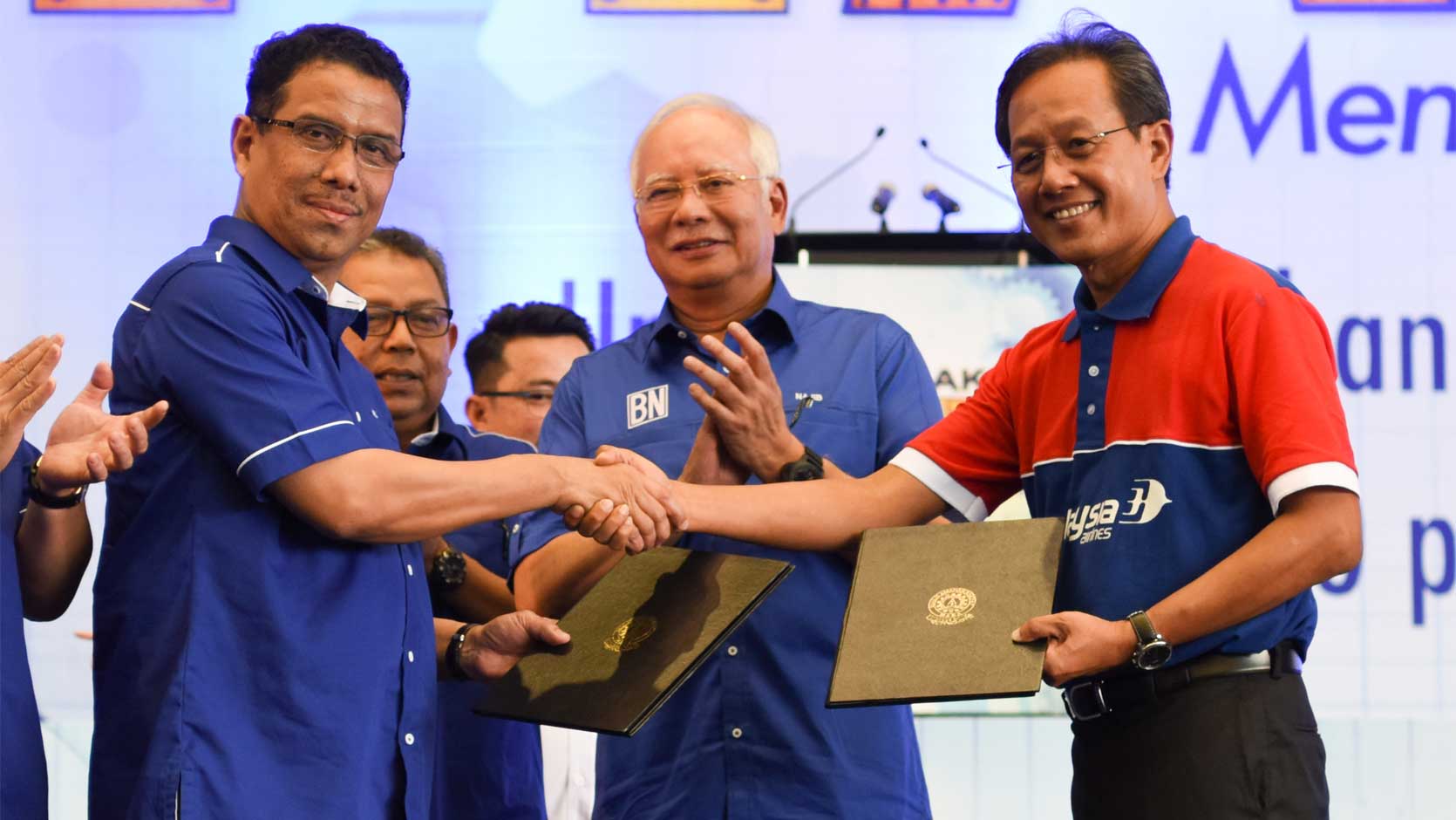 Malaysia Aviation Group (MAG) signs MoU with MARA
Shah Alam, 16 April 2018: Malaysia Aviation Group (MAG) signed a Memorandum of Understanding (MoU) with Majlis Amanah Rakyat (MARA) to provide cadets an option in financial funding assistance for the Group airline's cadet pilot training. The first group of cadets will be recruited from UniKL Malaysian Institute of Aviation Technology (MIAT) in Sepang.
The MoU was exchanged between Malaysia Aviation Group (MAG) Chief Executive Officer Izham Ismail and MARA Director General, Dato' Azhar Bin Abdul Manaf, witnessed by the Prime Minister of Malaysia Dato' Seri Najib Tun Razak, Malaysia Aviation Group Chairman Tan Sri Md Nor bin Yusof and MARA Chairman, Datuk Dr Awang Adek Hussin.
MAG Chief Executive Officer Izham Ismail said, "We are pleased to have MARA's support in funding future pilots for their training. This partnership gives us great opportunity to work together with MARA in developing and nurturing new generation of cadet pilots and talents who will be assured of a job within the Group's airlines upon completion of their courses."
"This move is pivotal as MAG continues to expand its operations and become profitable again," he added.
Through this collaboration, cadet pilots shortlisted by MAG would be funded by MARA for training at selected flying schools in Malaysia. The cadets will be trained further at Malaysia Airlines Berhad Academy (MAB Academy) in Subang, a premier regional aviation education hub which offers programmes covering all aspects of airline operations and management through its three schools: School of Flight Operations, School of Hospitality and School of General Aviation & Professional Development.

Upon completion of their programme, the cadets will be employed by Malaysia Airlines, Firefly or MASwings.