BUSINESS CLASS SPECIAL FARES FOR 2
Enjoy an exceptional offer from Malaysia Airlines with our special Business Class Companion deal to dazzling destinations when travelling in pairs.

Immerse yourself in the majestic skyline of Singapore, stroll along the stunning beaches of Phuket, discover the heritage city of Penang or go on an adventure in Auckland. 
The choice is yours. Don't miss our exceptional business class companion travel deal to dazzling destinations. To enjoy this special limited-time offer, book a flight for two using the promo code below.
USE CODE: FORTWO

Book: Now until 02 Sep 2018
Travel: 1 Jan - 31 Mar 2019
*Promo Code is case-sensitive
*limited availability on certain flights
Fly from London to

Business Class
Special return fares for two from GBP

Kuala Lumpur

3,578

Langkawi

3,489

Penang

3,489

Manila

3,315

Bali

3,729

Phuket

3,359

Singapore

3,469

Bangkok

3,505

Sydney

4,665

Auckland

5,049
More destinations on offer in Malaysia, Southeast Asia and Australia. Fares advertised may fluctuate due to the use of dynamic pricing owing to changes in currency exchange, fees and taxes.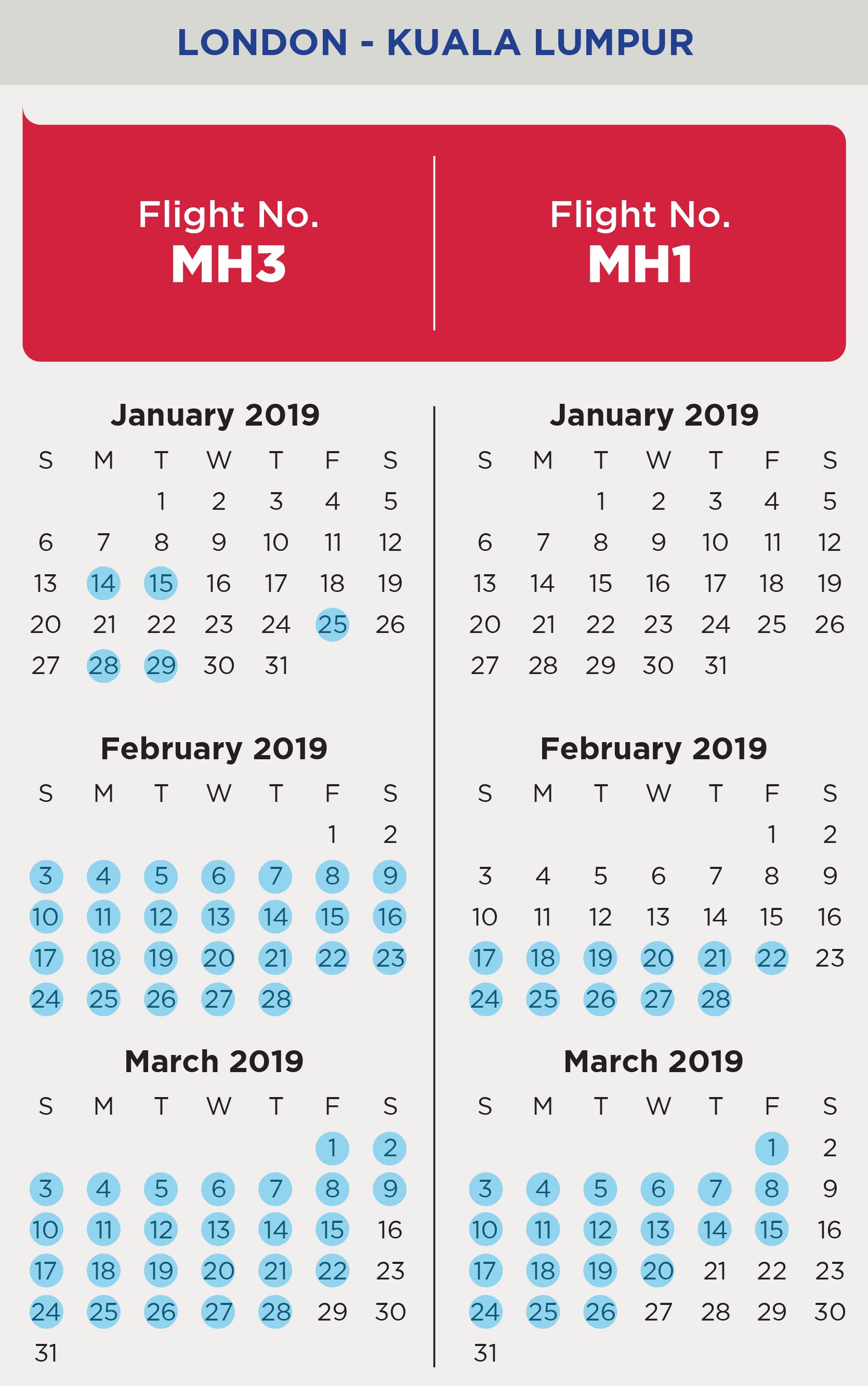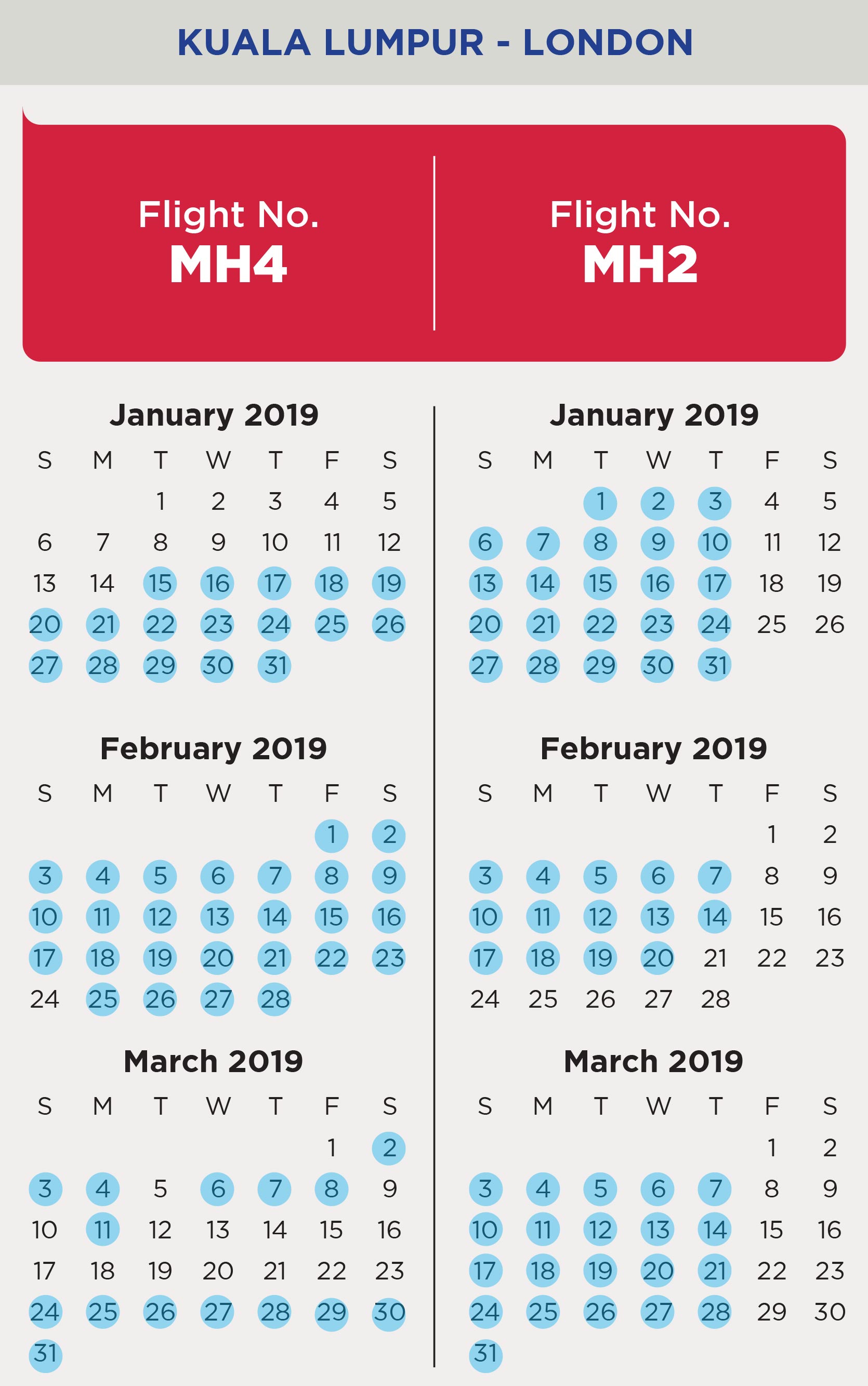 Recommended dates represent days with the higher probability of getting the promotional fares and may be subject to change due to availability and operational requirements.
1. On our booking widget, choose at least 2, 4, 6, or 8 passengers.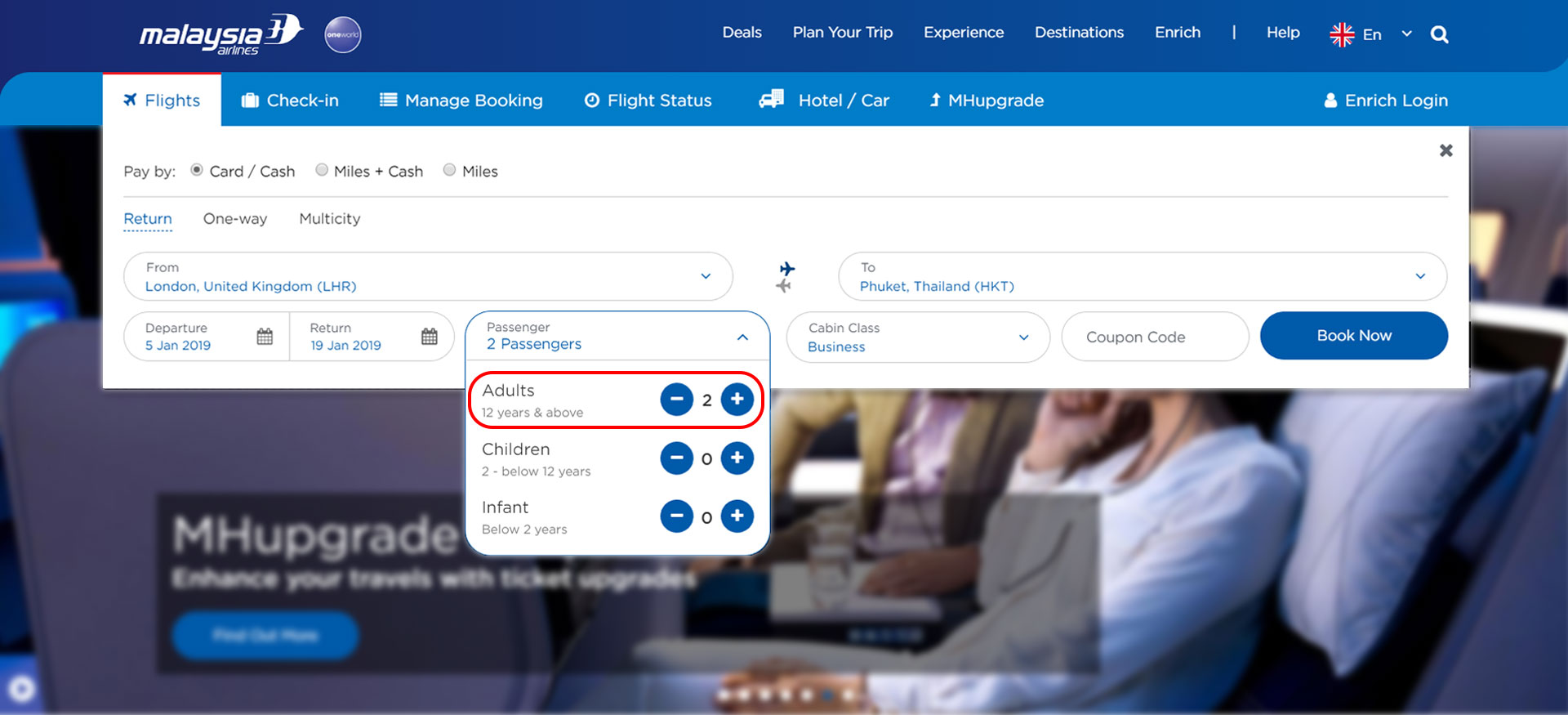 2. Choose Business Class as your cabin class.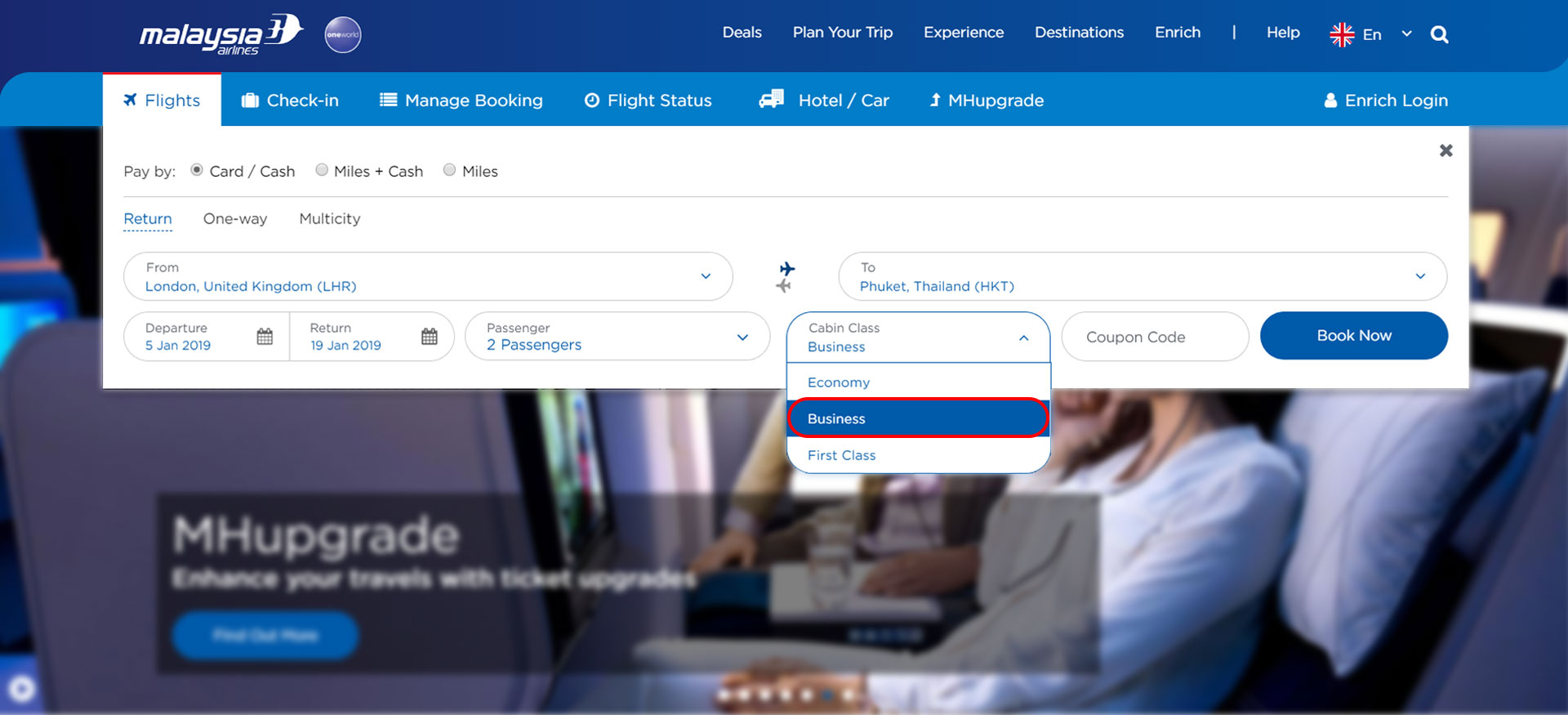 3. Enter FORTWO in the coupon code field (case sensitive).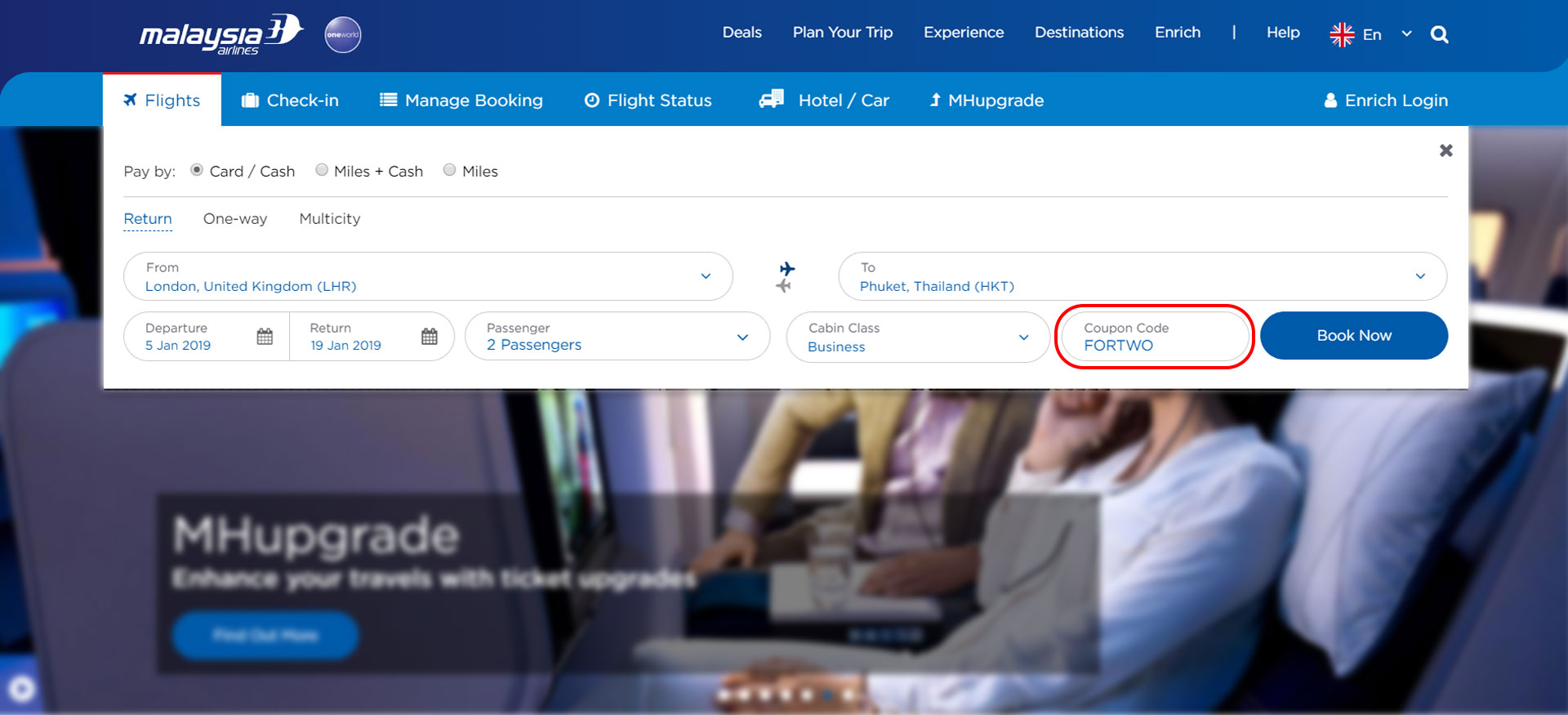 Terms & Conditions:

The coupon code "FORTWO" is case-sensitive. 
This promotion is not eligible for single-person travel. 

Booking must consists of 2, 4, 6 or 8 persons travelling together.
Applies to all offers:

Please read this information carefully because additional charges may apply to some flights. 
Fares are valid for sale until 02 Sep 2018. 
The travel period from 1 Jan till 31 Mar 2019.
Fares are for Business Class return travel for two persons, and include taxes and fuel surcharges, correct as at 02 Jul 2018. 
Prices subject to change and we reserve the right to alter or extend this offer without notice. 
Prices may fluctuate due to changes in currency exchange, fees & taxes. Fares are quoted in Great Britain Pound (GBP). 
Applies to Online bookings only and not available for bookings via Malaysia Airlines mobile app.
Limited seats available and may not be available on every day or flight throughout the travel period and subject to availability. 
Scheduling is subject to change. 
Codeshare flights NOT permitted. 
Baggage allowance for Business Class is 40 kg, on a through flight. 
Minimum stay for Business Class is 5 days.
Maximum stay for 3 months on all destinations.