Eat, travel, live, repeat with MHexplorer.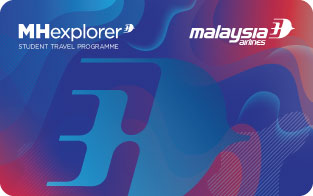 They say travel is best when you're young but as students, it doesn't always come easy. If you're constantly on the lookout for affordable and flexible travel options, MHexplorer is here to realise your travel dreams without breaking the bank!

A fully digitalised student travel programme, this product enhances your whole travel experience by bringing together a variety of benefits, making your trips even more convenient and memorable. Interested? Sign up as a member now and experience the world for all it's worth.
Grab:
Special discount when you book your ride with Grab
Hotlink Postpaid Flex:
Sign up with Hotlink Postpaid Flex Plus plan and receive a savings of RM120
Check-in Baggage:
Additional 10kg baggage
Frequent Flyer Programme:
Enrich Miles for Student Travel Programme
Complimentary Date Change:
One (1) date change allowed (Complimentary date change on admin fee, fare different shall apply)
Friends & Family Promo:
4x special offers annually for friends and family
Flight Discounts:
Up to 20% flight discounts all year round
1. MHexplorer programme is open to : 
Malaysian students from 13 - 17 years of age will only need to provide a copy of their Identification Card (IC).
All students 18 - 26 years of age will need to provide a confirmation letter or a valid student ID.
2. MHexplorer fares are available for outbound travel originating from all MH-operated flights: excluding codeshare flights to/from Jeddah and Madinah.
3. Bookings may only be made on www.malaysiaairlines.com/MHexplorer by MHexplorer members.
4. Bookings made through this program shall be classified under passenger type STUDENT.
5. Acceptable method of payment is Debit/Credit card only.
6. Applications shall be processed in fourteen (14) working days.
7. Malaysia Airlines reserves the right to approve or reject any application for this program.
8. Malaysia Airlines reserves the right to cancel booking or deny boarding if any abuse of the program or fraudulent being detected.
9. Other fare conditions and rules apply.
1.    This code only for MHexplorer member that has purchased ticket via MHexplorer portal to/from all cities in Malaysia covered by Grab from 15 April 2019 – 14 April 2020 and the voucher code need to be redeemed before first outbound of the purchased flight. 

2.    This promotion is only valid for GrabPay payments only.
3.    If the fare is less than the promo amount, there will be no reimbursement of the fare difference. If the fare is more than promo amount, the additional fare amount will be charged to the Grab user.
4.    A cancelled booking (either by passenger or driver) nullifies the promo entry.
5.    The promotion discount is only successfully redeemed once a relevant in-app message is received (after successfully being allocated a car by the system).
6.    All bookings must be made via the Grab App.
7.    Not valid with advance bookings.
8.    Not valid with other promotions.
9.    Monthly capped at 1000 rides only.
To register your interest, please follow the 3 easy steps below:
1.     Sign up or login to your MHexplorer account.
2.     In the Home Page, look for "Hotlink Postpaid Flex" promo banner and tap on "Sign Up Now".
3.     Fill in your contact details and you'll be contacted within 7 working days to complete the sign up process.
Hotlink Postpaid Flex MHexplorer Promotion ("Promotion") Terms & Condition [Version: 23 April 2019]
1.     Hotlink Postpaid Flex offers the convenience of postpaid and control of prepaid, with flexible Internet plans on the No.1 4G network.
2.     The standard Hotlink Postpaid Flex Plus plan offers the best value with 10GB high-speed Internet and Unlimited Calls & Text to all networks for RM60 per month.
3.     The Promotion: If you are a MHexplorer member, sign up with Hotlink Postpaid Flex Plus plan and receive a RM10 rebate per month for 12 months.
4.     You: MHexplorer members signing up for the Promotion.
5.     Promotion Availability: 24 April 2019 until further notice.
6.     This Promotion shall only apply if you subscribe to the Hotlink Postpaid Flex Plus plan ("Plan").
7.     By subscribing to this Promotion, you will receive a RM10 rebate per month for 12 months on the Plan.
8.     This Promotion and use of the Service(s) is subject to the General Terms & Conditions ("GTC"), Service Specific Terms & Conditions ("SSTC"), Maxis Fair Usage Policy and any other applicable terms and conditions, all www.maxis.com.my/FUP and www.maxis.com.my/tnc/personal
9.     Capitalised terms herein have the same meaning as defined in the GTC.
10.   Any conflict or inconsistency between this SSTC, the GTC and Summary Terms and Conditions ("STC"), shall be construed in the following order of precedence: (a) SSTC; (b) GTC; and (c) STC.
11.   We reserve the rights without liability, to revise this SSTC, Promotion, Plan and our pricing. Where reasonably practicable, we will give you reasonable advance notice of such changes and all previous versions of our user guides or leaflets will be superseded. You accept you are responsible for regularly reviewing information on the Plan(s) and Service(s) at www.maxis.com.my/tnc/personal, including changes to the Agreement. Your continued use of the Service(s) and/or Plan(s) (after the Effective Date of any revision/change to the terms and conditions of Services and/or Plan(s)) shall constitute unconditional acceptance by you of such revisions/changes and you shall be bound by the same. If you do not accept such revisions/changes, you will terminate the Plan(s) and/or the use of the Services by giving us notice within 28 days from the Effective Date failing which you are assumed to have accepted the changes.
Eligibility
12.   This Promotion is exclusive for MHexplorer members only.
13.   You must be a Malaysian and be at least 18 years old.
14.   This promotion is only eligible for new subscriptions to the Plan. If you change the Plan or take-up a device contract, the RM10 rebate will be removed.
Promotion
15.   Upon successful subscription to the Plan and Promotion, you will receive a RM10 rebate per month for 12 months.
16.   Upon expiry or termination of the Plan, the RM10 rebate will be removed and you will be charged the standard and usual monthly rate for the Plan.
17.   The commencement of the RM10 rebate will be subject to your bill cycle, which means the RM10 rebate may only be reflected in your bill from the second month onwards.
18.   You will be contacted within 7 working days from your registration of interest.
19.   Maxis will attempt to contact you up to three (3) times for this Promotion.
Unlimited Minutes and SMS
20.   You acknowledge and accept, for the voice & SMS' allocated with the Plan(s) that the unlimited minutes and SMS':
a.     Applies to domestic mobile/fixed ON-net usage (Maxis to Maxis calls and SMS') & OFF-net usage (calls and SMS' from Maxis to other Service Provider) for the Plan (excluding, video calls, calls to numbers with special charges e.g. 1-300/1-700/600, 121, TM100, 1MOCC, 02-prefix numbers for IDD calls to Singapore & 080-prefix numbers for border calls to Brunei).
b.    are for standard person-to-person calls or texts and not for any commercial and/or non-personal usage;
c.      is NOT meant for multiple simultaneous calling, conference calling (unless you are subscribed to the conference calling service with Maxis), re-supply, call centre usage, telemarketing, bulk messaging, application-to-person communication, continuously call forwarding, auto-dialing, machine-to-machine communication (including by using your SIM card in any other devices), Cellular Trunking Units (CTUs), or any other activity we consider to be non-standard usage.
Roaming
21.   The rates outlined in the Plan(s) structure (as per the Appendix) do not account for usages while on an overseas roaming network. Whilst roaming overseas, the prevailing data roaming charges at https://www.maxis.com.my/en/personal/services/addons/idd-and-roaming/international-roaming.html apply.
Things we may do to the Service(s)
22.   We reserve the rights at any time, without being liable to you or any third party, to interrupt, bar, suspend, restrict the Service(s) for such time as we see fit or terminate, discontinue or disconnect the Service(s) if your usage:
a.     Shows excessive usage or placing unusual burdens on our Network;
b.    Is for unlawful activities or for suspected fraudulent activities;
c.      Is not in accordance with the Maxis Fair Usage Policy (at www.maxis.com.my/FUP); or
d.     Is for commercial/non-personal purposes.
Mobile Internet Package Allocation
23.   For data allocated with the Plan(s), you acknowledge and accept:
a.     You will experience data browsing at reduced speeds and with no EXCESS charges if any usage exceeds the allocated mobile internet;
b.    The mobile internet package allocated within the Plan(s) is exclusively for domestic usage only;
Termination
24.   Subject to our GTC, a principal line holder may at any time terminate the Plan(s) as follows:
a.     by calling our customer care line at 1-800-82-1123 or dial 123 from your mobile; or
by walking into our Maxis Centres listed on www.hotlink.com.my