Eat, travel, live, repeat with MHexplorer.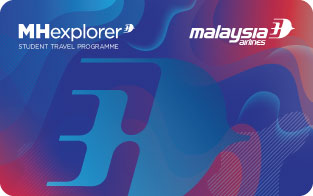 They say travel is best when you're young but as students, it doesn't always come easy. If you're constantly on the lookout for affordable and flexible travel options, MHexplorer is here to realise your travel dreams without breaking the bank!

A fully digitalised student travel programme, this product enhances your whole travel experience by bringing together a variety of benefits, making your trips even more convenient and memorable. Interested? Sign up as a member now and experience the world for all it's worth.
Check-in Baggage:
Additional 10kg baggage
Frequent Flyer Programme:
Enrich Miles for Student Travel Programme
Complimentary Date Change:
One (1) date change allowed (Complimentary date change on admin fee, fare different shall apply)
Friends & Family Promo:
4x special offers annually for friends and family
Flight Discounts:
Up to 20% flight discounts all year round
1. MHexplorer programme is open to : 
Malaysian students from 13 - 17 years of age will only need to provide a copy of their Identification Card (IC).
All students 18 - 26 years of age will need to provide a confirmation letter or a valid student ID.
2. MHexplorer fares are available for outbound travel originating from all MH-operated flights: excluding codeshare flights to/from Jeddah and Madinah.
3. Bookings may only be made on www.malaysiaairlines.com/MHexplorer by MHexplorer members.
4. Bookings made through this program shall be classified under passenger type STUDENT.
5. Acceptable method of payment is Debit/Credit card only.
6. Applications shall be processed in fourteen (14) working days.
7. Malaysia Airlines reserves the right to approve or reject any application for this program.
8. Malaysia Airlines reserves the right to cancel booking or deny boarding if any abuse of the program or fraudulent being detected.
9. Other fare conditions and rules apply.
1.    This code only for MHexplorer member that has purchased ticket via MHexplorer portal to/from all cities in Malaysia covered by Grab from 15 April 2019 – 14 April 2020 and the voucher code need to be redeemed before first outbound of the purchased flight. 

2.    This promotion is only valid for GrabPay payments only.
3.    If the fare is less than the promo amount, there will be no reimbursement of the fare difference. If the fare is more than promo amount, the additional fare amount will be charged to the Grab user.
4.    A cancelled booking (either by passenger or driver) nullifies the promo entry.
5.    The promotion discount is only successfully redeemed once a relevant in-app message is received (after successfully being allocated a car by the system).
6.    All bookings must be made via the Grab App.
7.    Not valid with advance bookings.
8.    Not valid with other promotions.
9.    Monthly capped at 1000 rides only.