Malaysia Aviation Group and THESELINA Collaborate to Produce Bespoke Sustainable Handbag Collections from Repurposed Aircraft Materials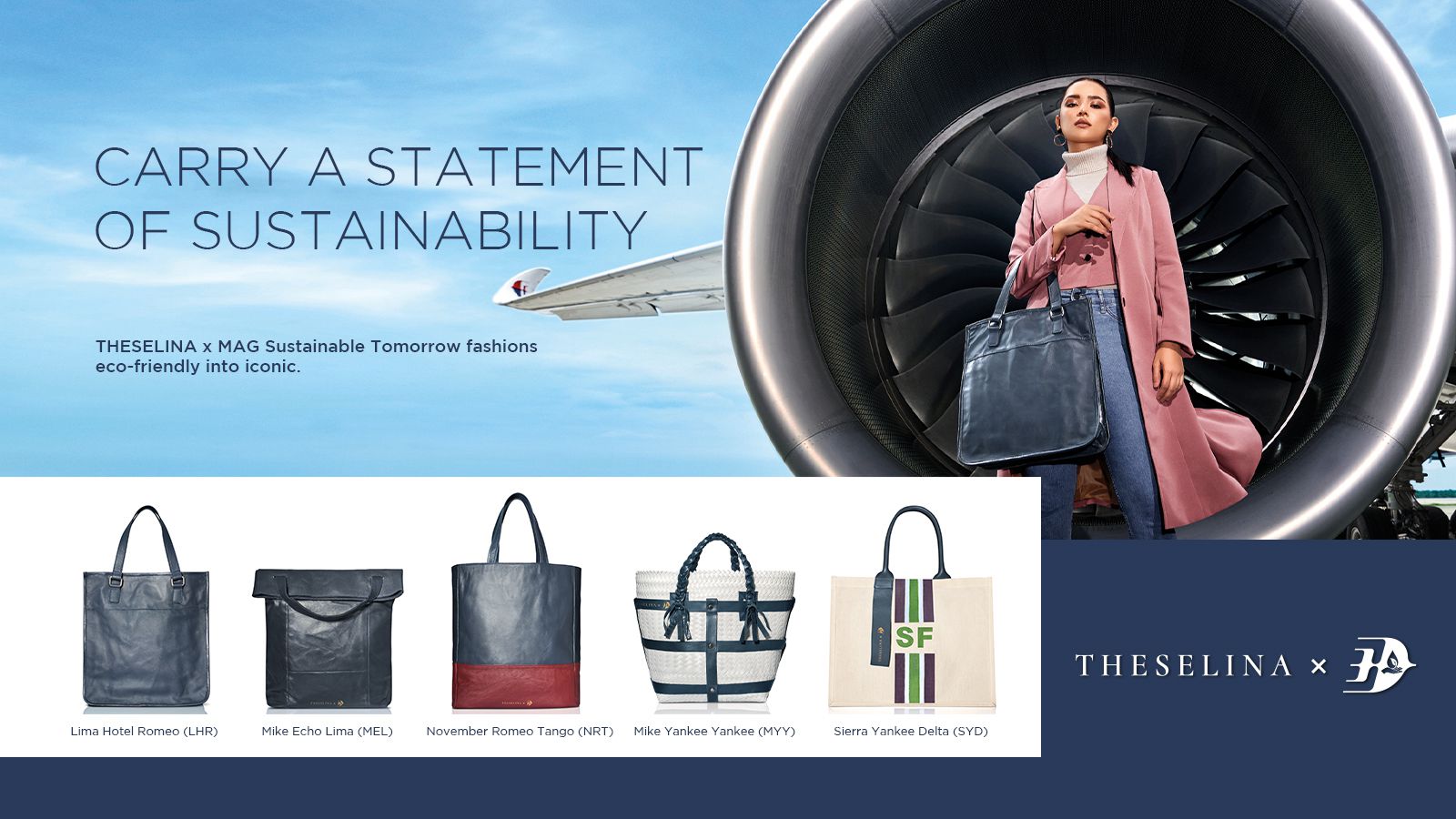 KLIA, 21 January 2022: Malaysia Aviation Group (MAG) is delighted to announce a new and exciting collaboration with Malaysian homegrown brand, THESELINA, with the unveiling of five bespoke sustainable handbag collections. The collaboration which combines luxury and sustainability underpins MAG's commitment for a net-zero carbon emission future through upcycling efforts.
These luxury handbags are lovingly crafted and conceptualised with respect and care for the environment by the THESELINA team comprising professional seamsters and seamstresses. Every material used is handpicked and repurposed from Malaysia Airlines' aircraft leather seats; belts and buckles; tablecloths; life vests; the iconic cabin crew kebaya uniforms; handbags; and more.
The design and craftsmanship not only make wearable art that is irresistible, but is also functional, stylish, and entirely versatile to be used on a day-to-day basis. These luxury handbags' finishing exudes elegance and class, embodying Malaysia Airlines' exceptional service and hospitality when flying our passengers over the years. The use of high-quality materials such as leather ensures that the bespoke, limited-edition pouch is made to last and easy to maintain. These bags are uniquely named after IATA codes to destinations within Malaysia Airlines' network: Buckle Bag; the Sierra Yankee Delta (SYD) Personalised Canvas Bag; the November Romeo Tango (NRT) Messenger Bag; the Mike Yankee Yankee (MYY) Penan Bag; as well as the Mike Echo Lima (MEL) Backpack.
Five eminent personalities cum sustainable advocates in Malaysia who were among the first to purchase the bags includes Ms. Monica Lai the Director of The RuMa Hotel Sdn Bhd; Datin Shen-Tel Lee, Founder of Kuching Food Aid and Co-founder of Bowerhaus and Sereni & Shentel; Dato' Azmir Merican, Group Managing Director of Sime Darby Property Berhad; Datuk Razlan Razali, Team Principal of RNF MotoGP Racing Team and Mr Yong Yoon Li, the Managing Director of Royal Selangor International.
The bags were sold from RM882 to RM2,100; with the SYD bag priced at RM882, RM1,421 for MYY and RM2,100 for the remaining three bags. These limited-edition bespoke bags will also be made available via our online marketplace, Journify at myjournify.com.
Acting Chief Sustainability Officer of MAG and CEO of Firefly, Philip See, said, "Sustainability is one of the key drivers in MAG's Long-Term Business Plan 2.0 of becoming Asia's Leading Travel and Aviation Services Group. As the parent company of the national carrier Malaysia Airlines, MAG continues to forge ways to promote socio-economic development and achieving our commitment of recording net-zero carbon emissions by 2050. This includes minimising our environmental impacts; positively enhancing the communities we operate in; ensuring safety excellence; driving profitability for the benefit of our stakeholders, employees; and ensuring compliance within the organisation. We at MAG believe that our customers should be able to enjoy the finer things in life while remaining conscious of our role in caring for the planet. We are proud to show the fruits of what our collaboration with high-end designer Selina Yeop Jr of THESELINA has brought, through the repurposing of aircraft materials into bespoke designer bags, allowing us to reduce wastage whilst alleviating our flag-bearing brand to the world."
The Group has taken viable steps to reduce our carbon footprint within its business operations, guided by the MAG Sustainability Blueprint launched in 2021. This includes bio-composting food waste from flights, enhancing fuel efficiency measures, repurposing scrapped aircraft parts into new products and most recently, being the first Malaysian-registered commercial aircraft using Sustainable Aviation Fuel (SAF).
Visit Journify at myjournify.com or download the Journify app to get the latest information and purchase from over 1,000 premium products available on Flagship Store, featuring products on MHartisans, MH-branded merchandises with AirDry as well as 'Airline Exclusive' products like our Signature Satay and inflight Cool Treats ice cream and other exciting deals!