Malaysia Aviation Group Invites Jobseekers to Attend its Inaugural Open Day on 1 & 2 October 2022 in Malaysia Airlines Academy
More than 400 job opportunities will be offered to aviation enthusiasts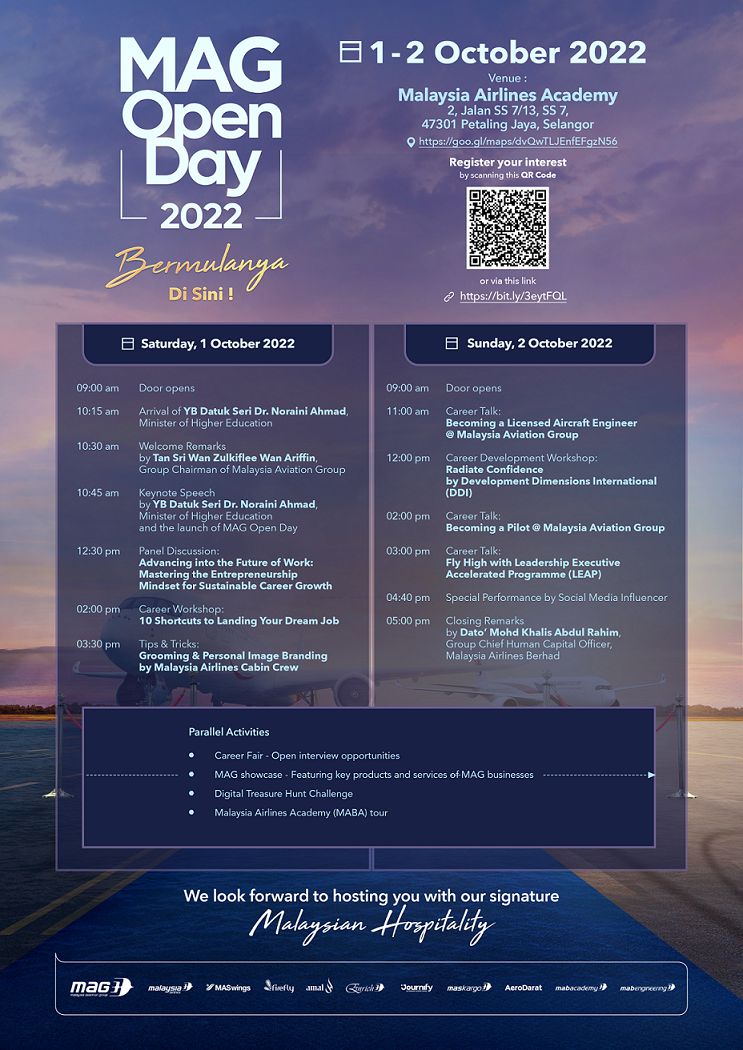 Kuala Lumpur, 27 September 2022: Malaysia Aviation Group (MAG) invites jobseekers, especially unemployed graduates, working professionals and skilled workers to participate in its inaugural Open Day on 1 and 2 October 2022 in Malaysia Airlines Academy.
MAG will offer up to 400 job opportunities from various business units supporting the aviation and airline business including, technical crew, cabin crew, engineering, catering, business strategy, airport operations and e-commerce.
The MAG Open Day is organised to support the Malaysian government's effort to accelerate Malaysia's post-pandemic socio-economic recovery and growth. In addition, the Open Day will provide an opportunity for the public to learn more about MAG's roles and contributions towards nation building and socio-economic development.
Activities that will be held on both days include on-the-spot interviews, panel discussions on current issues in enhancing employee marketability, and career development seminars that include soft, technical and digital skills. This two-day career fair will also feature exhibition booths from Business Units within the Group that serve everybody's travel needs.
Additionally, the event will showcase career talks by MAG airlines' pilots, licensed aircraft engineers, cabin crew, and management trainees, as they share their stories and experiences at MAG.
Other event highlights include exciting career workshops, designed to educate job applicants and the public about the necessary skills for gaining employment and excelling at work. One of the workshopsheld on Saturday, "10 Shortcuts to Landing Your Dream Job", will help participants discover tips onfinding the job that they will enjoy and successfully grow in. On Sunday, a workshop titled Radiate Confidence, will guide the audience towards unleashing their hidden potential by empowering talents to feel confident, help build courage and improve their communication skills, ensuring effective communication.
Interested parties are advised to register and secure their seats for MAG's Open Day via bit.ly/MAGOpenDay2022. Stay tuned to MAG's social media posts on LinkedIn, Facebook and Instagram for more information.