Malaysia Airlines Achieves Another Milestone in Elevating its Loyalty Programme
Enrich moves to fare-based-earning and new tier qualification effective 1 April 2021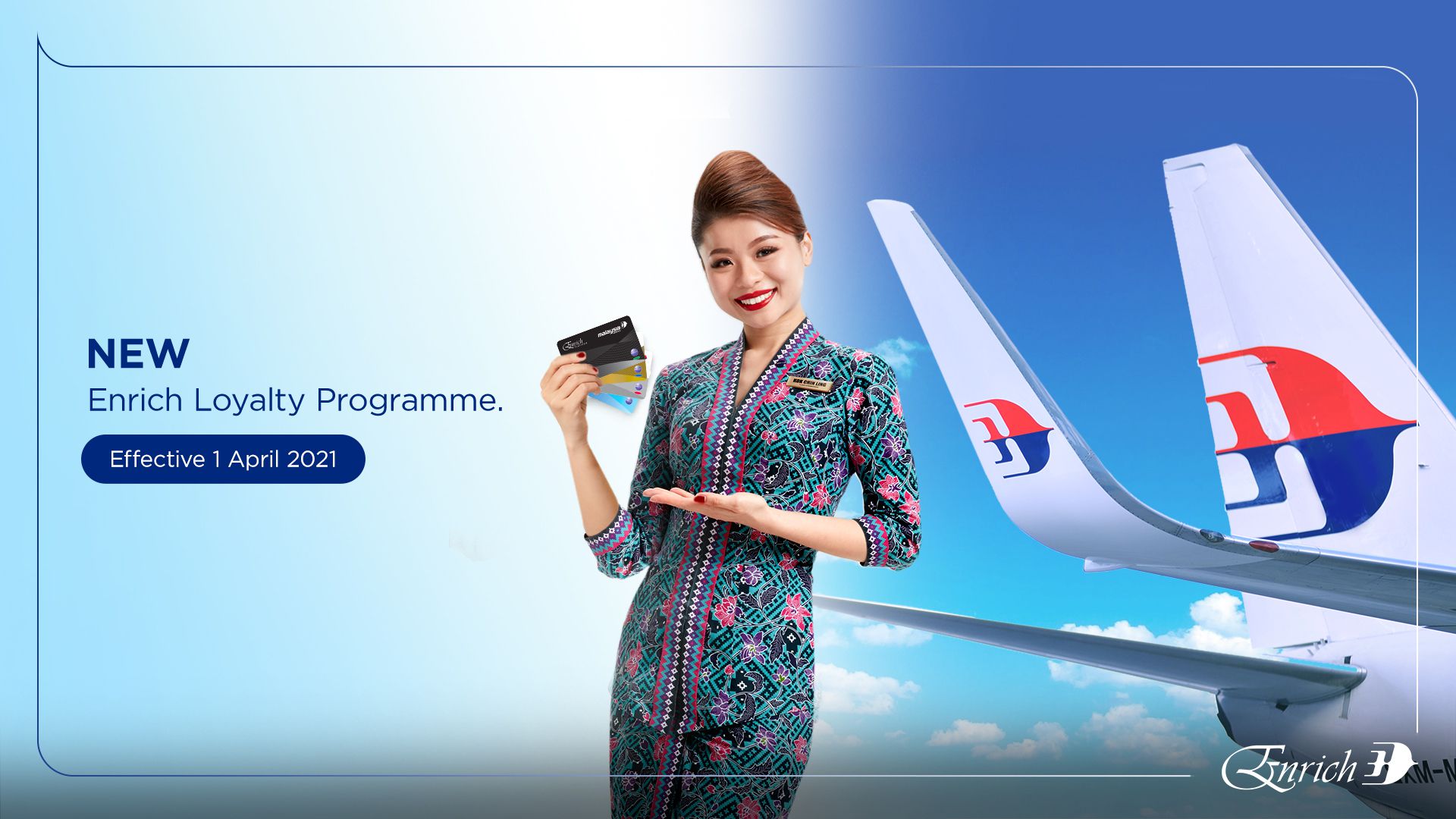 KLIA, 27 January 2021: Malaysia Airlines will be further enhancing its loyalty programme, Enrich by introducing a fare-based earning scheme and a new tier qualification structure, providing passengers with a more rewarding experience when choosing to Fly Malaysia, starting 1 April 2021. This progressive milestone elevates Enrich as one of the fore runners amongst fellow frequent flyer programmes around the world and provides a more transparent and simplified model in response to requests from its members.
The new accrual scheme offers a fair value for spend on a per ticket basis which is in line with spend-based earnings on non-airlines partners. This change also complements current dynamic redemption with better value and more fare options. Enrich Miles will be rebranded as 'Enrich Points', and existing balances of Miles will be honoured on a one-to-one basis.
The new points earning model will apply to all Malaysia Aviation Group (MAG) flights, including Malaysia Airlines and MASwings with Firefly changing-over to the new scheme in 2022. Meanwhile, members flying on pure oneworld member airlines and partner airlines will continue to earn Enrich Points based on the current structure.
Additionally, the enhanced programme incorporates a shift in tier qualifications. Moving forward, members will earn Elite Points based on a fixed table of travel sector and class of travel. The change presents a more streamlined manner for frequent flyers to climb the tier status in enabling access to Enrich's travel benefits and lifestyle privileges. The elevated Enrich Programme will continue to offer four (4) membership levels. Members will still benefit from the same privileges currently available for Blue, Silver, Gold and Platinum.
According to Group Chief Marketing and Customer Experience Officer of Malaysia Airlines Berhad, "This milestone of the Enrich Programme is part of Malaysia Airlines' ethos of providing our passengers with maximum value for their travels. Coupled with our signature Malaysian Hospitality, we seek to enhance the overall customer experience and better fulfil the demands of our frequent flyers. The changes allow us to be a more attractive programme by providing simplicity and introducing a more rewarding value proposition."
This introduction of the fare-based earning model and new tier qualification structure is part of Enrich's continuous journey in improving its programme for members' benefits with the rollout of new products and services including its own curated offerings such as Enrich Base, Enrich Hotels and Enrich Shoppe. In addition, Enrich also ventured into servicing the business segment via Enrich BizConnect hence taking the programme beyond the confines of air travel to our vision of a lifestyle brand that rewards our members for their everyday activities.
Not an Enrich member yet? Sign up for free at www.enrich.malaysiaairlines.com to enjoy exclusive access to travel privileges and lifestyle rewards. For more information on the new Enrich, visit http://www.malaysiaairlines.com/newenrich.