Enrich by Malaysia Airlines Invites Members to Support the Community in Need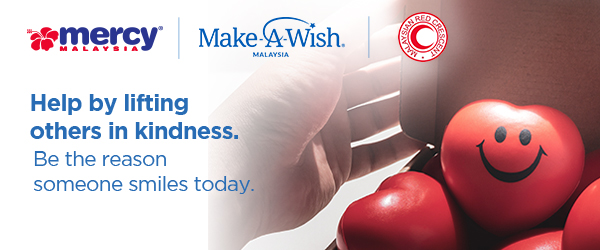 KLIA, 9 June 2021: Malaysia Airlines' frequent flyer programme, Enrich, has partnered with three charitable organisations: MERCY Malaysia, Make-A-Wish Malaysia and Malaysian Red Crescent Society, inviting Enrich members to donate their Enrich Points as an alternative to monetary donations from now until 26 July 2021.
Members are welcome to support their charity of choice and donate their Enrich Points at a redemption rate of 5,000 Enrich Points for one (1) RM 50 e-donation to three (3) charity organisations comprising Mercy Malaysia, Make-A-Wish and Malaysian Red Crescent Society. Contributions made to Mercy Malaysia from now until 15 June 2021 will be used to provide medical relief and towardssustainable health-related development and risk reduction activities for communities in vulnerable situations or in crises. Meanwhile, Enrich e-donations made to Make-A-Wish Malaysia and Malaysian Red Crescent Society from now until 26 July 2021 will be used to help fulfil wishes and transform lives or give aid to alleviate human sufferings.
Group Chief Marketing and Customer Experience Officer of Malaysia Airlines Berhad, Lau Yin May said, "It has been a challenging year for us all, especially for the communities-in-need whose livelihood have been impacted even more due to the COVID-19 pandemic. As the Enrich frequent flyer programme of the national carrier evolve and expand beyond an airline loyalty programme, we are humbled to play our part in supporting the community through our partnerships with three reputable non-profit organisations.
While the nation is working together to flatten the curve, we encourage everyone to join us in caring for and contributing to the community, regardless of the amount, to ease the suffering of others, withjust few clicks on the Enrich platform. During these hardship times, we wish to organise more redemption campaigns with these charity partners, and we look forward to have your support in our charitable efforts."
To redeem Enrich Points for RM50 e-donation, Enrich members need to log into their Enrich Online account before selecting 'Redeem for Lifestyle Voucher' and the specify the quantity required. Once redeemed, members will receive a confirmation email and a tax exemption receipt will be issued by 30 October 2021 accordingly by the charity organisations for the donation made.
Enrich members can continue enjoy the privileges offered by online shopping and healthcare partners such as BP Healthcare and Optimax among others, allowing them to earn Enrich Points and use them beyond just flight and hotel stays.
For easy access, members are encouraged to download the Malaysia Airlines' App to get the latest promotions on privilege discounts, earning and redeeming Enrich Points, conveniently at your fingertips anytime and anywhere! Not an Enrich member yet, sign up today to enjoy amazing benefits and welcome rewards.
For more details, visit www.malaysiaairlines.com/enrich