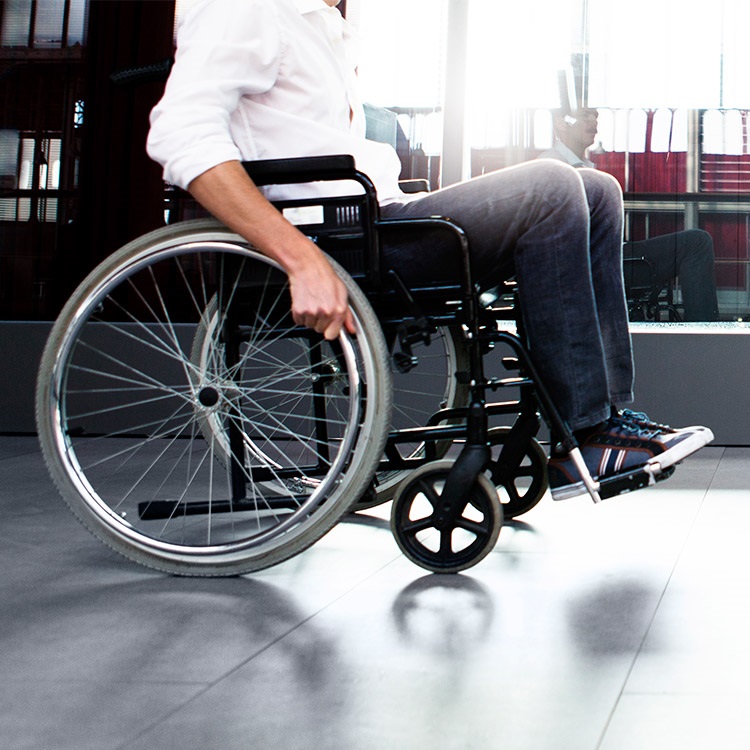 Special Requirements
Find out more about the services we provide for travellers with mobility and fitness concerns. To safeguard an enjoyable and comfortable trip, discover helpful information concerning flying with health conditions and/or medical requirements.
Passengers with special requirements
Upon ticket reservation
To ensure that your needs are met with utmost care, it is important that you inform our service staff of your disability or that of your charge's upon ticket reservation so that we can help you make all the arrangements necessary.
To reserve flight tickets through our staff, please call 1 300 88 3000; +603 7843 3000 if you are overseas.
Passengers with reduced mobility

Malaysia Airlines remains committed in providing quality facilities and services to our valued passengers including passengers with reduced mobility who require wheelchair services and other types of assistance.
To ensure safe, convenient, orderly and timely embarkation of our passengers with reduced mobility, we have enhanced our current operational procedures and policies on wheelchair requests as follows;
Effective 31 March 2018, wheelchair requests must be made through our Global Customer Contact Centre and/or Ticket Office and/or Malaysia Airlines' appointed travel agents, at least 48 hours prior to departure.
Some passengers with mobility impairments may require medical clearance before flying. For more information, please contact our Global Customer Contact Centre at 1 300 88 3000 if you are within Malaysia or +603 7843 3000 if you are overseas.
Visit our Terms & Condition for more information

Passengers with visual impairments
Passengers with sight disabilities who present their OKU (Orang Kurang Upaya) identification cards upon ticket reservation enjoy a special rebate on flights within Malaysia (except for flights on MASwings and promotional fares).
Stretcher Services
Malaysia Airlines offers stretcher services within Malaysia and on international routes to passengers who must travel in a reclined position, because of a medical condition or injury. These passengers can be accommodated with stretcher services only in the economy class cabin.
(Effective 1 September 2018)
Before making a stretcher service booking, please do the following:
Download the Medical Information Form (MEDIF)
Send the completed MEDIF to the Malaysia Airlines MEDA Desk at

[email protected]

, at least 10 working days before the intended flight.
The MEDA Desk team will contact you to quote the applicable stretcher fare, confirm whether you can be accepted for travel and book your tickets.

Acceptance of passengers on stretchers is subject to flight and stretcher availability, as well as approval from Malaysia Airlines' medical services. A passenger who travels with a stretcher must be accompanied by a medical escort unless exemption has been obtained from Malaysia Airlines' medical services.

Passengers on stretchers will have to make their own arrangements for ambulance transfers, at both the departing and arrival airport and for any medical equipment required for use on board. Authorization from Malaysia Airlines' technical services is required for use of any medical equipment onboard.

Malaysia Airlines' MEDA Desk is open daily, from 7 a.m. to 10 p.m. (Malaysian Time, +8 UTC).

Diabetics
If you are diabetic, you are advised to have additional supplies of insulin or tablet medication, spare needles or syringes readily available in your hand baggage in case of breakages or delays en-route. For that, you will need to have a doctor's authorisation to confirm you are insulin dependent.
As diets for diabetics vary considerably, please inform us at least a day in advance of your meal requirements.
Unfit for air travel
The following conditions are usually considered unacceptable for air travel:
Anaemia of severe degree
Severe cases of otitis media and sinusitis
Acute contagious or communicable diseases e.g. open tuberculosis
Myocardial infarction within 6 weeks of on-set/congestive cardiac failure
Hypertensive disease with severe complications
Peptic ulceration with recent haemorrhage within 3 weeks
Post-operative cases (within 10 days of simple abdominal/within 21 days of chest surgery)
Skin diseases which are contagious in nature
Fractures of the mandibles with fixed wiring of the jaw
Mental illness without escort and sedation
Expectant mothers of normal pregnancy beyond 36 weeks. Expectant mothers with multiple or complicated pregnancy beyond 32 weeks
Introduction of air body cavities for diagnostic or therapeutic purpose within 7 days
Assistance for incapacitated passengers
Incapacitated passengers are those who, because of their medical, physical or mental condition require individual attention which is not normally provided to other passengers. This attention may be required on embarking, disembarking, in-flight, in an emergency evacuation and/or during ground handling.
Some incapacitated passengers may have permanent but stable disabilities, e.g. arthritis, deafness, blindness, or paralysis of all or part of the body. Others may have temporary disabilities such as recent surgery, broken limbs, or recent illness which requires them to be on a stretcher or wheelchair.
Not all incapacitated passengers require medical clearance before being accepted for travel. However, passengers with the following incapacities and/or disabilities must be subject to medical clearance by our Medical Services Department before being accepted for travel:
Those suffering from any disease believed to be actively contagious and communicable.
Those who, because of certain diseases or incapacitations, may have or may develop unusual behaviours or physical conditions which could have an adverse effect on the welfare and comfort of other passengers and/or crew members.
Those who can be considered to be a potential hazard to the safety or punctuality of the flight including possible diversion and unscheduled landing.
Those who would require medical attention and/or special equipment to maintain their health during the flight.
Those who may have their medical condition aggravated during or because of the flight.
If medical clearance is required, the MEDIF application form (PDF) should be completed by your attending doctor and submitted to Malaysia Airlines through our ticketing offices or travel agents at least five working days before the intended date of travel.
If you have enquiries regarding the assistance provided for specific conditions, please call our customer care centre at 1 300 88 3000 (within Malaysia) or +603 7843 3000 (outside Malaysia).
If you would like to obtain a copy of Part 382 regulatory reference (Non-discrimination on the Basis of Disability in Air Travel) in an accessible format from the US Department of Transportation, you can do it by the following means:
For calls made from within the United States, by telephone via the Toll-Free Hotline for Air Travellers with Disabilities at 1 800 778 4838 (voice) or 1 800 455 9880 (TTY), the Aviation Consumer Protection Division at 202 366 2220 (voice) or 202 366 0511(TTY).

By mail to the Air Consumer Protection Division, C-75, U.S. Department of Transportation, 1200 New Jersey Ave. SE, West Building, Room W96-432, Washington, DC 20590.

On the Aviation Consumer Protection Division website.
You may also access the Regulation (EC) No.1107/2006 of the European Parliament and the Council concerning the rights of disabled persons and persons with reduced mobility when travelling by air here.