Browser outdated: Flight search is not supported in IE version 10 or lesser. Please visit malaysiaairlines.com with supported browser.

Browser update: Please use Microsoft edge for better experience.
Flight search is not supported in IE version 10 or lesser. Please visit malaysiaairlines.com with supported browser.
Please use Microsoft edge for better experience.
Spring in Sydney and NSW: flowers, whales, art and more!
A superb season to visit Sydney is spring. From September to November, the sun is shining, the air is slightly cooler, and the city blossoms with jacarandas, paper daisies and bustling outdoor markets selling fresh produce. Snack on pretty pastries in cafes, stroll a coastal walk to spot whales splashing, or run alongside people from all over the world across Sydney Harbour Bridge.
Festival favourites
There are so many sparkling festivals in spring from flower fiestas to kite carnivals and epic marathons.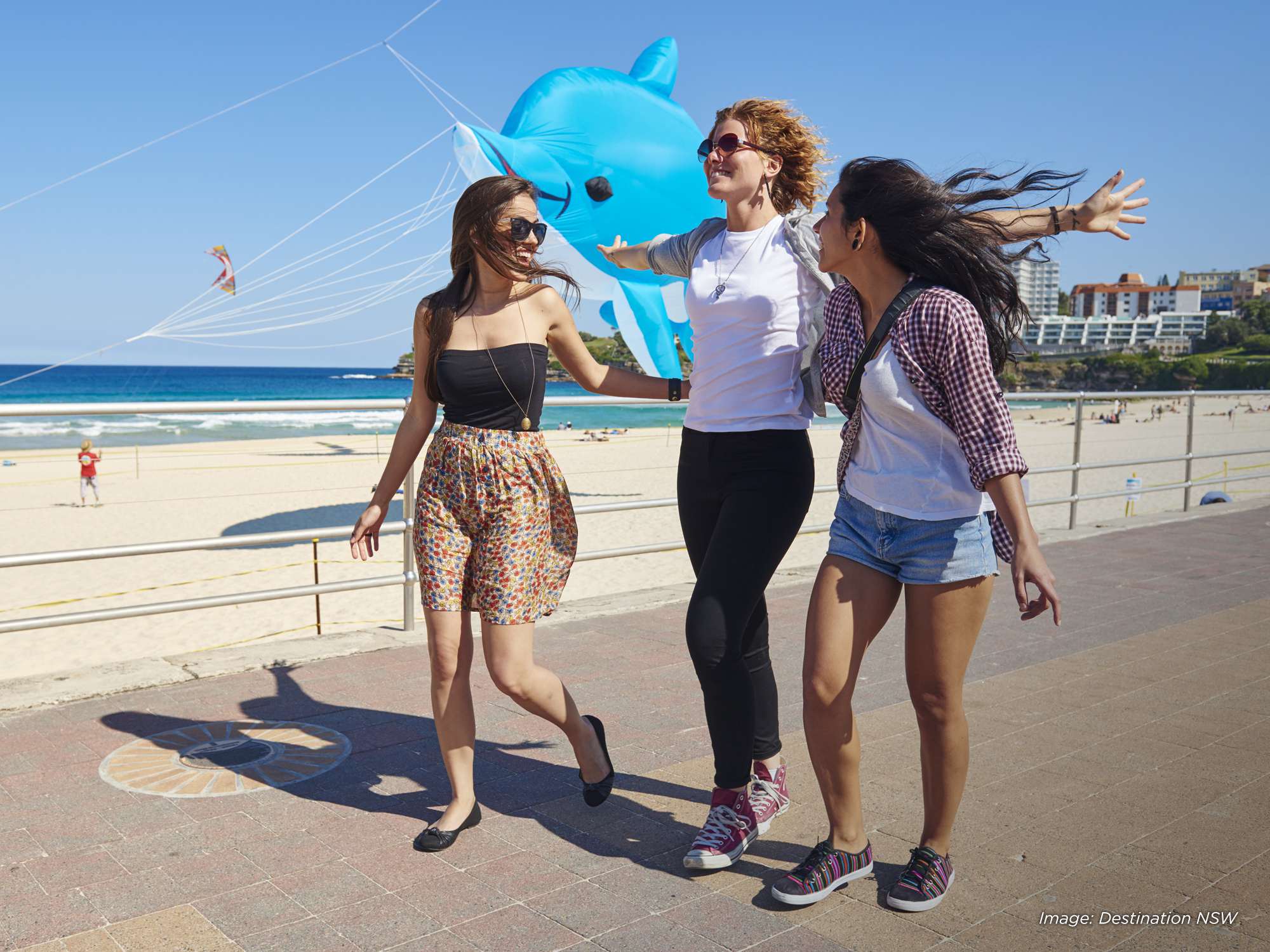 Bondi Festival of the Winds | 2021
Held at Sydney's iconic Bondi Beach, revel in the breezy Bondi Beach Festival of Winds. Watch as the blue sky fills with colourful, elaborate kites, grab a bite to eat from the food stalls and even try a kite-making workshop.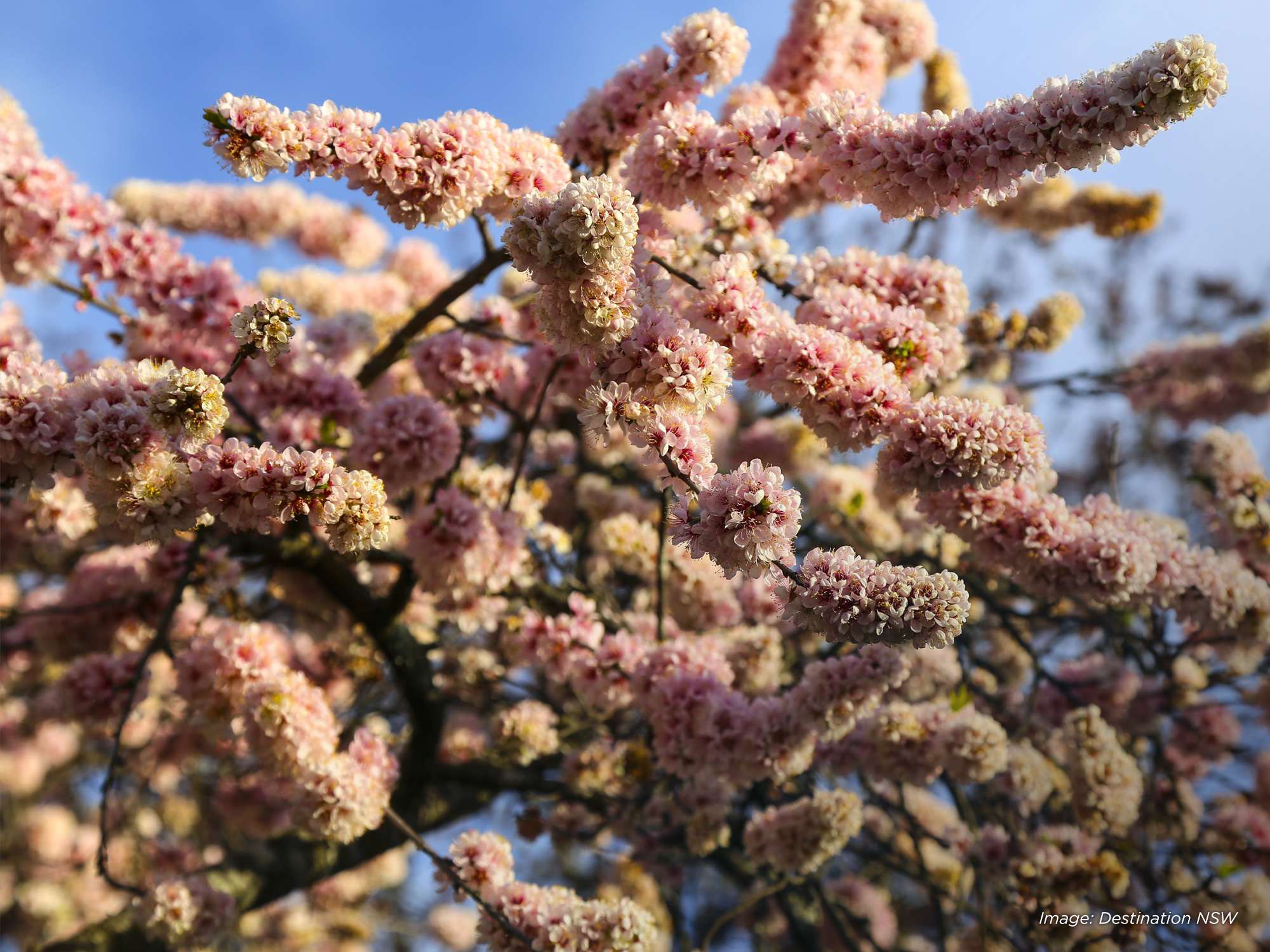 The Leura Gardens Festival is the only opportunity to walk through some private gardens in the Blue Mountains. These breathtaking gardens contain many varieties of cool climate plants and flowers, such as azaleas, camellias, and cherry blossoms.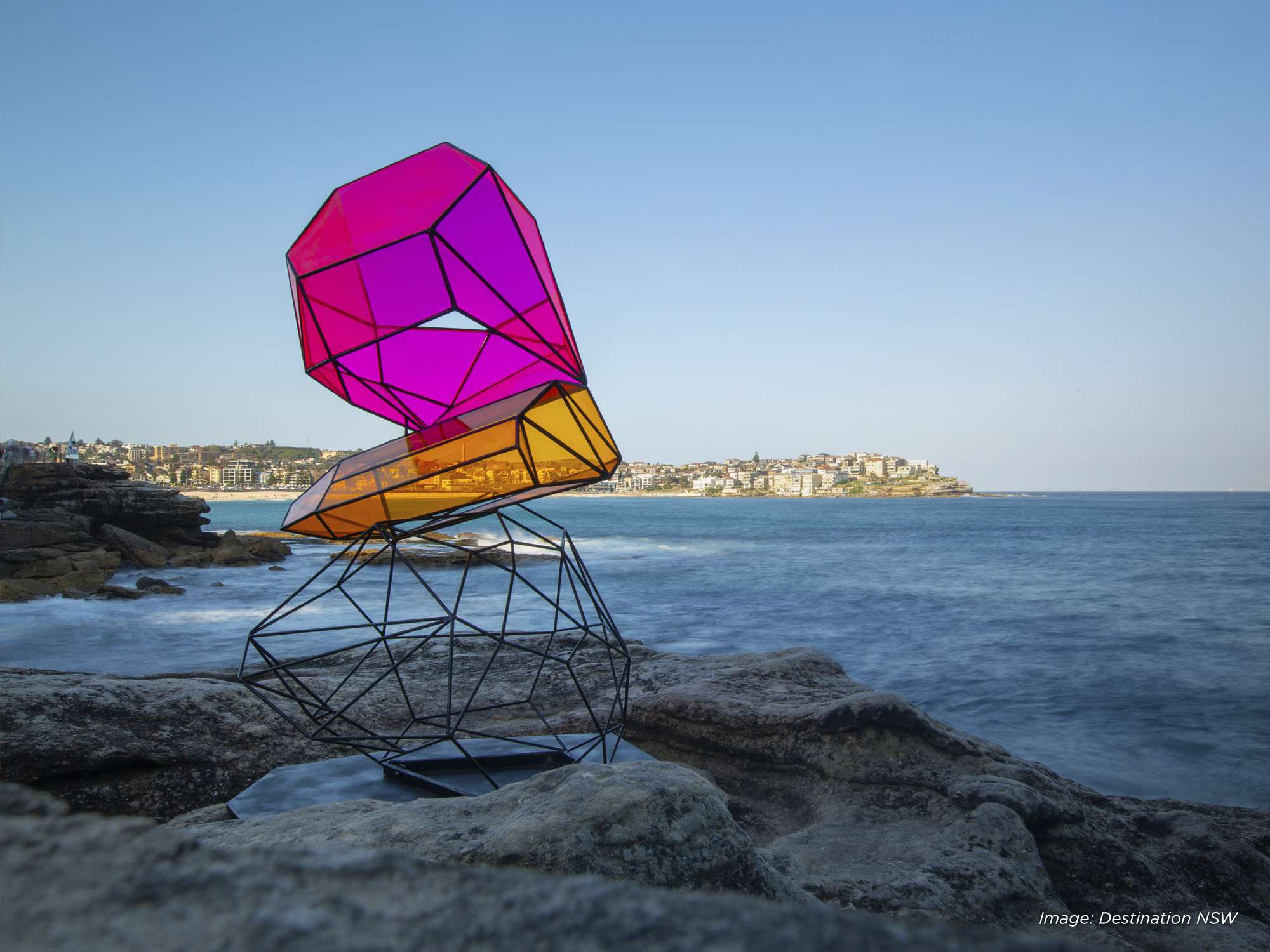 For a unique experience, Sculpture By The Sea is a free outdoor art exhibition of extraordinary sculptures dotted along the Bondi to Tamarama coastal walk. The stunning beaches and cliff faces play host to 100 pieces by artists from Australia and across the world.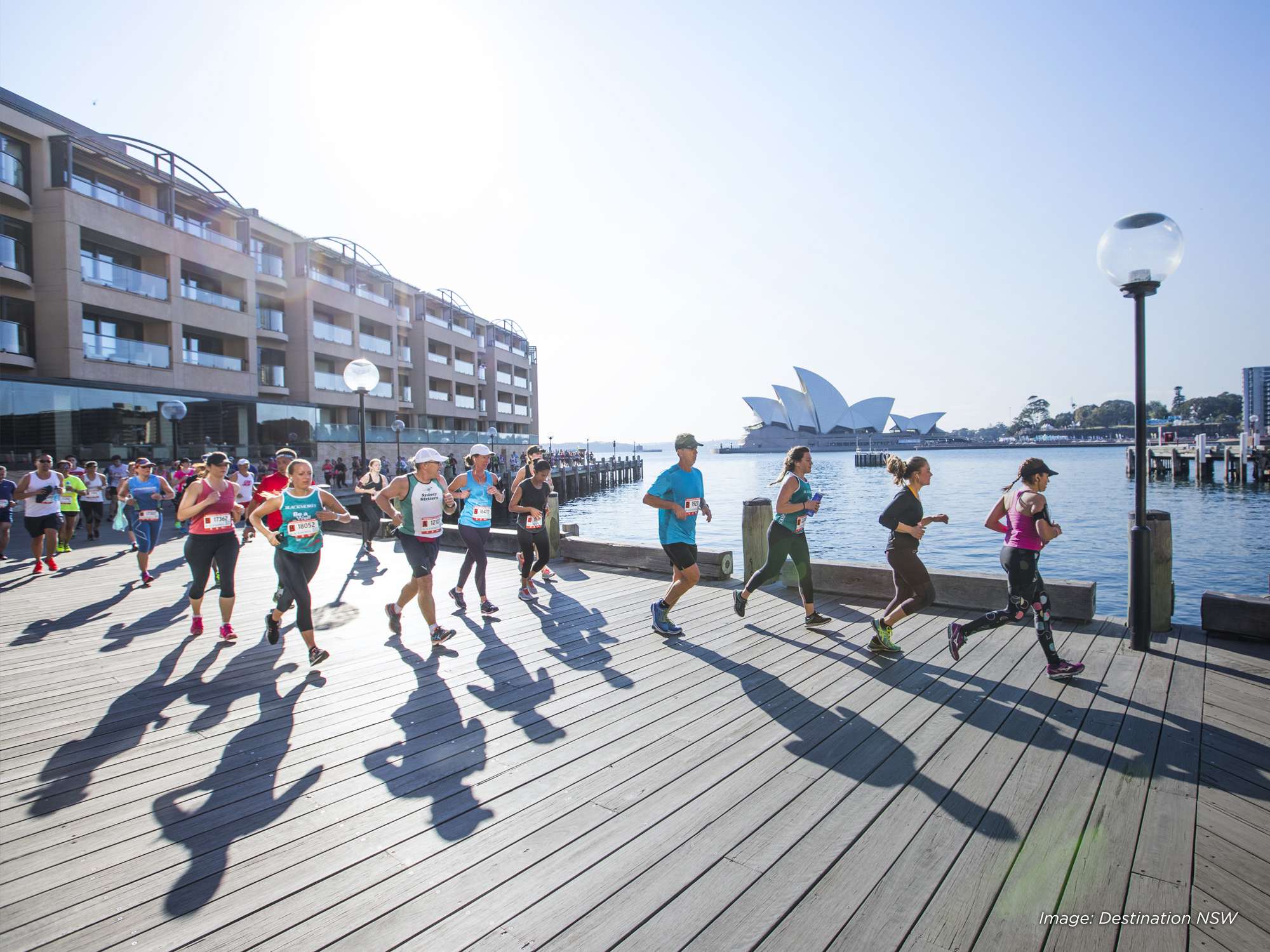 Spring into action with one of the most scenic marathons in the world! The Blackmores Sydney Running Festival is one of the only days of the year you can run (or walk) across Sydney Harbour Bridge.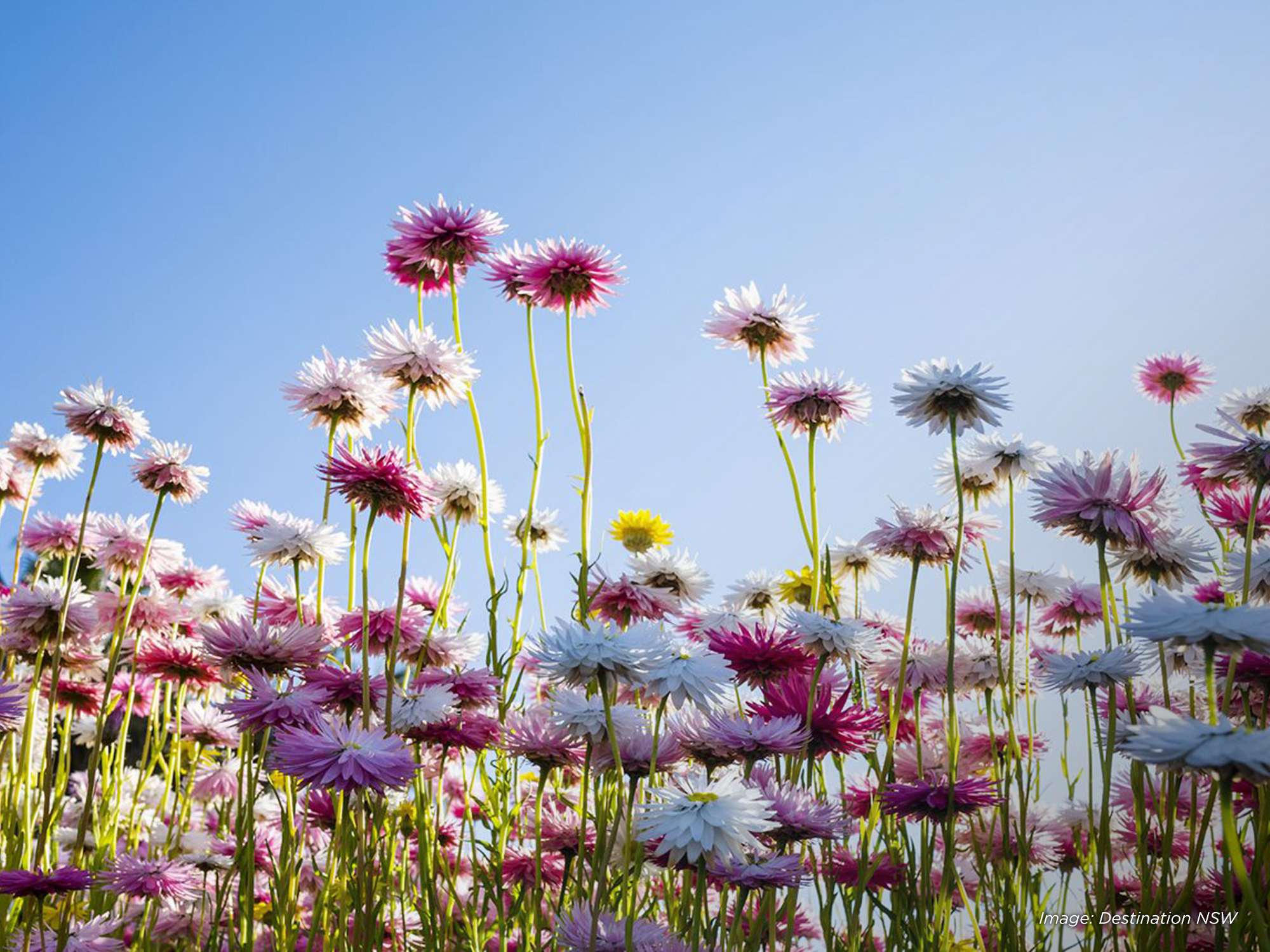 Flower Power
For insta-worthy floral snaps, grab a colourful selfie in front of some of these exquisite flower displays in NSW from the highlands to the north coast.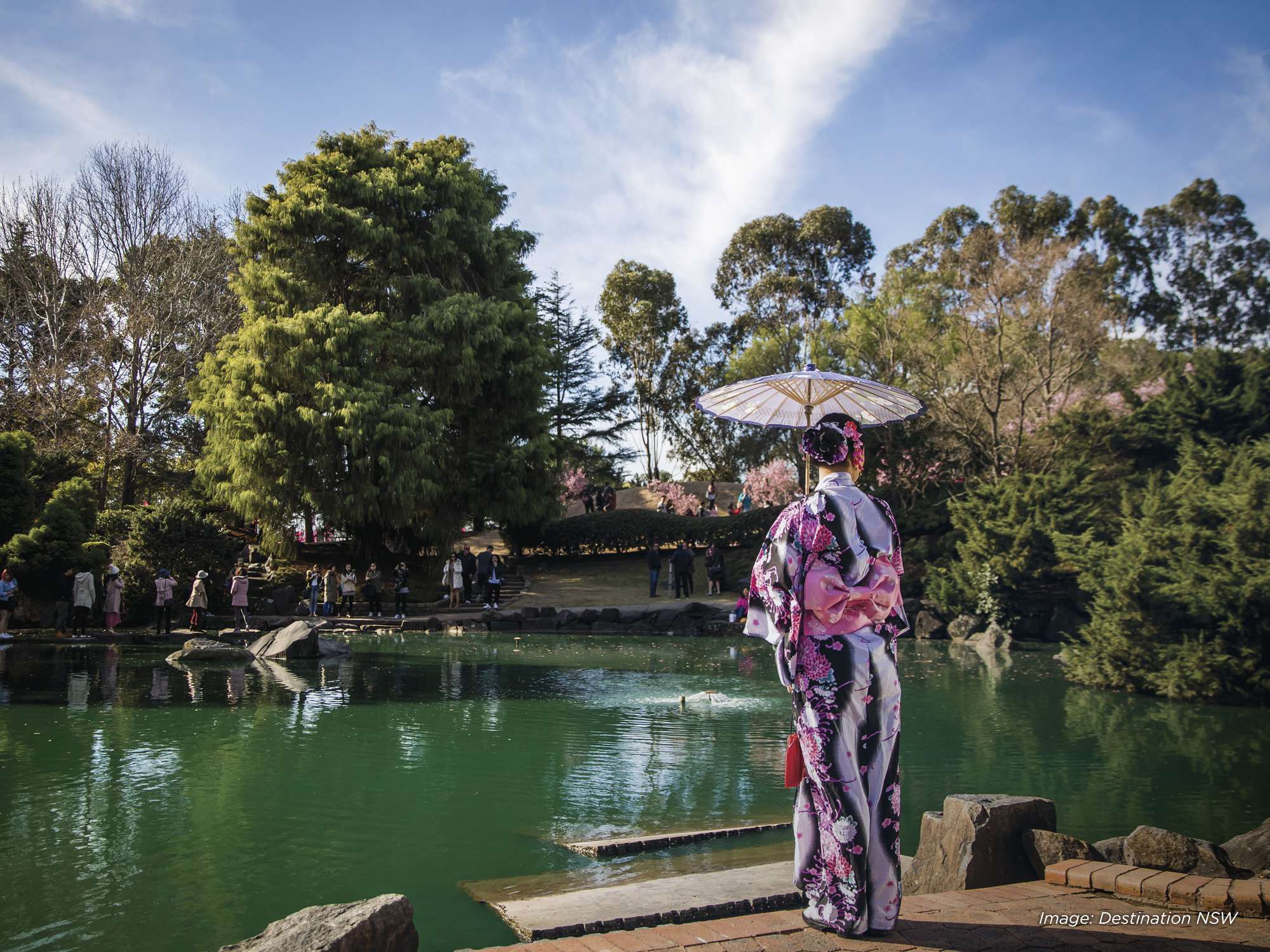 Auburn Cherry Blossom Festival | 2021
Sydney is full of secret gardens and the Auburn Botanic Gardens in Western Sydney is an Insta-queen's dream during Spring when the flowers are in bloom. In August, wander under a canopy of pink cherry blossoms and walk over the decorative bridge in the Japanese Garden.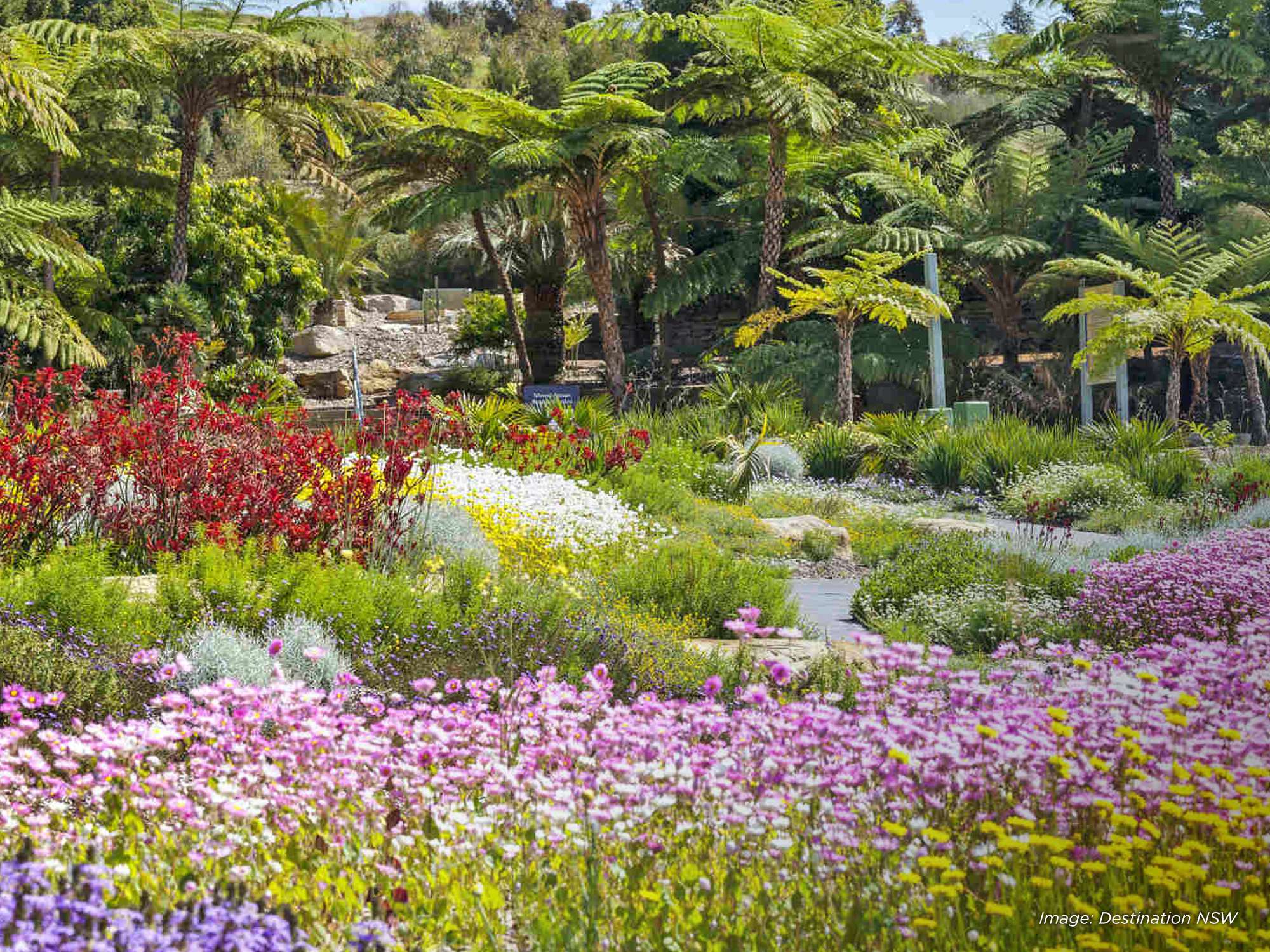 Paper Daisy Festival, Australian Botanic Garden Mount Annan
Set up a picnic alongside a field of pretty paper daisies in Sydney's south west. The Australian Botanic Garden has a sprawling field of West Australian native daisies in colours of white, pink and yellow. The beautiful flower bed is over 1700 square metres — larger than an Olympic swimming pool!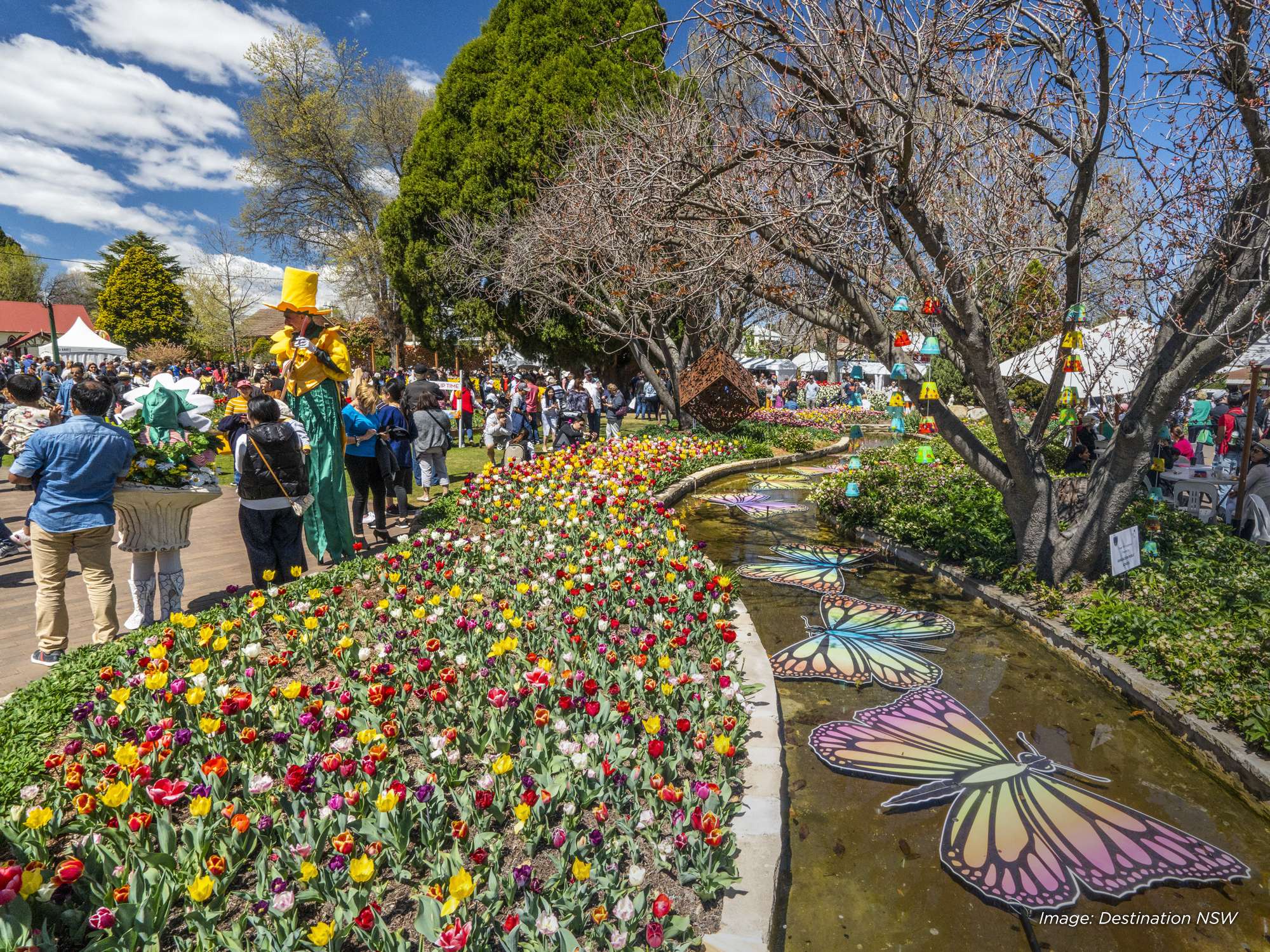 The famed Tulip Time Festival in the Southern Highlands has come a long way since 1961, when it began with just 500 tulips. Corbett Gardens, in the town of Bowral, is the centrepiece of the festival with over 75,000 tulip bulbs. Visitors from all over the world descend on Bowral every year to marvel at the bright pockets of glossy tulips in red, yellow, mauve and white. The festival won the WorldTulip Award in 2015, voted by the World Tulip Summit Society.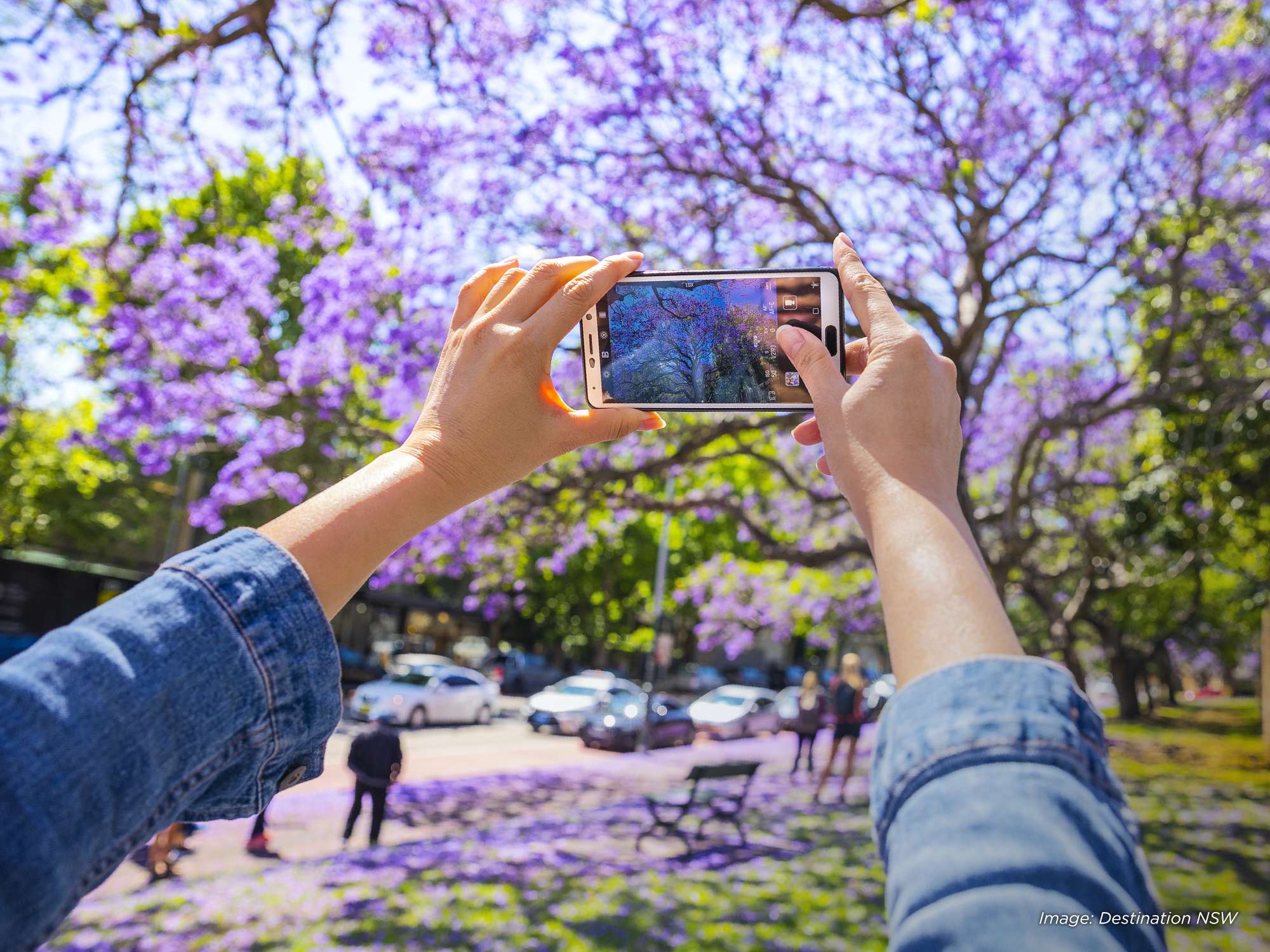 Take a road trip to a country flower festival! On the north coast, Grafton is home to more than 2000 Jacaranda trees and the annual Grafton Jacaranda Festival is the longest running flower festival in Australia. Festival highlights include coronation of a Jacaranda Queen, a street parade with themed floats, markets, live performances and fireworks. For something unique, soar over Grafton in a hot air balloon for a bird's-eye view of the purple-dotted landscape.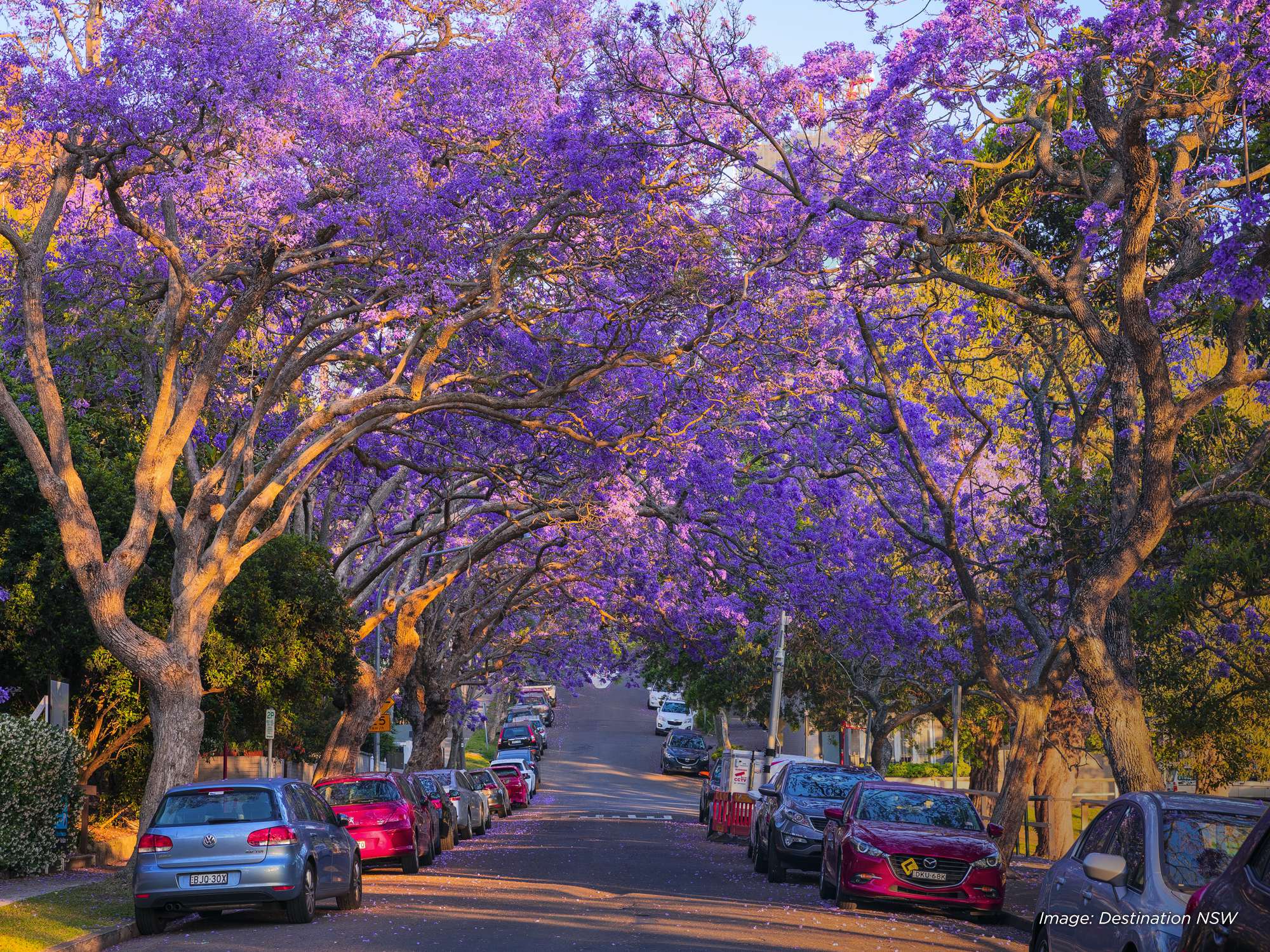 Purple reign in Sydney
Sydney pops with purple-coloured blooms when the jacarandas flower from late October to November. A superb selfie spot is McDougall Street, Kirribilli, where a dome of colour is formed from the branches curving over the street. To spot purple trees in the city, walk from the Royal Botanic Garden, through Circular Quay and The Rocks. View the stunning trees against the backdrop of the Sydney Harbour Bridge, Sydney Opera House, Sydney Harbour and the historic cobblestone streets of The Rocks.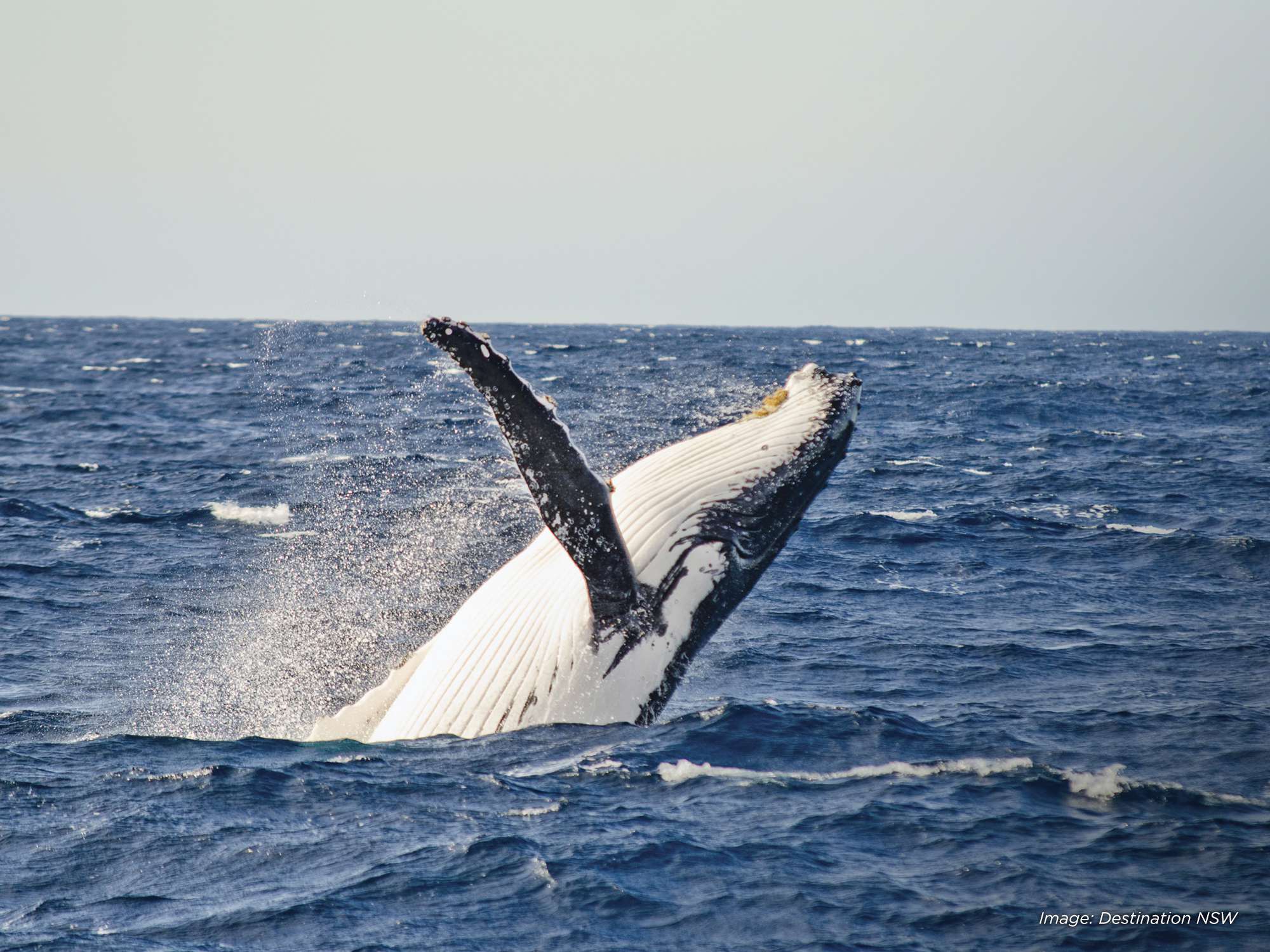 Whale Watching
From late May to November, the waters along the New South Wales coast burst into life when thousands of whales migrate north. See pods of the magnificent mammals from Sydney Harbour's North and South Head, or jump on a cruise from Circular Quay. One of the best ways to spot whales is along one of Sydney's coastal walks — try part of the Bondi to Manly walk, winding past sandstone cliffs and unique ocean pools carved into the rock. On the South Coast, see the world's whitest sand and whales playing with their newborn calves in the sparkling sapphire-coloured water. Or travel far north to Byron Bay to photograph whales from Australia's most easterly point, Cape Byron.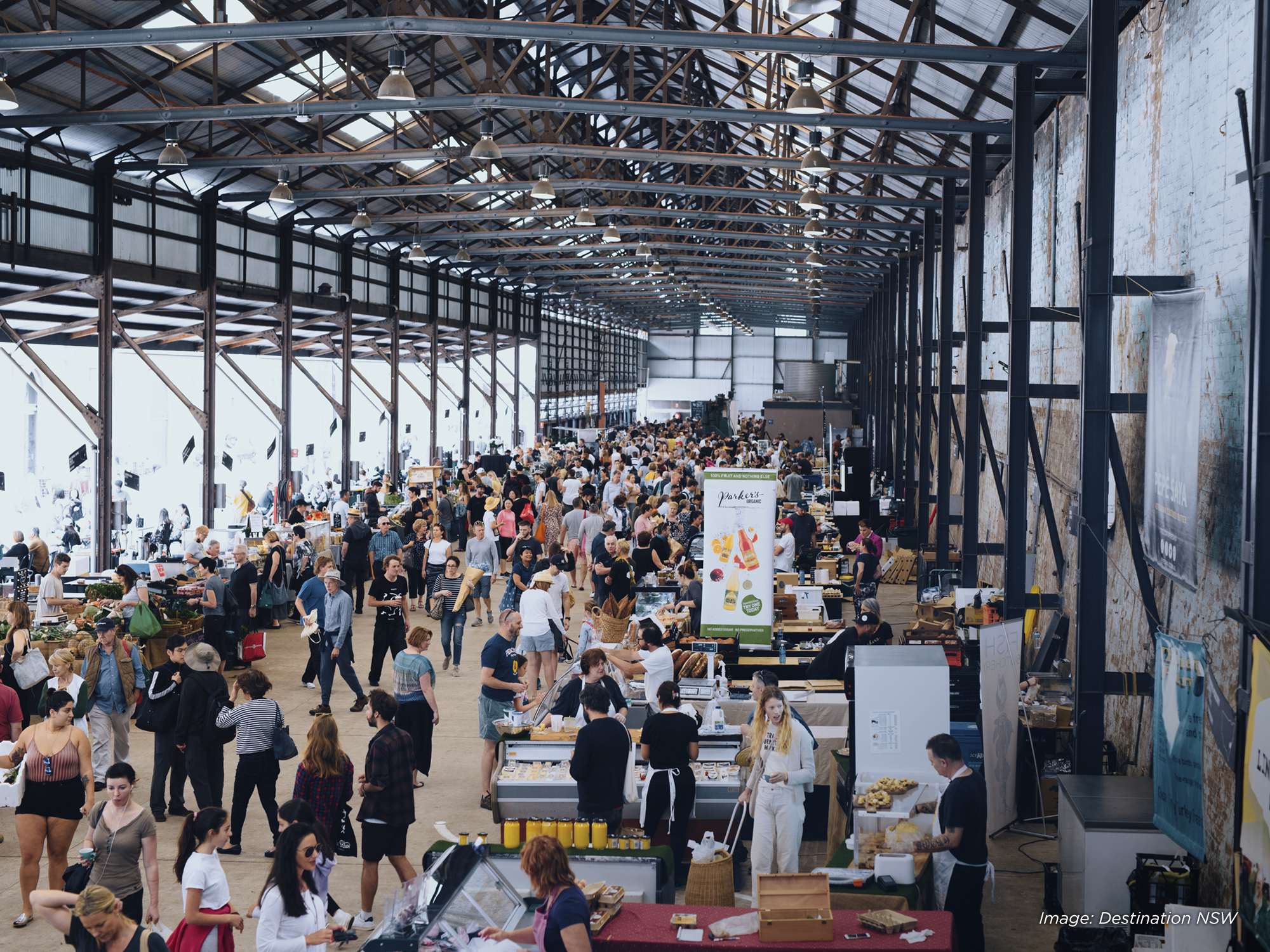 Spring Soul Food
From scrumptious sweets to succulent seafood, spring eats in Sydney and NSW are tempting. Slurp hot noodles under city lights at Sydney Night Noodle Markets; gather armloads of scrumptious pastries, Pepe Saya Butter and native bush foods spices and fresh local produce at Carriageworks Farmers Markets, or dine on Insta-worthy desserts, pastries and coffee at The Grounds of Alexandria. Breathe in fresh sea air and have fish and chips right on Bondi Beach at The Bucket List. On the northern beaches, you'll find relaxed locals tucking into seafood platters at The Boathouse Palm Beach and in the city, families in-the-know order the cute Kids Lunch Box (sandwich, brownie, fruit) at the Museum of Contemporary Art Gallery terrace, with a side of sweeping views of the Harbour.