EXPERIENCE AUSTRALIA'S NEW CAPITAL OF COOL  

You've done your research. The next best thing to do is to experience the magic of Australia yourself with Malaysia Airlines, flying you from Malaysia to Perth. For a taste of Australia's wonderful wildlife, laidback coastal lifestyle, delicious food and wine and awe inspiring journeys watch the short clip below.
Perth's experiences are closer than you think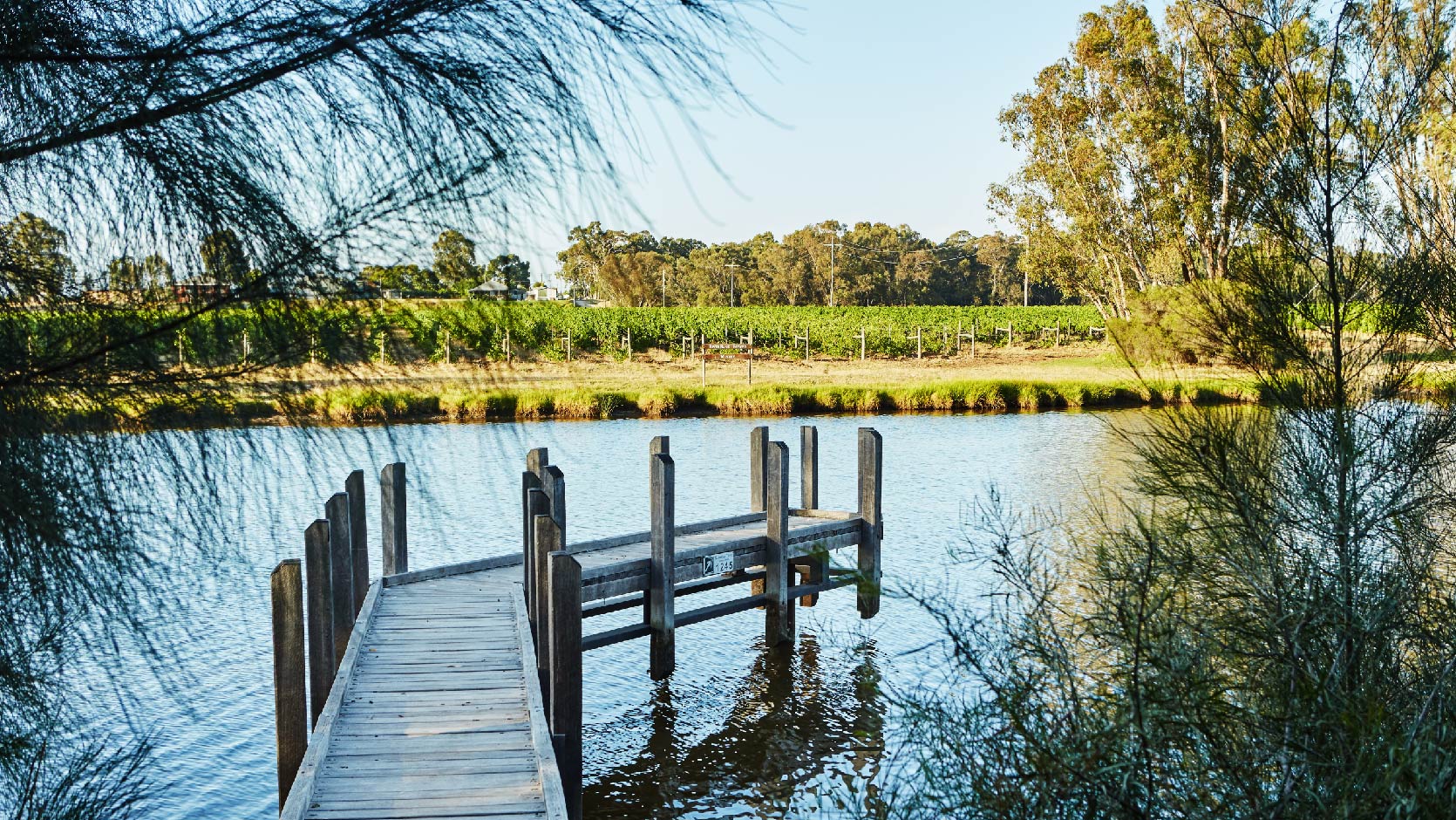 Swan Valley - Perth's Valley of Taste
Head inland on a short 25-mins drive to the Swan Valley and enjoy the 32 km food and wine trail where there are plenty of places to stop and savour the local produce. There's an endless choice for lunch with many wineries and restaurants offering a delectable array of beautifully presented food. After lunch enjoy some wine tasting and visit the local microbreweries for some boutique beers.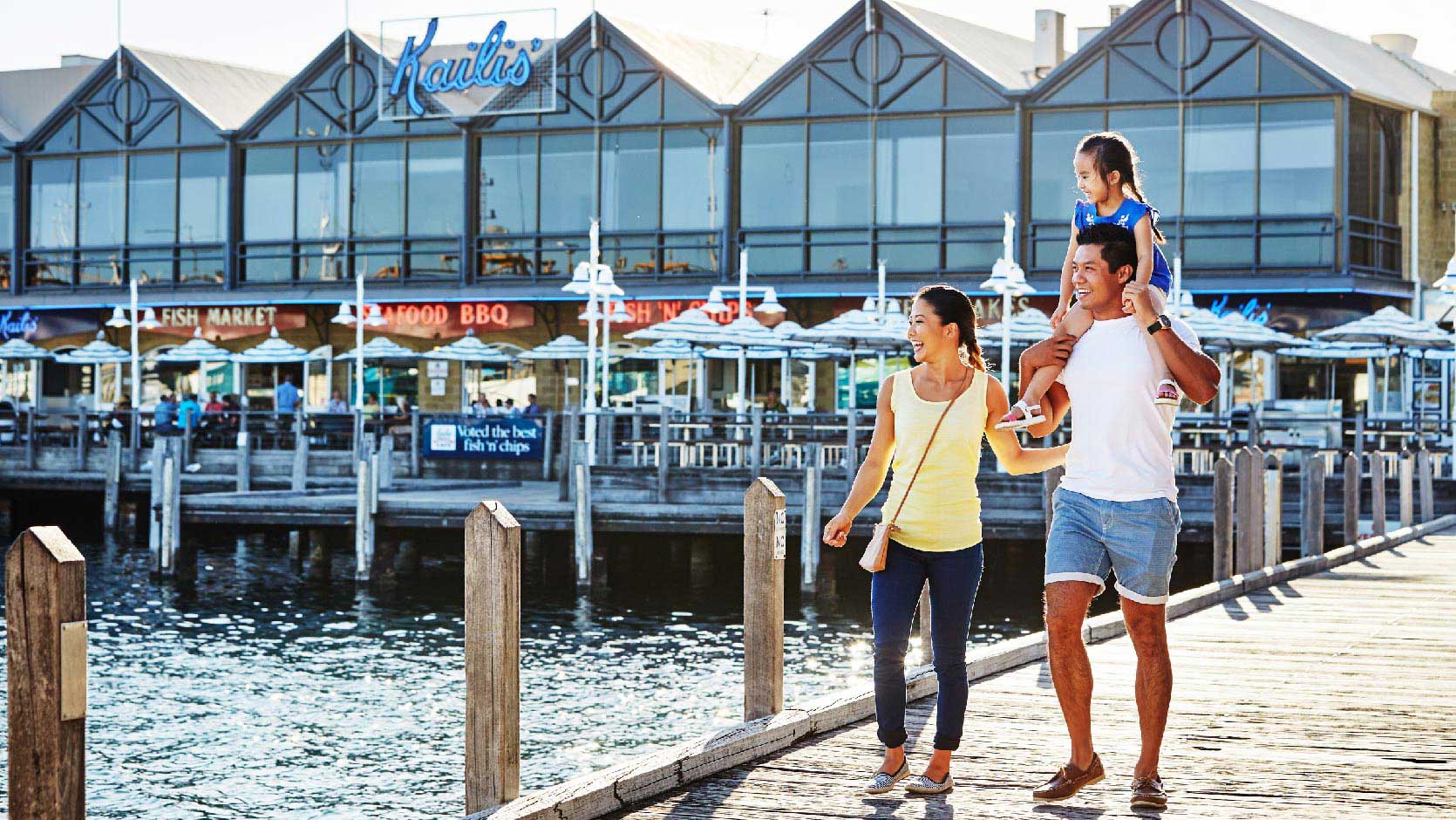 Fremantle – Unique bohemian destination with a laid back social atmosphere
Fremantle is a classic example of mixing the old with the new to create a unique and edgy city that's as proud of its artistic cultivation as it is of its maritime and colonial past. The combination of world-class attractions with microbreweries, waterside seafood eateries, heritage pubs, cafés, buzzing markets, boutique shopping.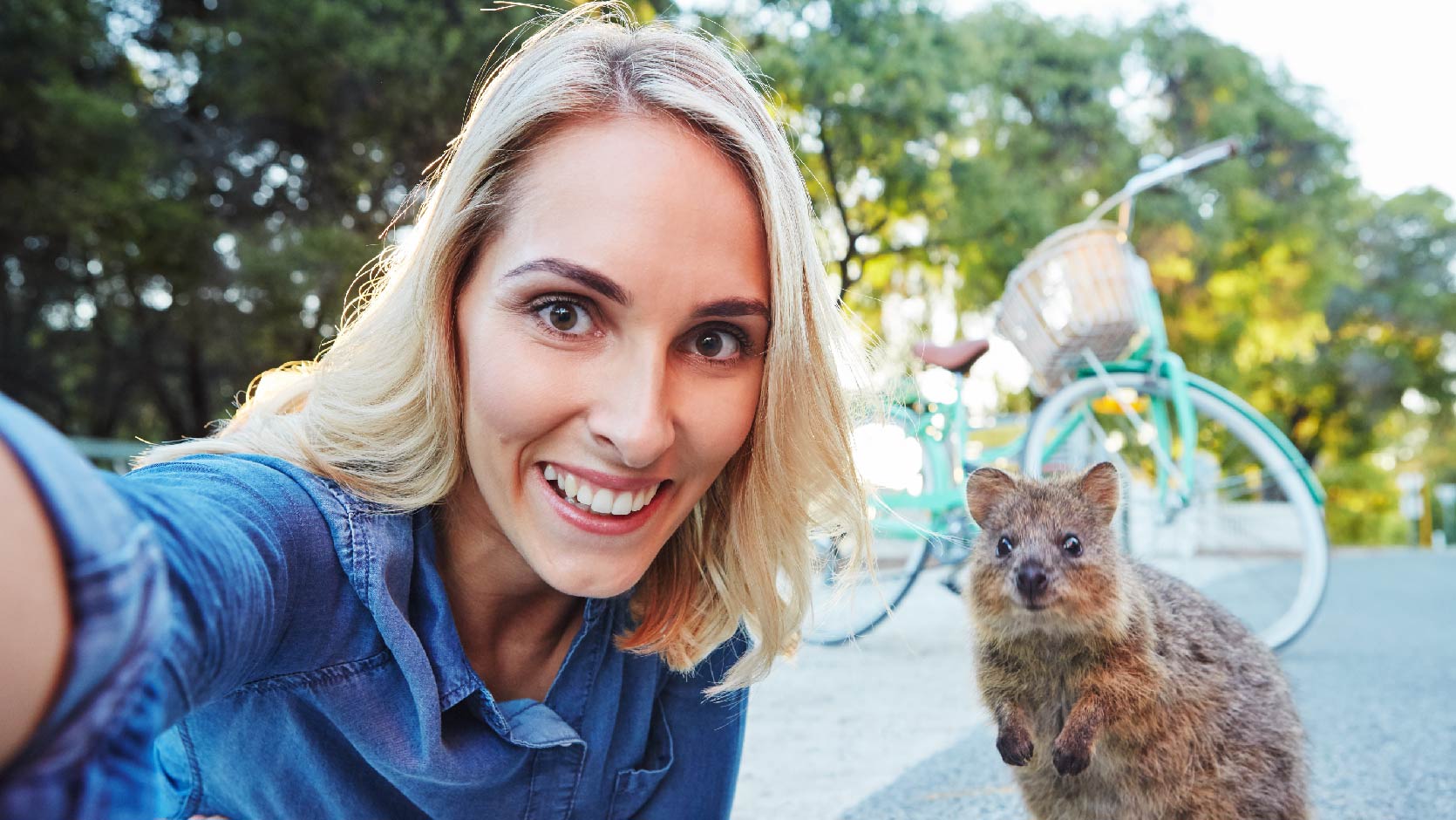 Rottnest Island – Perth's very own island getaway
Rottnest Island is home to some of the finest beaches and bays in the world. Getting to Rottnest is easy with regular ferry departures from Perth, Fremantle and Hillary's and once you're there, there are all sorts of fun things to see and do, such as taking a selfie with the Quokka.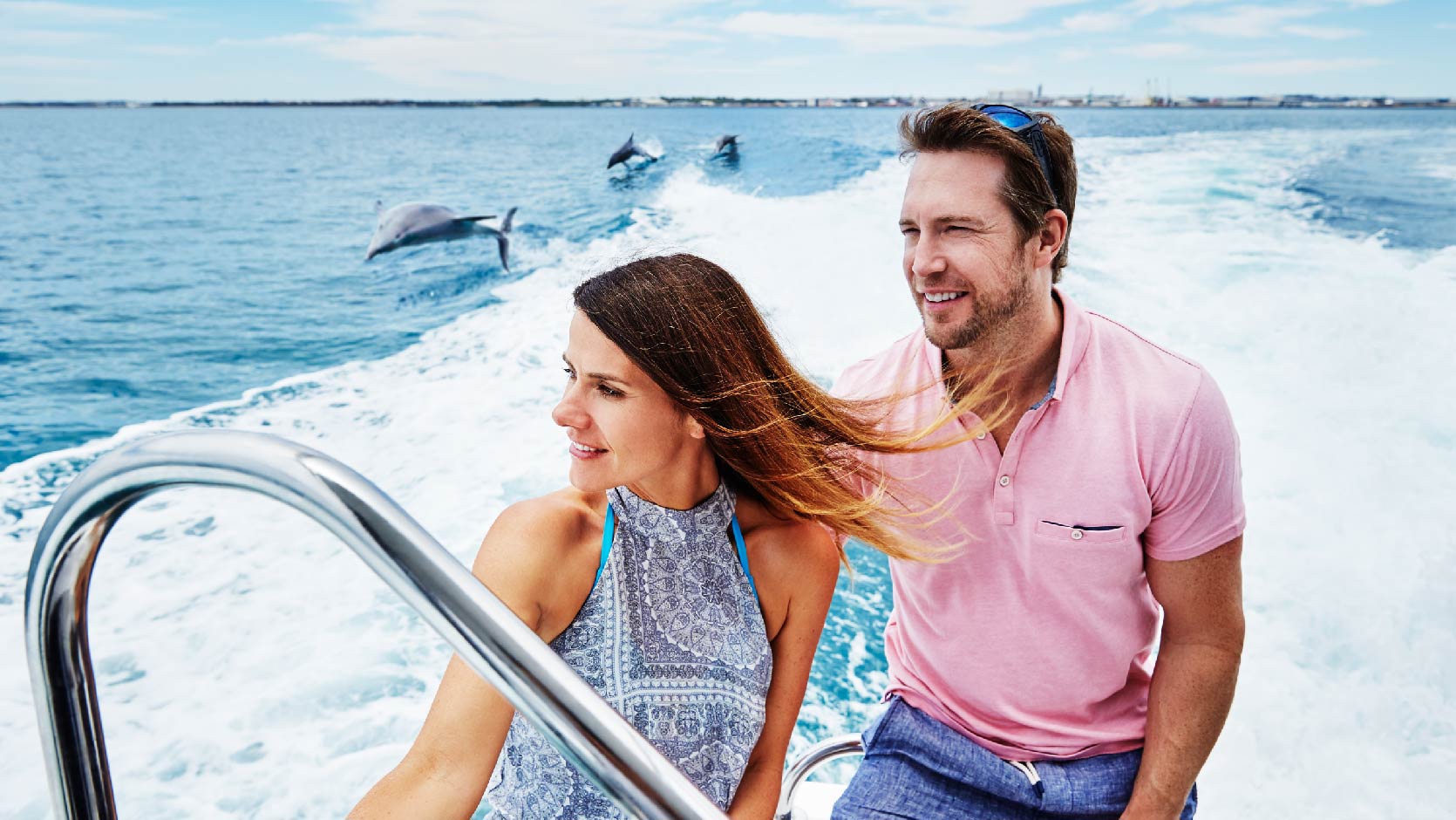 Rockingham – Perth's aquatic playground
Travel 45 minutes south from Perth to the seaside city of Rockingham where you can visit the beautiful Shoalwater Islands Marine Park, famous for its marine life. You can swim with the wild dolphins here or join a cruise to Seal Island and Penguin Island to see the fascinating Australian sea lions and little penguins. Rockingham's foreshore offers a beautiful setting for picnics or lunch at a waterfront café.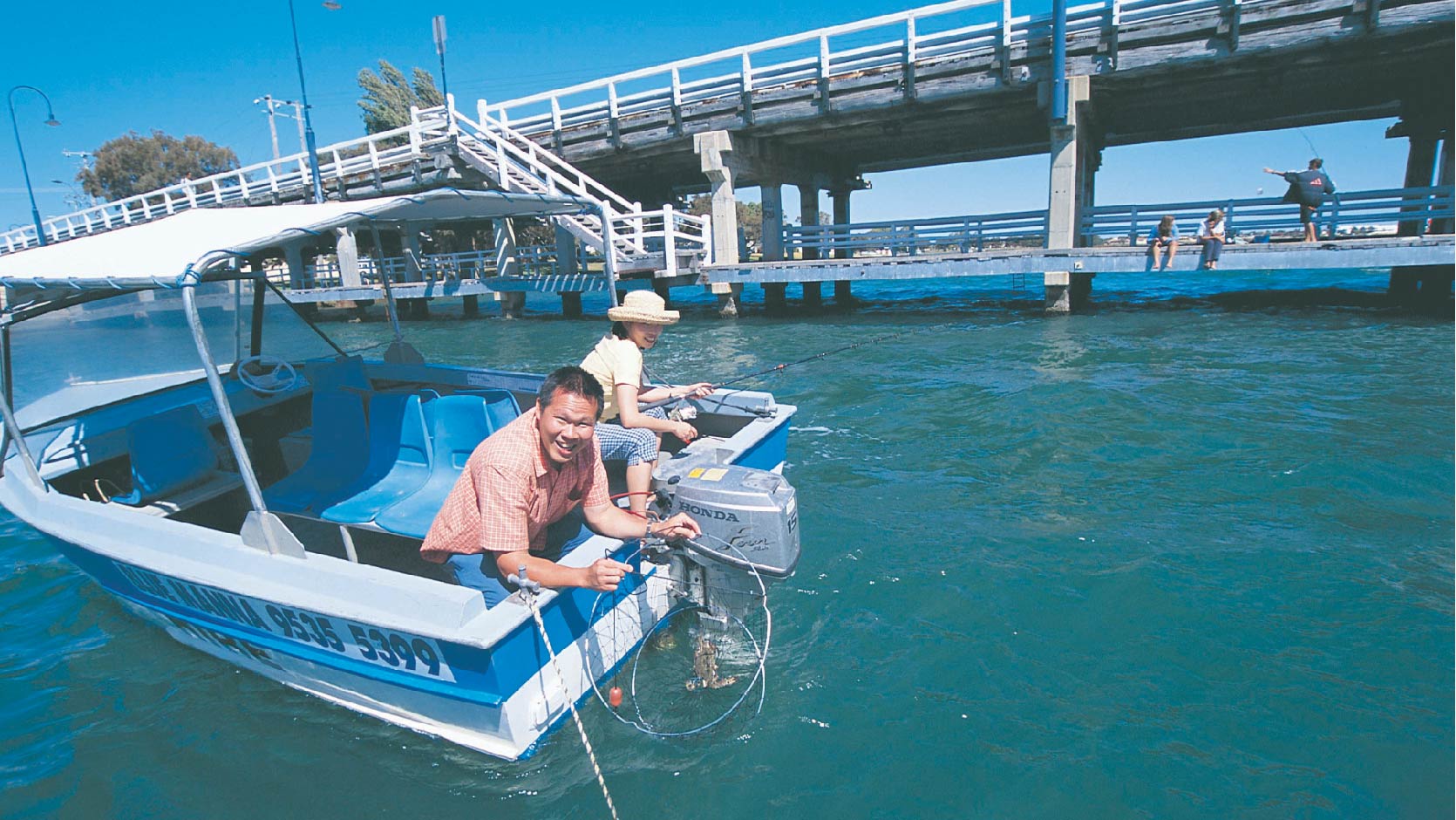 Mandurah – Western Australia's largest regional city
Covering an area twice the size of Sydney Harbour and regarded as one of Australia's most spectacular playgrounds for boating, fishing and wildlife watching, the Mandurah Estuary and Peel Inlet provide endless water-based activities. For those who enjoy being on the water, no trip to Mandurah would be complete without a boat cruise through the canals - be sure to keep an eye out for the wild bottle-nosed dolphins who are regular visitors to the area.
Diverse food & wine culture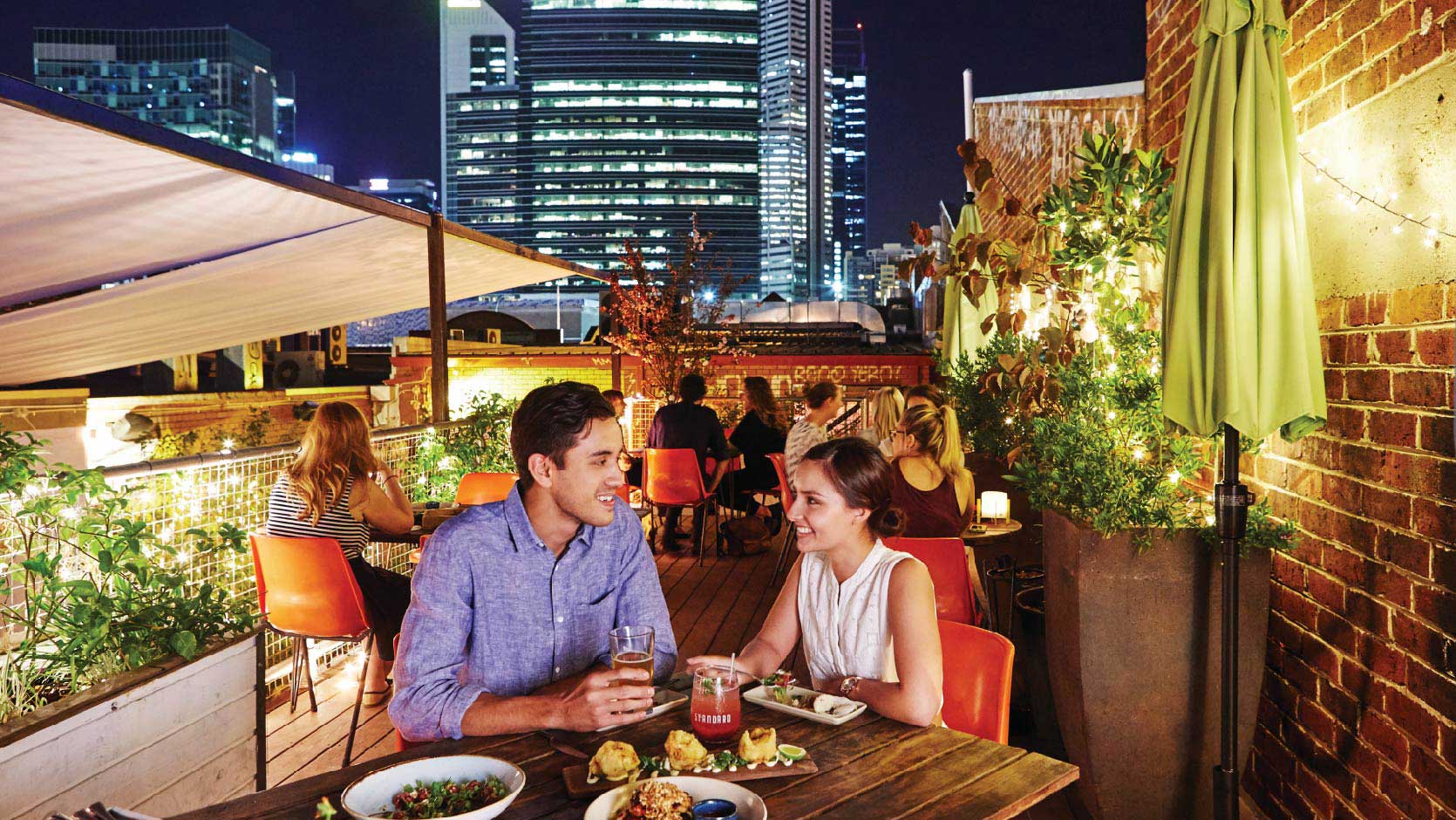 Perth's latest dining scene
Through an explosion in new dining options, the traditional hubs of Northbridge, Leederville and Mount Lawley have been joined by high-quality suburban and riverfront food at Hibernian Place and Elizabeth Quay. Nearby, you'll find boutique dining at the beautifully restored State Buildings, including the award-winning rooftop restaurant Wildflower. Not to mention, the city of Fremantle is the birthplace of Australia's flourishing craft beer scene, where you can still sample tasty local creations.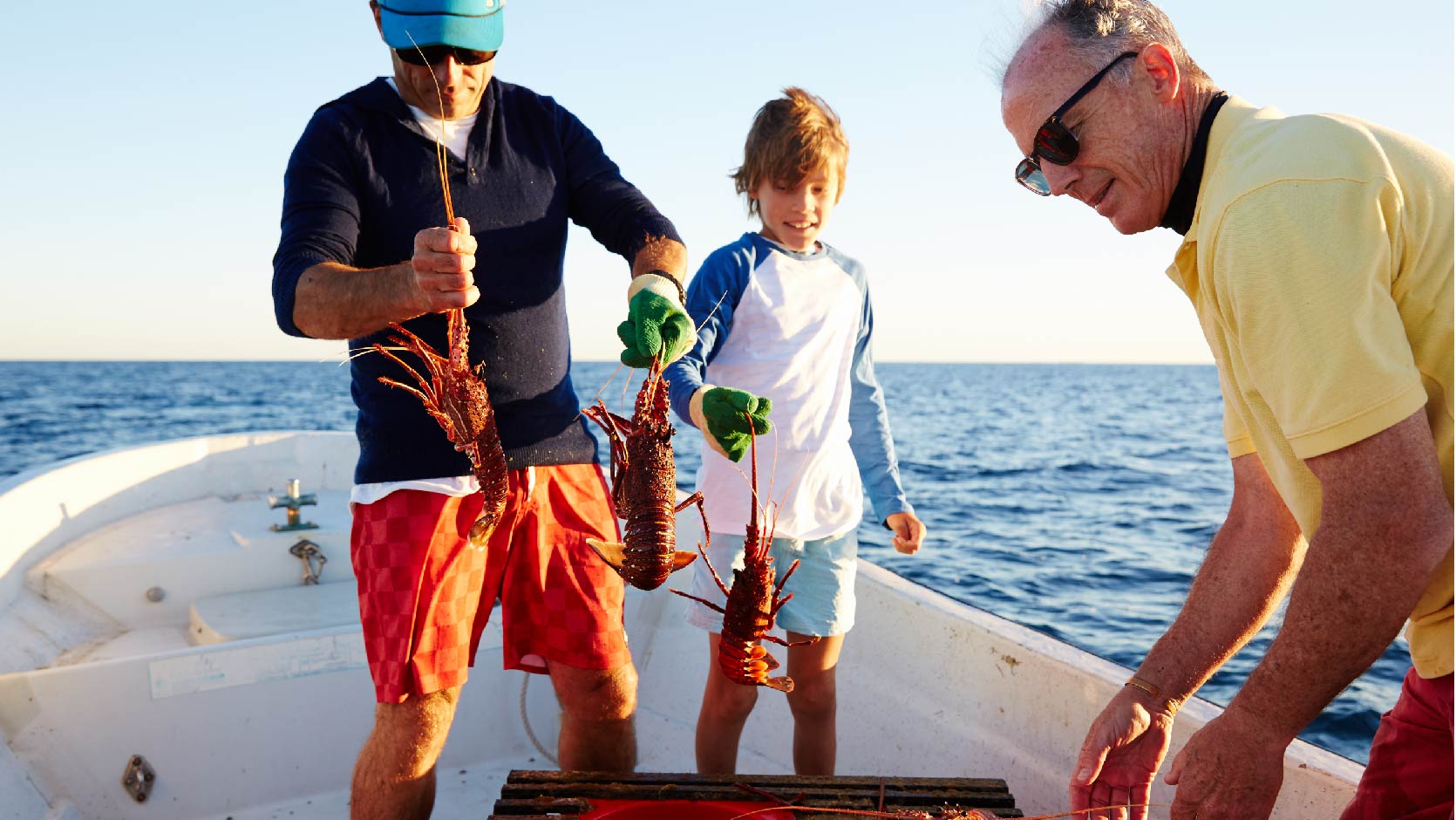 Fresh succulent seafood
Be sure to sample Geraldton rock lobster, South West marron, yabby, trout, North West barramundi, Exmouth prawns, Rottnest crayfish, Mandurah crab and Broome pearl meat. Add in a sunset view and a cool boutique beer or a crisp local wine and it's a true west coast experience. From fish & chips to fine platters, Western Australia's seafood hotspots include Fremantle, Scarborough, Cottesloe, Cervantes and Geraldton.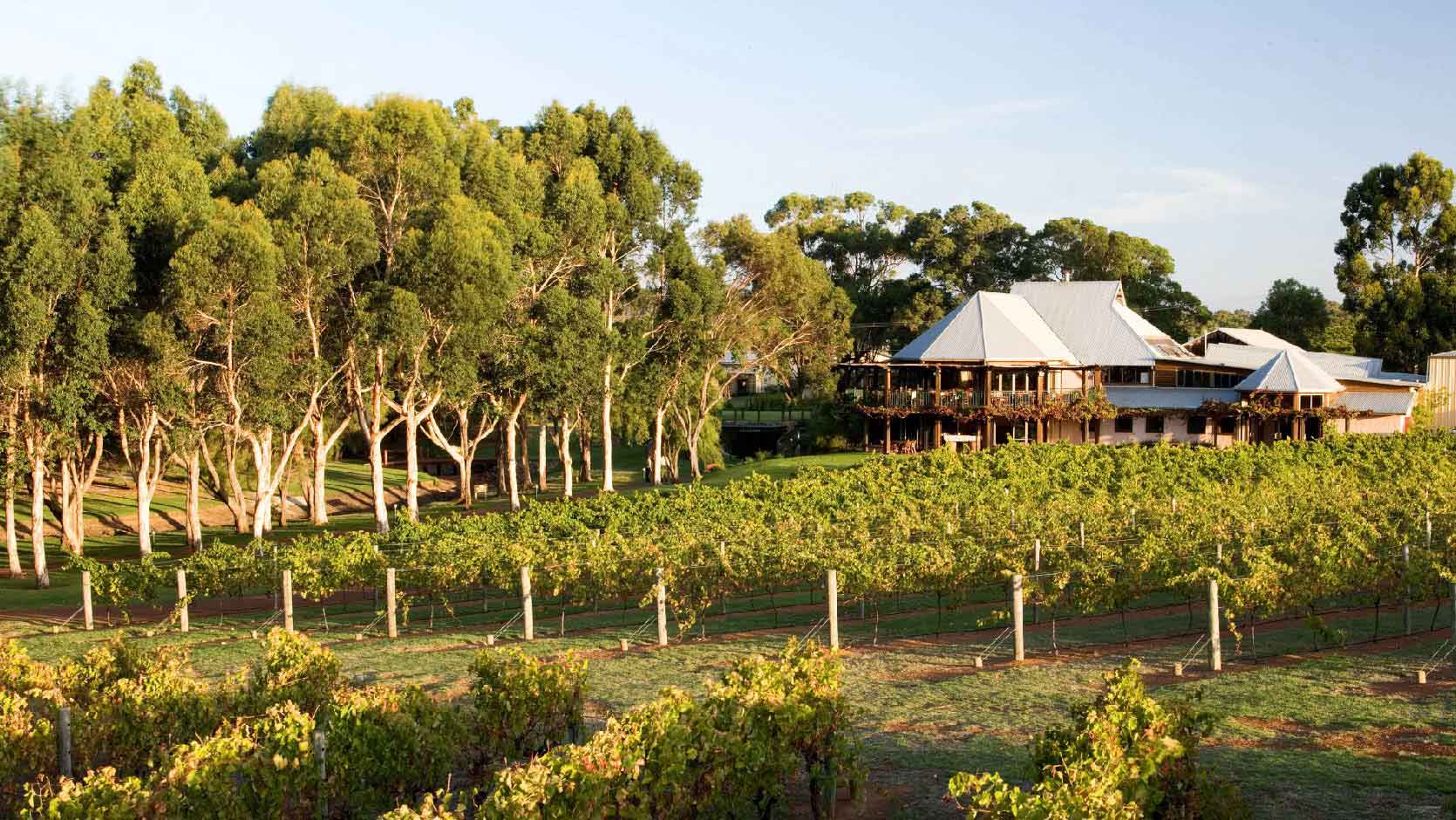 World-leading wines
From Perth to the rugged Southern Ocean coast, the State's south western corner produces some of the world's most awarded wines. From Albany, Denmark, Mt Barker, Pemberton, Margaret River right up to Swan Valley, be it a white or a red, there's something for every wine aficionado who visits Western Australia.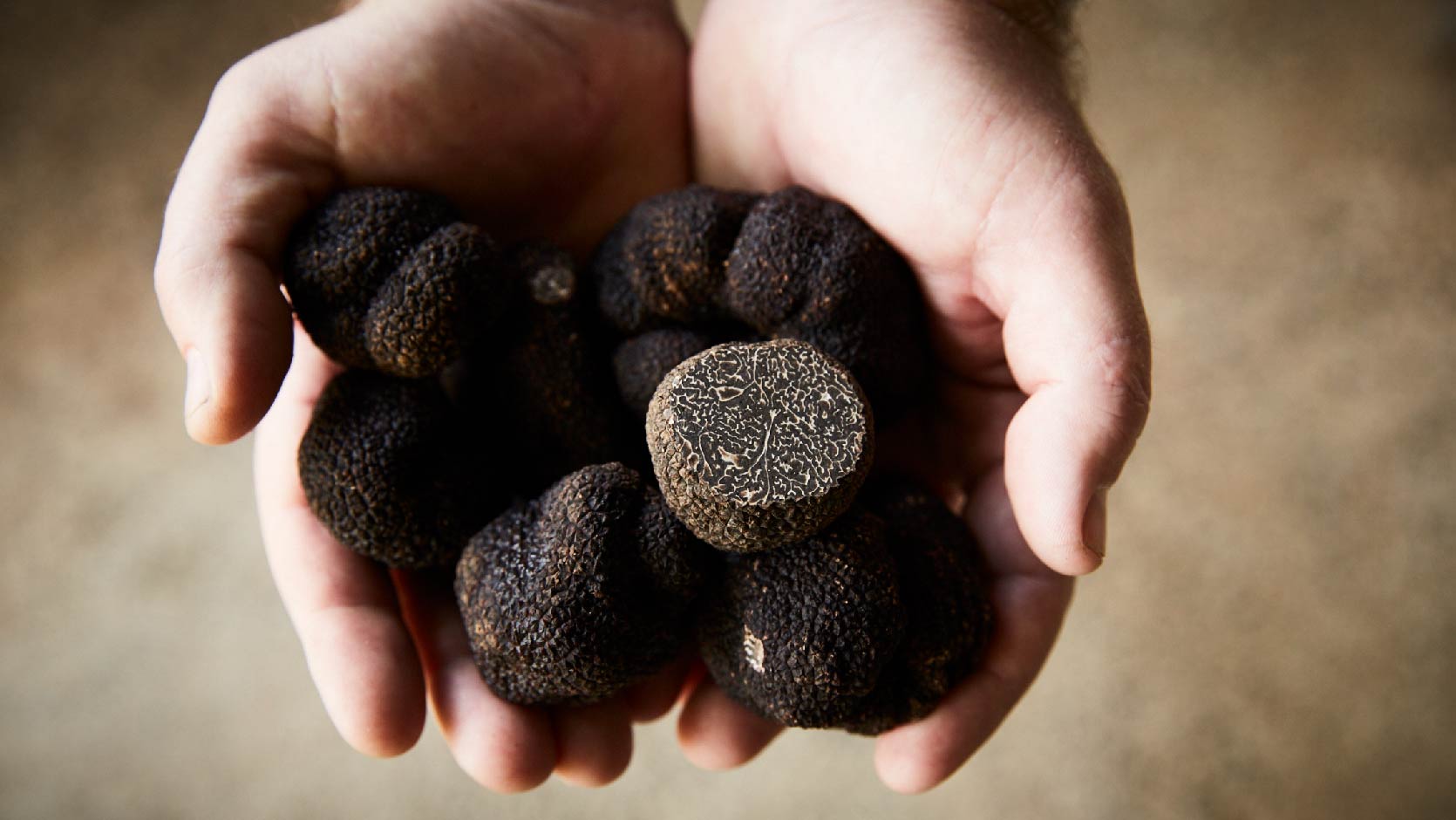 Western Australia-only local produce
Truffle – a rare delicacy can be widely hunted in the Southern Forests of Western Australia in the towns of Manjimup and Pemberton. Closer to the city, try the Honey Cake that is available in Fremantle and the CBD or take a 25-mins drive to Swan Valley to stock up on your chocolate stash, honey, nougat and a large variety of nuts. And if you are in luck, fruit picking is also available throughout the year, according to seasons.
Experience Extraordinary Western Australia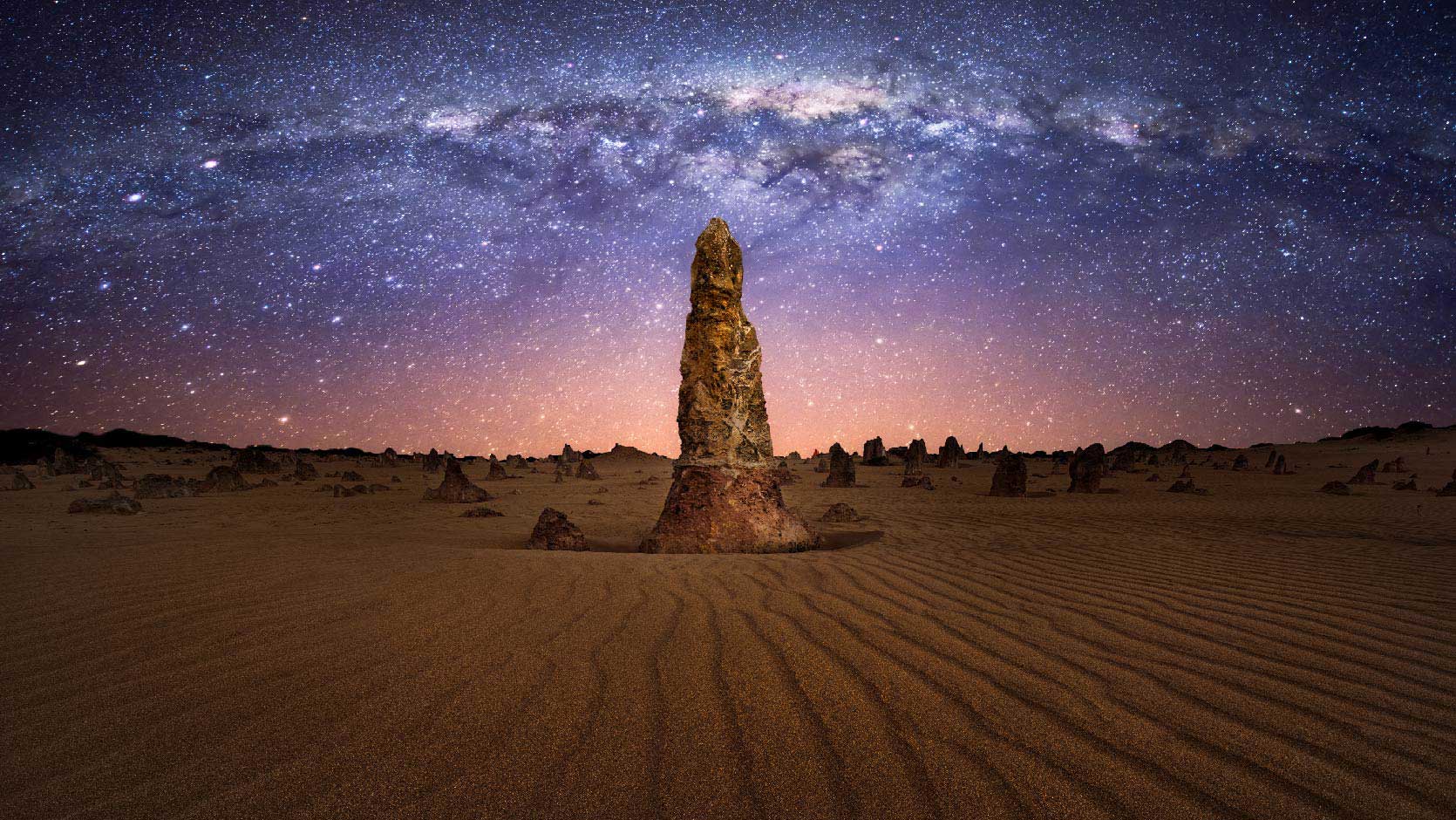 The Pinnacles
Acres of incredible limestone spires rise from the sand at the Pinnacles near the coastal town of Cervantes, a little over 2 hours drive north of Perth on the Indian Ocean Drive. Stargazing is a must here if you are staying over at Cervantes.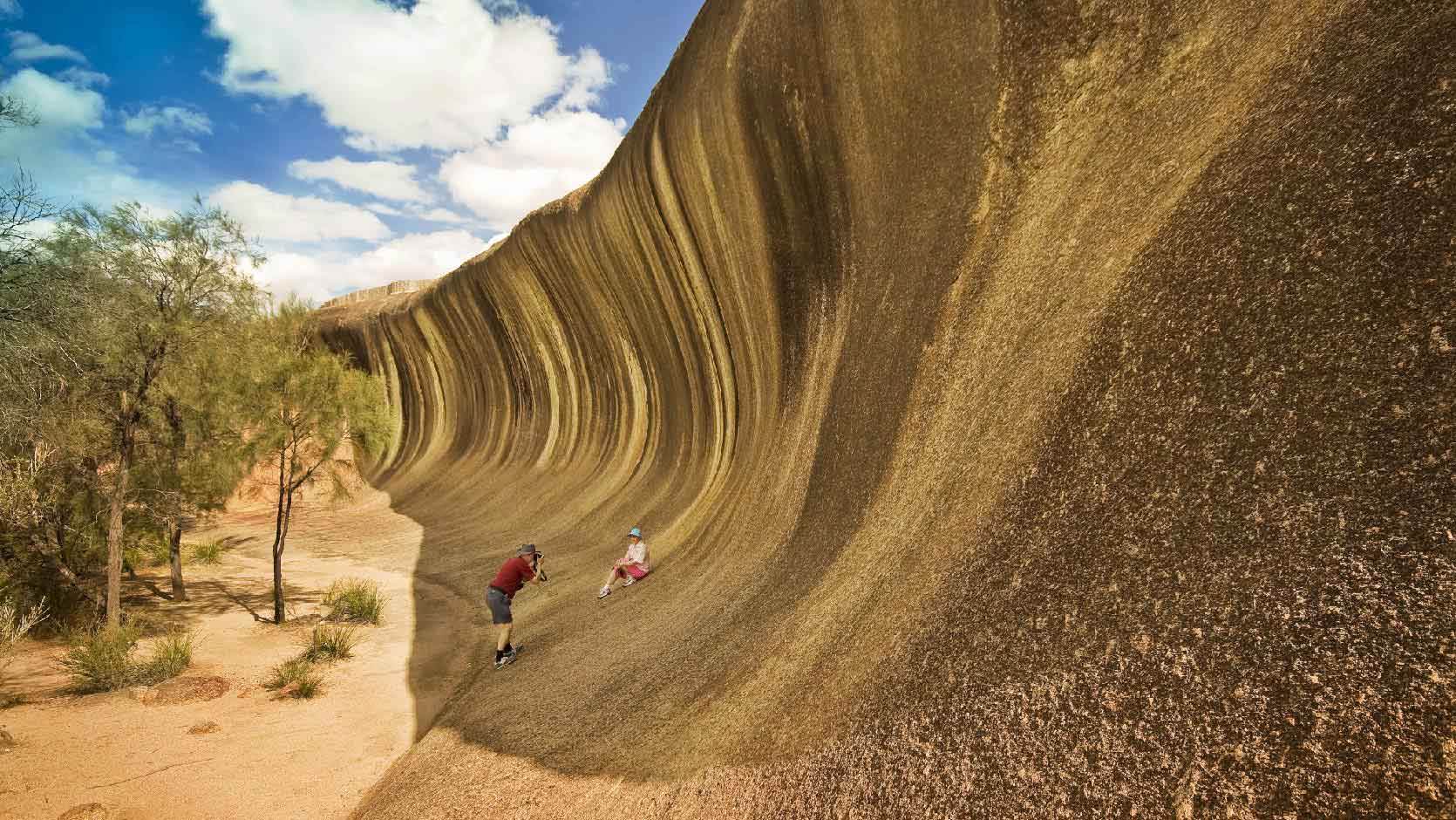 Wave Rock
The remarkable Wave Rock crests above the vast outback plain and has been over 2,700 million years in the making. Visit after the winter rains and you'll see the wave surrounded by a sea of colourful wildflowers. Pose on the rock face and surf a 15-metre-high solid granite wave.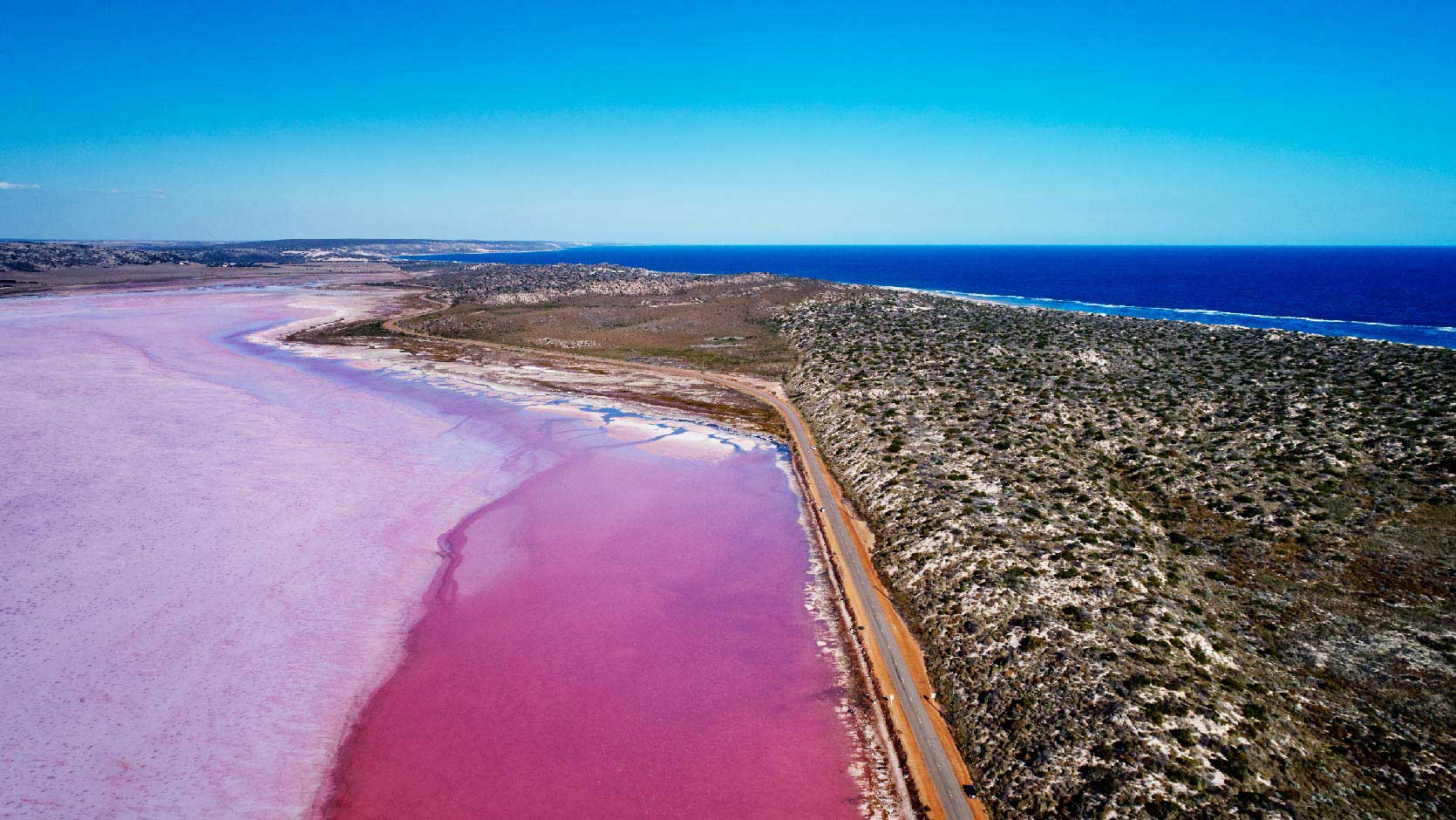 Hutt Lagoon
While spotting some of Western Australia's 12,000 wildflower species, check out other amazing colours at Hutt Lagoon near Port Gregory, where waters could be red, bubble-gum pink or lilac depending on the conditions. The lagoon is located near the seaside city of Geraldton and it's diving drawcard, the Abrolhos Islands and Kalbarri, where soaring river gorges meet the sea.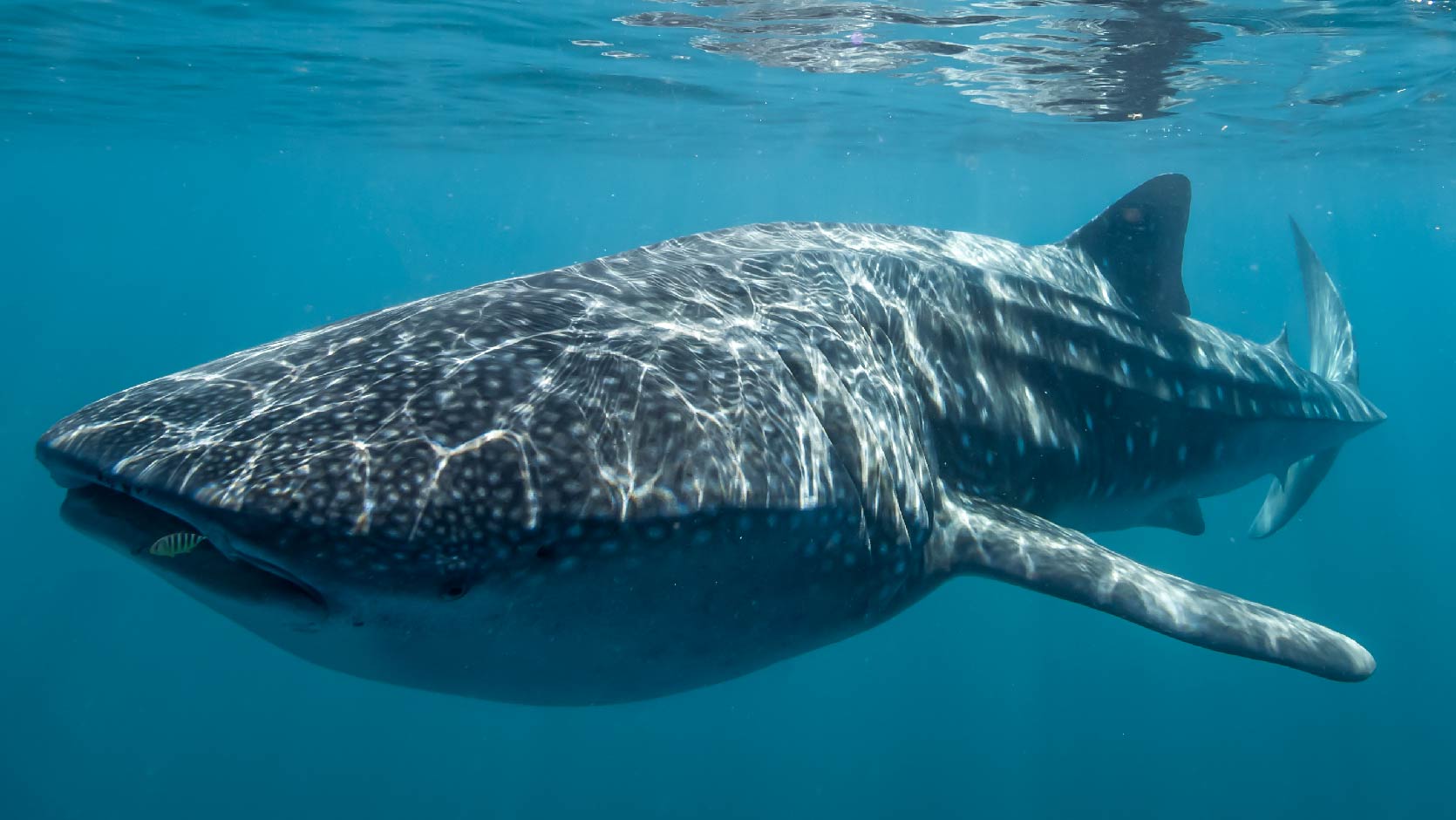 Ningaloo Reef
People visit World Heritage-listed Ningaloo Reef to swim with the whale sharks. But in just one day, you might also see a huge variety of whales – humpbacks, blue, orcas, as well as dolphins, manta rays, turtles, dugongs, reef sharks and thousands of tiny blue neon fish. You never know that the reef is going to throw at you.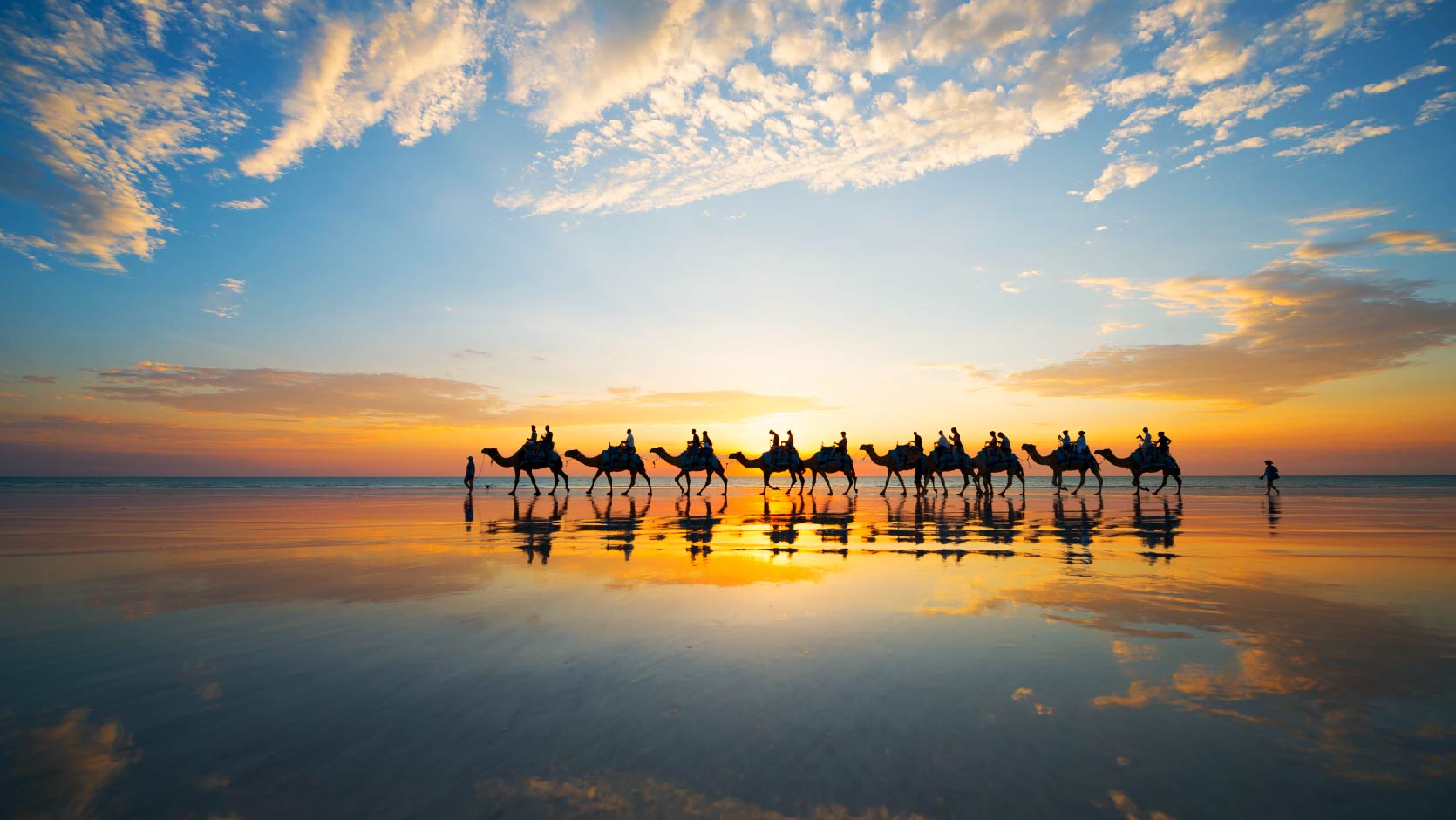 Broome
There's no better way to experience Broome's iconic Cable Beach than on a late-afternoon camel ride while basking in the orange glow of a west Kimberley sunset. The town also has a fascinating pearling and wartime history, unique melting pot of cultures, dinosaur footprints and the "Staircase to the Moon" effect over Roebuck Bay on certain evenings between March and October.
Valley of the Giants
You'll get a bird's eye view of towering tingle tree in the Valley of the Giants, between Denmark and Walpole, where the world-first Tree Top Walk is suspended 40 metres above the forest floor. The South West region is also home to giant jarrah, karri, marri and tuart trees. Near Pemberton, you can climb a trio of karri trees, up to 75m high, using climbing pegs to reach lookout towers.