Browser outdated: Flight search is not supported in IE version 10 or lesser. Please visit malaysiaairlines.com with supported browser.

Browser update: Please use Microsoft edge for better experience.
Flight search is not supported in IE version 10 or lesser. Please visit malaysiaairlines.com with supported browser.
Please use Microsoft edge for better experience.
Brisbane, Your Perfect Next Adventure
Now you can enjoy direct flights from Kuala Lumpur to Brisbane four times weekly onboard with our A330.
Brisbane the vibrant capital city of Queensland is the place to be! It is buzzing dining and nightlife, exciting attractions and events, art and culture, are the perfect backdrop to soak in the Aussie outdoor lifestyle with sub-tropical climates and botanical backyard. From climbing The Story Bridge Adventure Climb in the hidden laneways of the city, bar hopping through historic pubs and dining at food markets, the River City will delight you at every turn. It's also the gateway to the wonders of the Gold Coast and Sunshine Coast.
Your Perfect Next Sporting Capital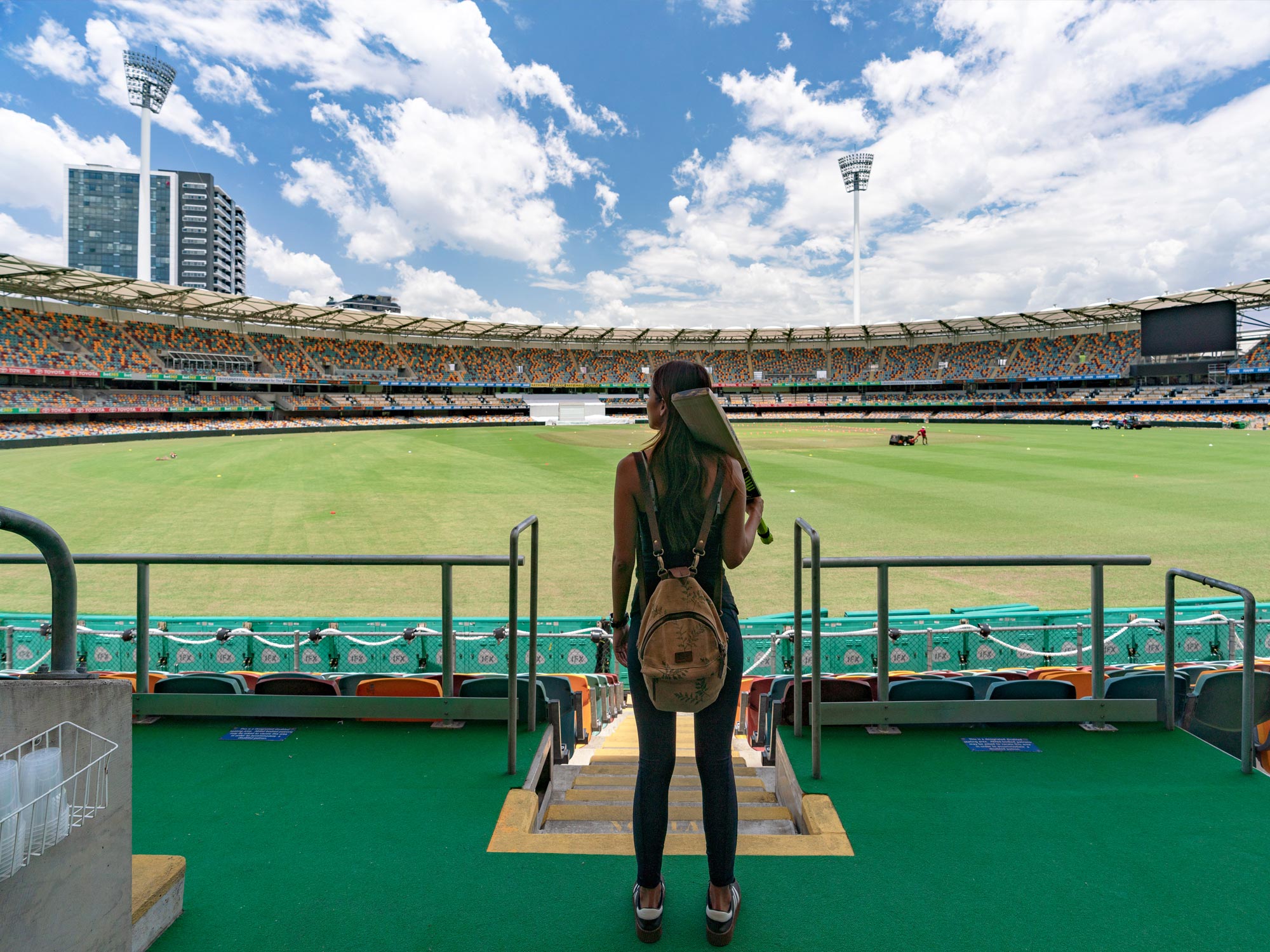 The Gabba is an internationally famous cricket ground and an icon of the Brisbane landscape. First established in 1895, the Gabba has hosted many major events including the first T20 International cricket game India Vs Australia in 2018, AFL, baseball, rugby league, rugby union, Olympic soccer and most recently two sell-out Adele concerts. Check out what goes on behind the scenes at our iconic Gabba stadium with an exclusive Gabba venue tour! These tours are scheduled on Thursday at 11am (subject to availability and the event calendar).
Your Perfect Next Adventure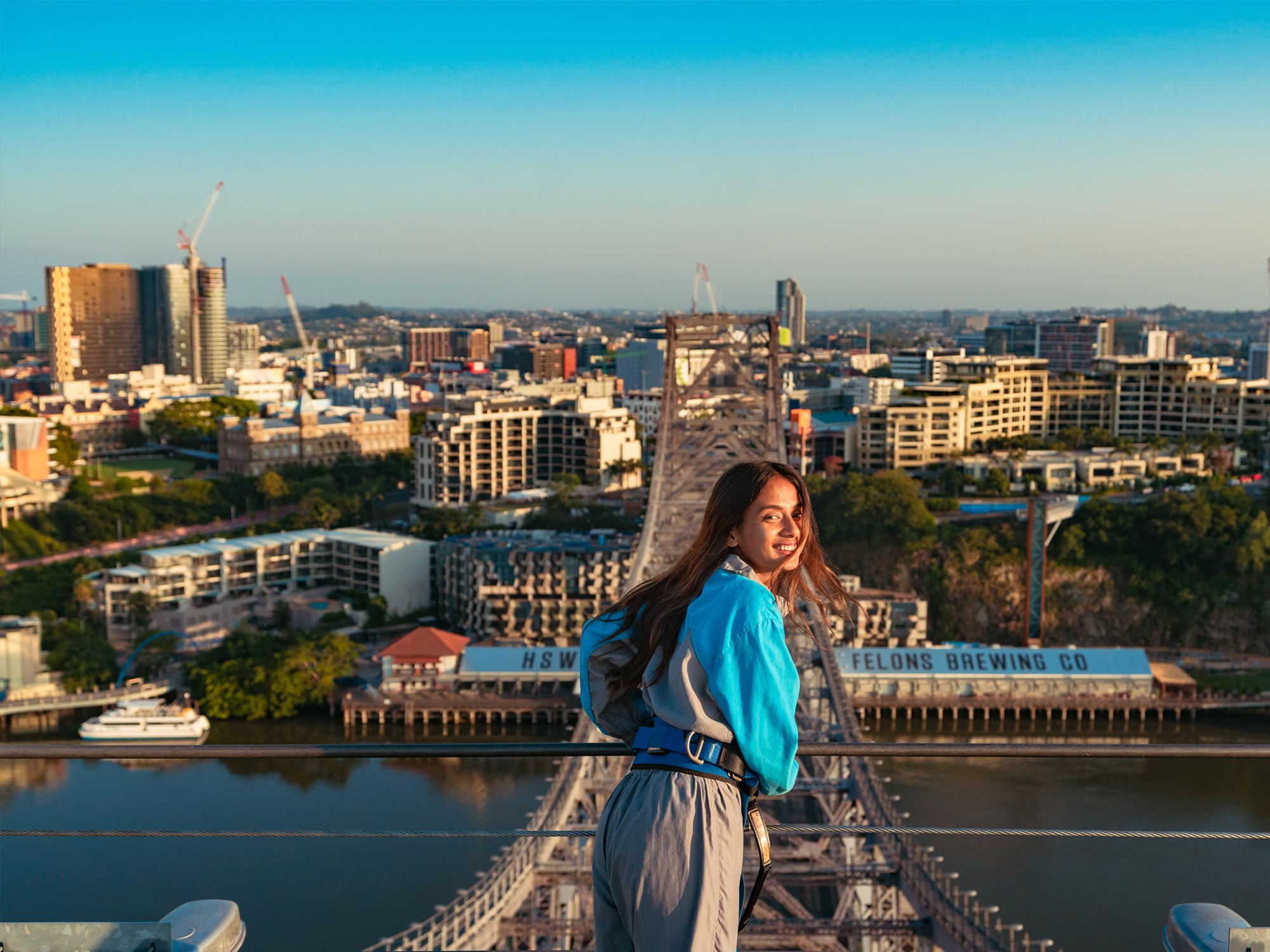 Brisbane's must do experience, Story Bridge Adventure Climb! - a truly unique and memorable adventure for all levels of fitness and age (minimum 10 years old).
The Story Bridge Adventure Climb is a soft adventure experience with a difference and the most spectacular way to discover Brisbane. Whether you're a local or a visitor, you'll be exhilarated by a once in a lifetime experience that offers you the most breathtaking panorama of Brisbane and its surrounding natural beauty.
The two hour experience includes a unique journey up over the bridge's superstructure to the 80 metre summit which provides magnificent uninterrupted 360 degree views of Brisbane City, the river, mountain ranges and islands. One of only three such experiences in the world, The Story Bridge Adventure Climb also provides fascinating commentary from an experienced climb leader about the history and heritage of both the bridge and city surrounding them.
Your Perfect Next Widlife Encounter
Explore South Bank Parklands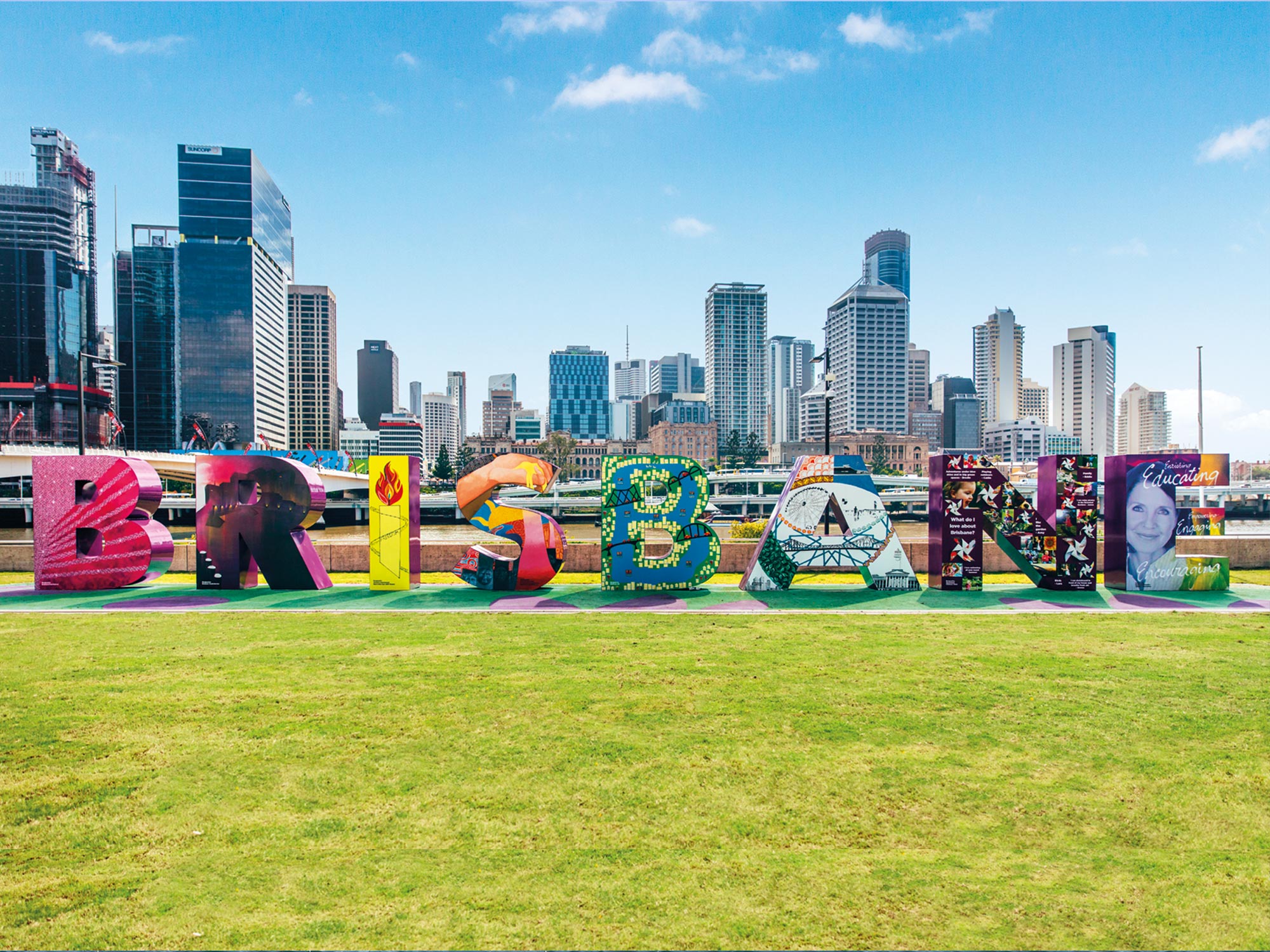 South Bank Parklands is Queensland's premier lifestyle and cultural destination, open 365 days a year. Its world-class entertainment and leisure facilities include: South Bank Parklands, covering 17 hectares of riverfront land, the Parklands feature free swimming facilities, walking tracks, licensed picnic areas and more. It is also home to a year-round calendar of events and plenty of eateries, including the award-winning River Quay, Little Stanley Street known as one of Brisbane's most popular eat-streets, Little Stanley Street is bursting with more than 30 cafes, bars and restaurants offering an array of cuisines styles including Thai, Italian and more, Grey Street like its sister street Little Stanley, Grey Street is a foodie haven - a stroll along the street will offer you plenty of places to eat. Grey Street is also home to the South Bank Cineplex, which is renowned for its cheap prices, South Bank Cultural Precinct has something to suit all ages. It includes the Queensland Performance Arts Centre; Queensland Museum and Sciencentre; Queensland Art Gallery and Gallery of Modern Art; and State Library of Queensland.
Explore Brisbane's Laneways
Explore Laneways with Brisbane Greeters

Brisbane's strong list of hip laneways is ever-growing, and humming with trendy coffee joints, restaurants and bars. The best way to uncover all these hidden gems is to join a free walking tour – Brisbane Greeters to get insider local tips. Some of our favourite laneways are: Eagle Lane and Burnett Lane in the City, Ann Lane and Bakery Lane in Fortitude Valley.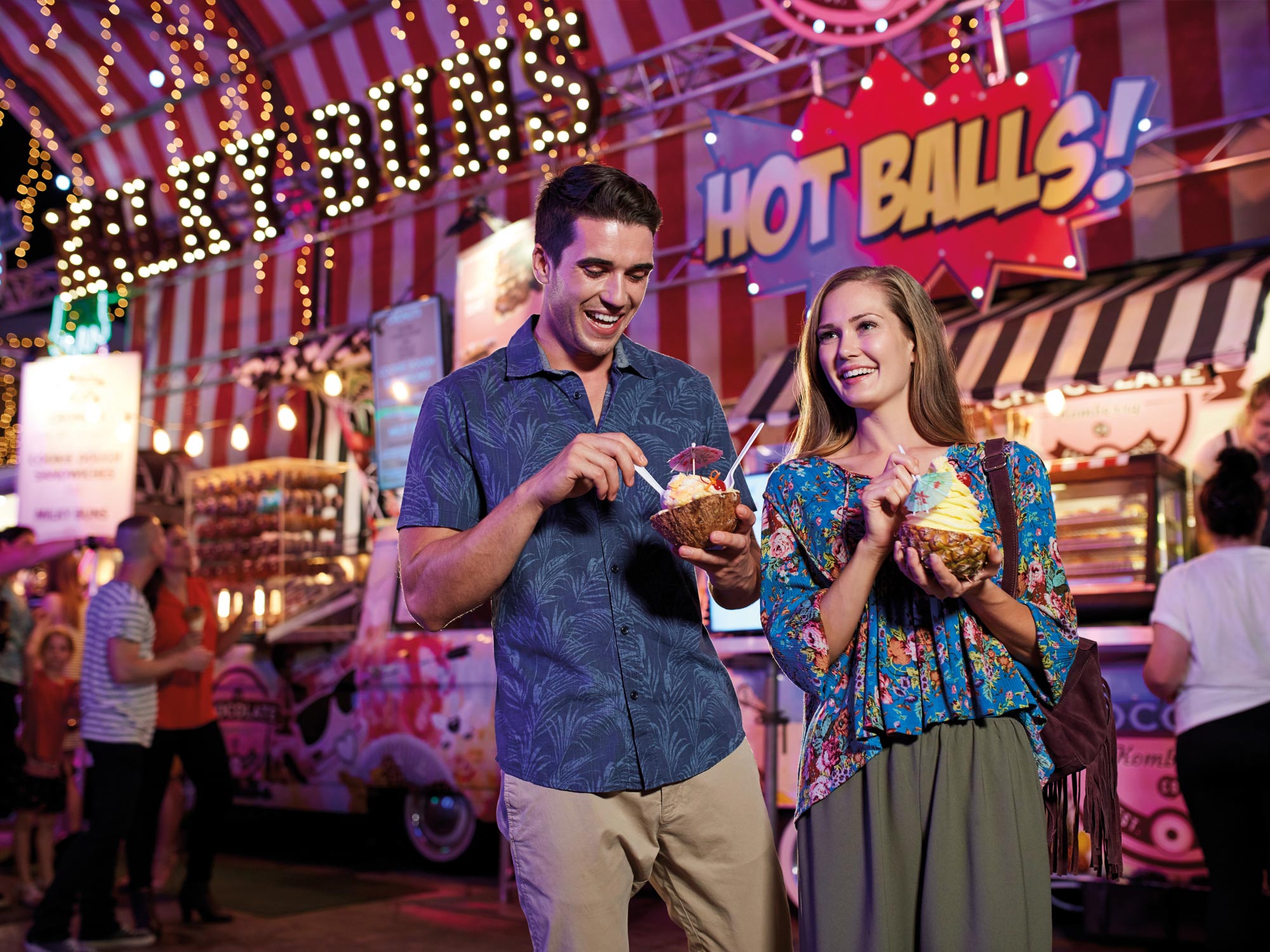 Brisbane's bustling market scene is in overdrive. On the weekend, be prepared to hop from one farmers market to another crafts market – each offering a unique array of local produce and local designer craft.
On Friday and Saturday (4pm – 10pm) and Sunday (12 – 8pm), make a date at Eat Street Northshore and be prepared to get lost in the midst of over 180 dining and shipping containers that promises to satisfy even the fussiest of eaters. Don't forget to check out local and touring bands who perform at the venue too!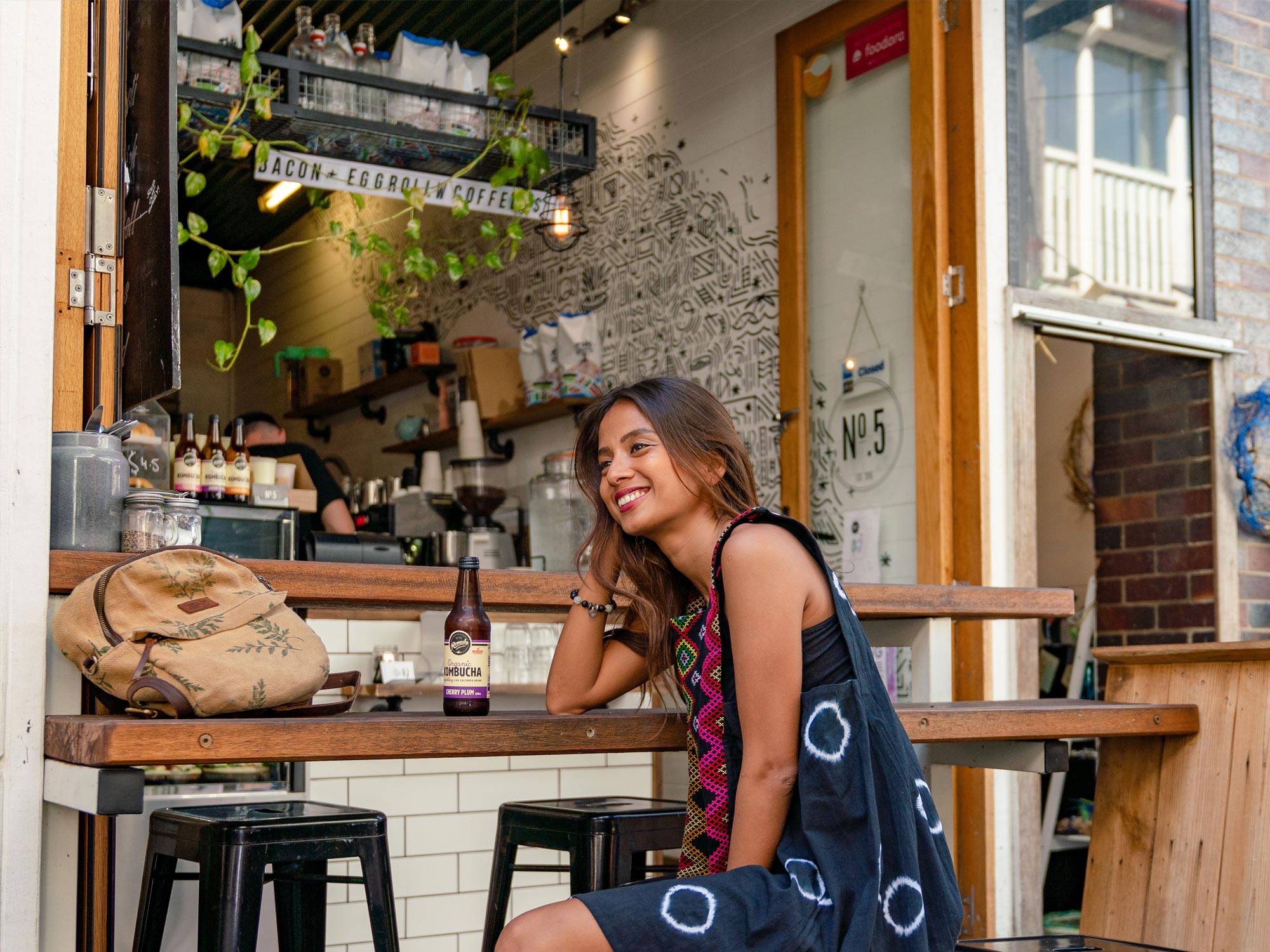 Brisbane's caffeine scene has spent the past few years growing up, and now it boasts some of the best coffee in Australia with new boutique coffee joints popping up around corners and down laneways! Here are some good joints in the city laneways that we have sniffed out for you: Brew at Burnett Lane who starts pouring at 7am, Coffee Anthology at Margaret Street who was voted Australia's Best Café in 2016 by café review site Beanhunter.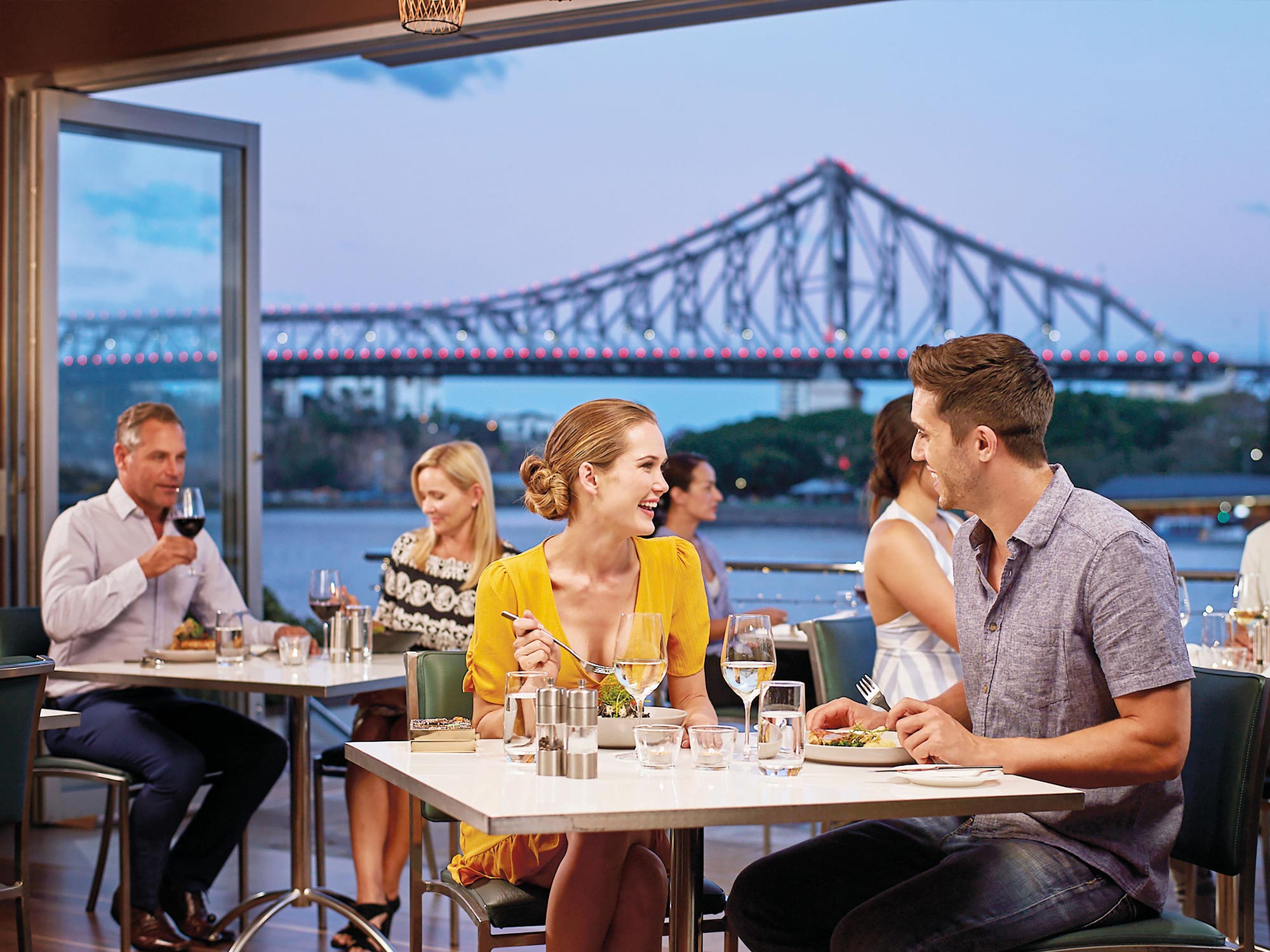 In Brisbane, there is always an option to pair your meals with a killer vista or a luxe riverside setting depending on your mood and occasion. For undeterred view of the city skyline, we recommend heading to South Bank where one dines right by the river and looks over to the City. Other great spots for the cityscape will be from Mt Coo-tha and Kangaroo Point.
Views of Story Bridge in the evening never fails to light up a special occasion, and this is why so many fine restaurateur choose to set up shop at precincts such as Eagle Street Pier, with the Story Bridge in its full glory.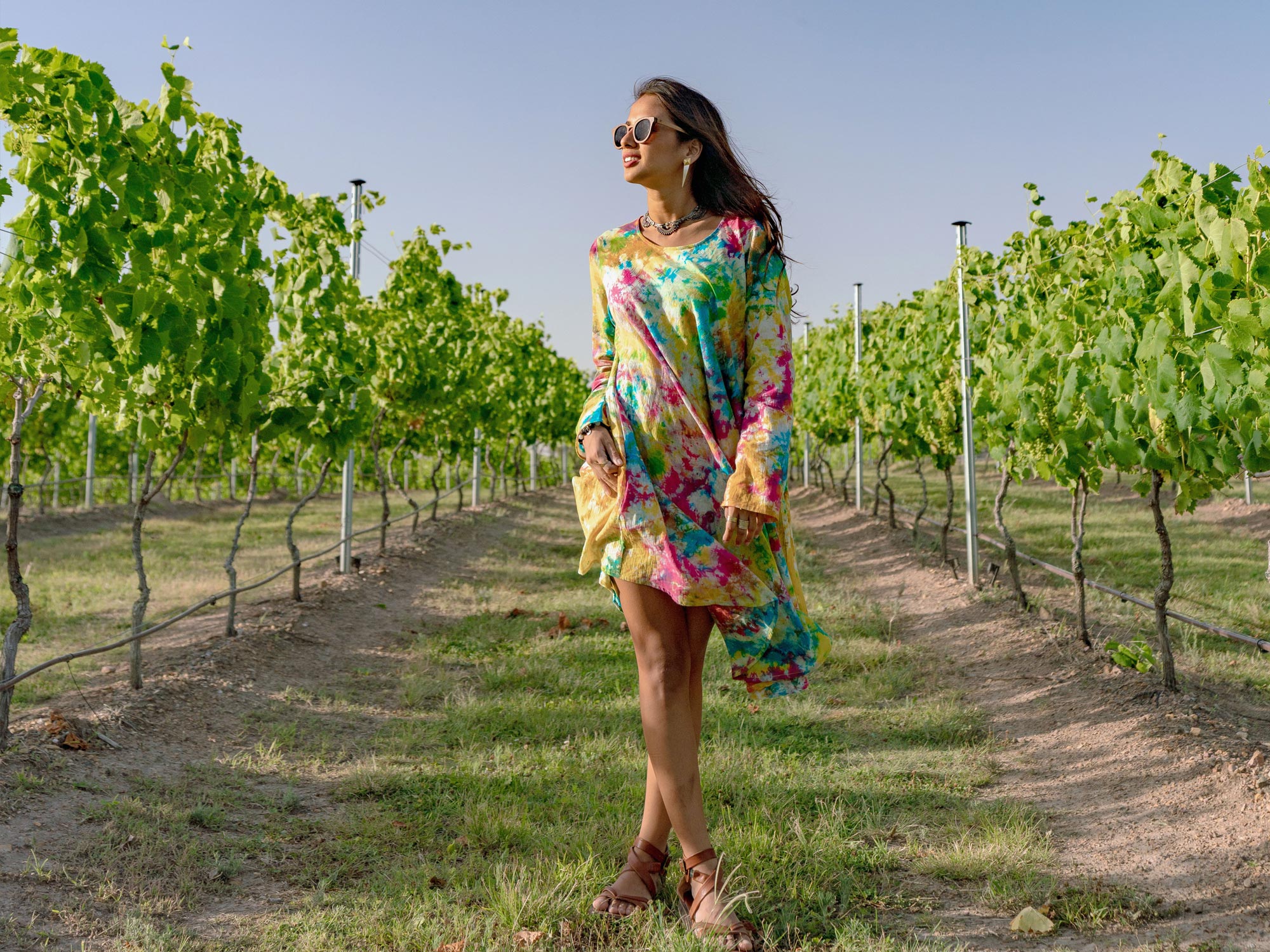 Drop your devices, leave your power cords and step away from the tele. Within an hour from Brisbane City, you will be able to access some of Australia's best farm stays set in a beautiful scenic countryside. Families with kid will get a chance to get their hands dirty at a working farm, and stay with a local family.
If you are seeking a camping experience without missing out creature comforts such as hot water bath, king-sized beds and micro-kitchens - Brisbane has no short of options for you too in the beautiful Scenic Rim. Check out Ketchup's Bank Glamping, Nightfall Wilderness Camp and Sanctuary by Sirromet.
Take a day trip to Moreton Island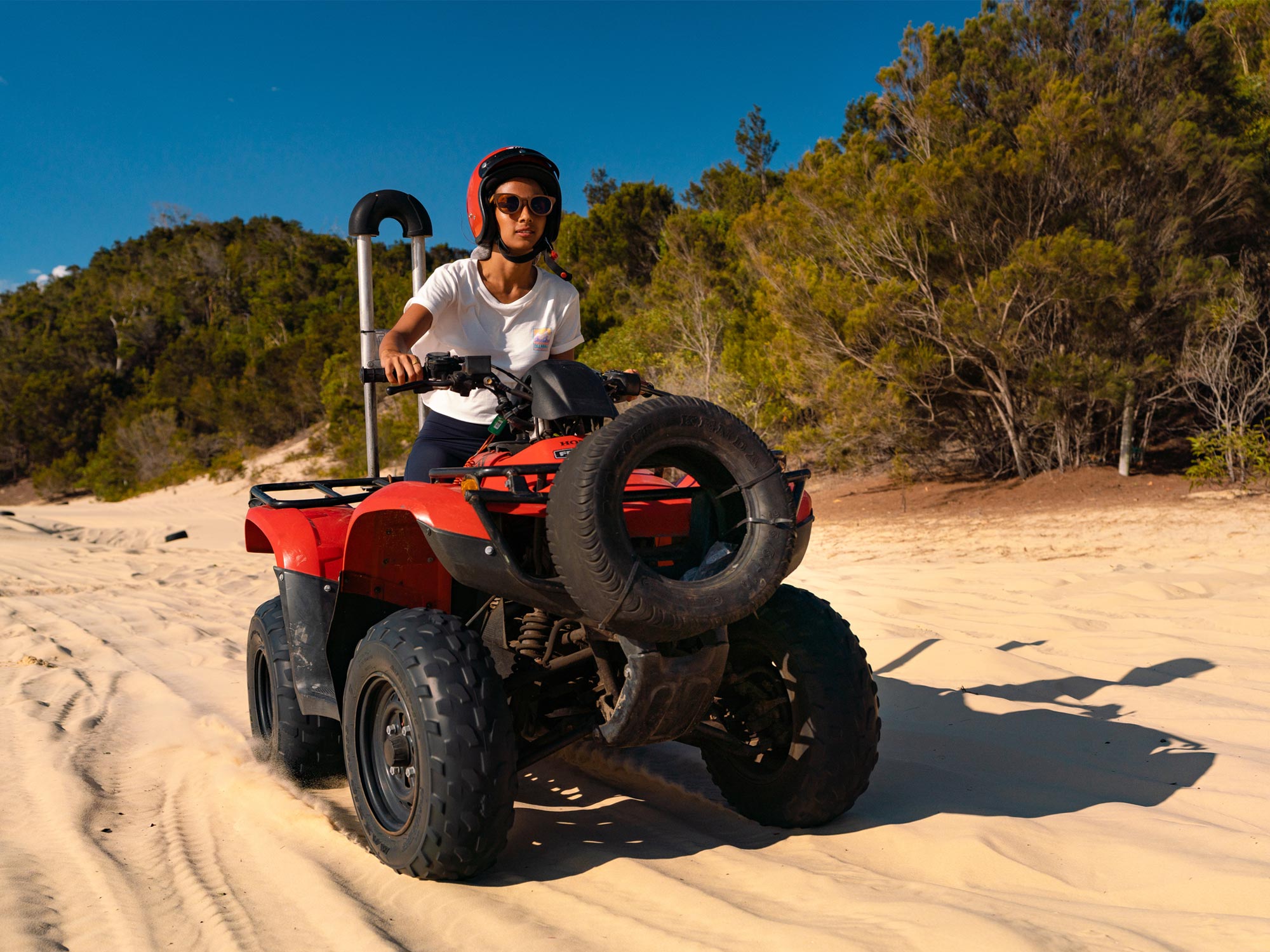 Escape to the crystal clear waters and white sandy beaches of Tangalooma Island Resort on Moreton Island, just over an hour from Brisbane by resort passenger ferry.
Leave the mainland behind, switch to island-time and get ready for simple pleasures like crystal clear waters and pristine natural beauty. Ease into the relaxed Queensland atmosphere and soak up the sun as you set out for adventure, discovery, and more than a little fun.
The untouched national and marine parks of Moreton Bay make Tangalooma one of a few destinations in the world where visitors can interact with native wildlife in their natural environment, including wild bottlenose dolphins who visit our shores each evening to be hand-fed by resort guests.
Tangalooma has lots of activities on offer and more than half are free. Choose from Shipwreck Snorkelling, sand tobogganing on the Desert Safari tour, Quad biking, Segway tours and so much more!
Whale Watching (June – October)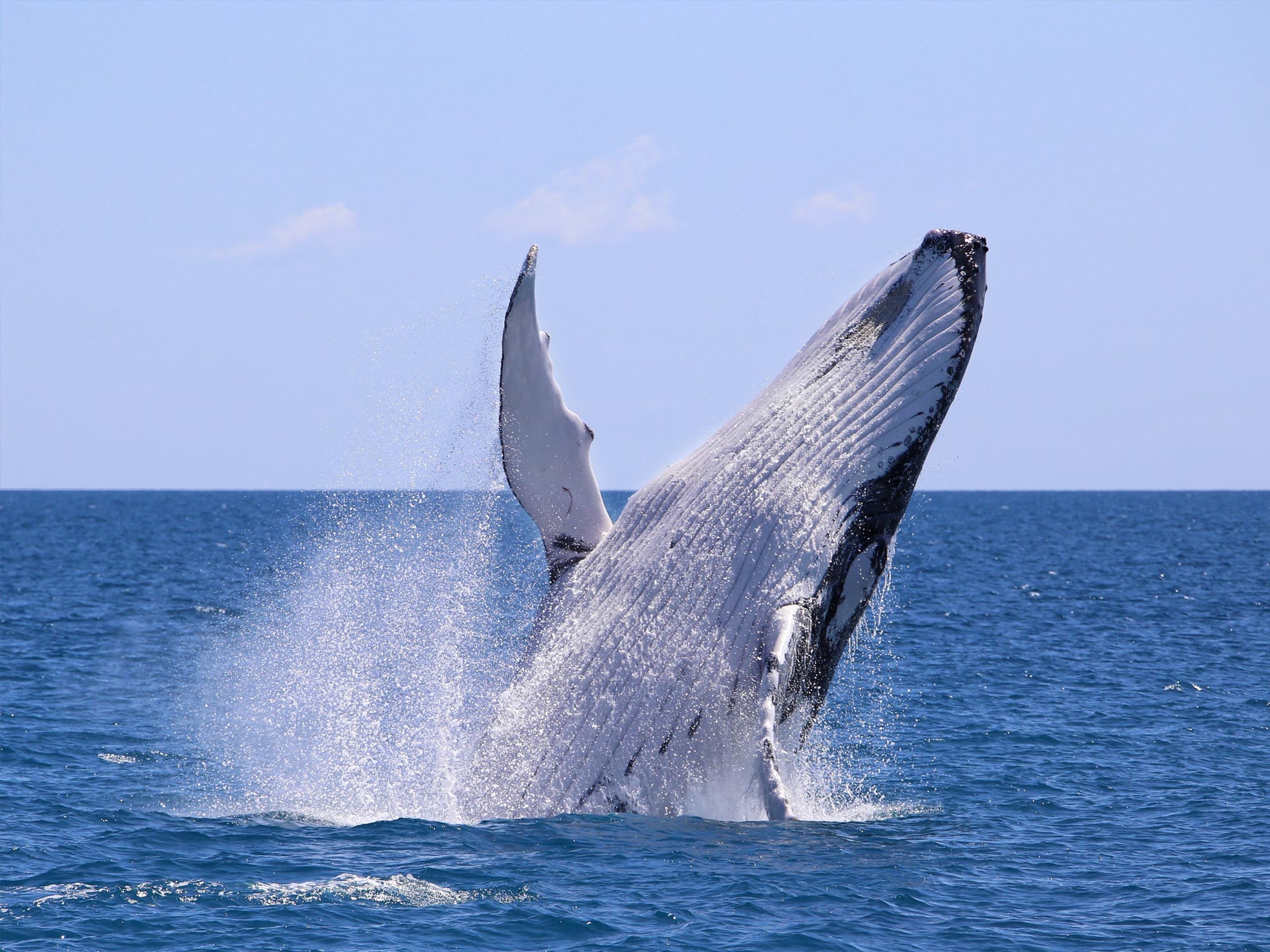 In migration season, majestic humpback whales swing by South East Queensland on their 10,000km trek to the warm, tropical water up north. Get up close and personal between June and November with Tangalooma Whale Watching Cruises with expert commentary about these playful mammals.
Gold Coast, 1 hour south of Brisbane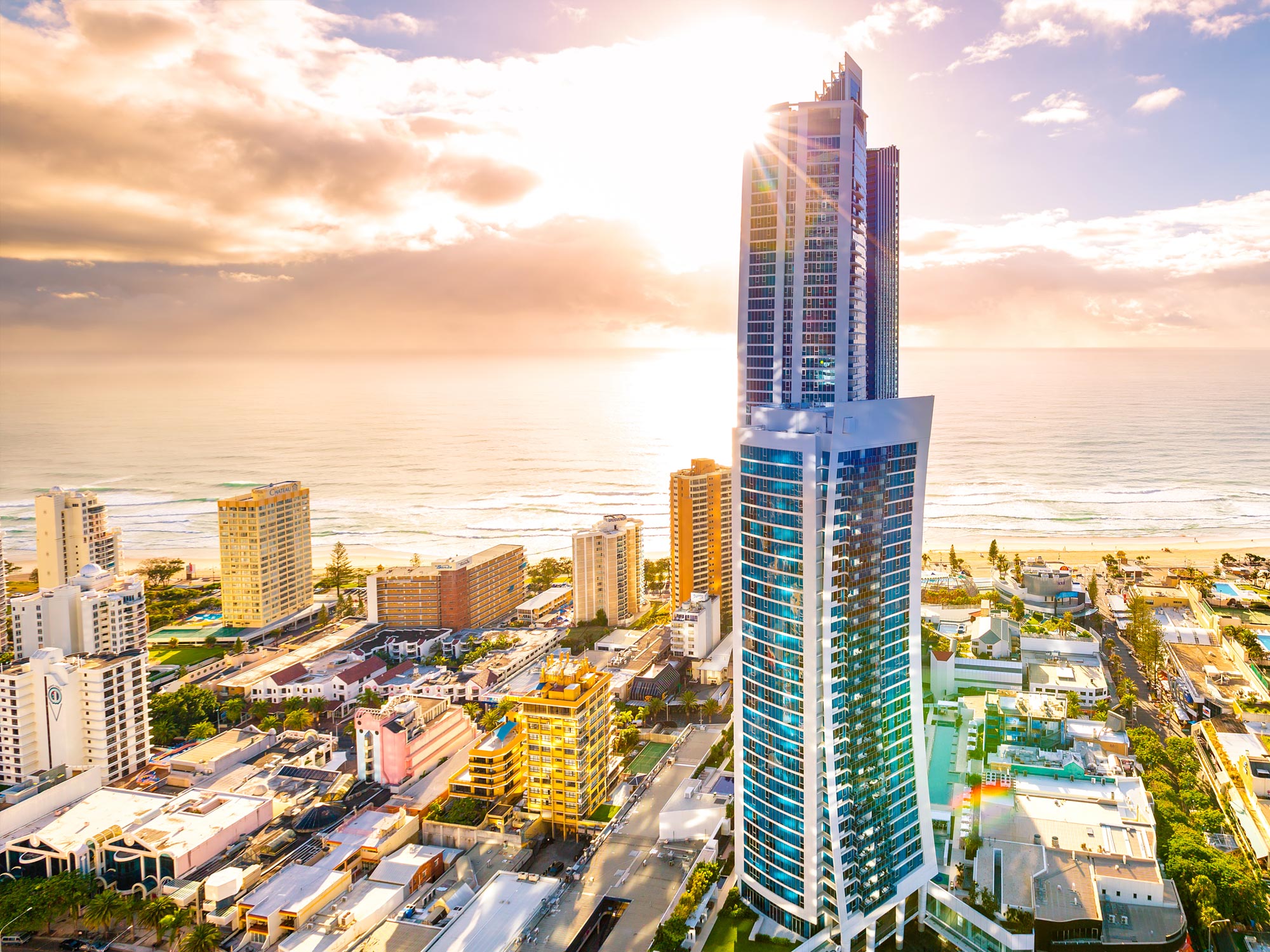 City by the beach
With over 52km of unbroken coastal line plus the lure of trendy dining options, fresh seafood and retail shops humming, one is always spoilt for choice in Gold Coast. By day, fun-seekers can beach-hop from Main Beach to Surfers Paradise and venture further south to Burleigh Heads and Currumbin where locals hang out. Dine by the beach with stunning sea views at a Surf Life Saving Club in the day, and end the day with trendy dining options in Mermaid Beach or Broadbeach. For some retail therapy, mark in your calendar to visit Harbour Town Outlet Shopping Centre for great outlet mall discounts or drop into Pacific Fair Shopping Centre for a day of domestic and international retail shopping.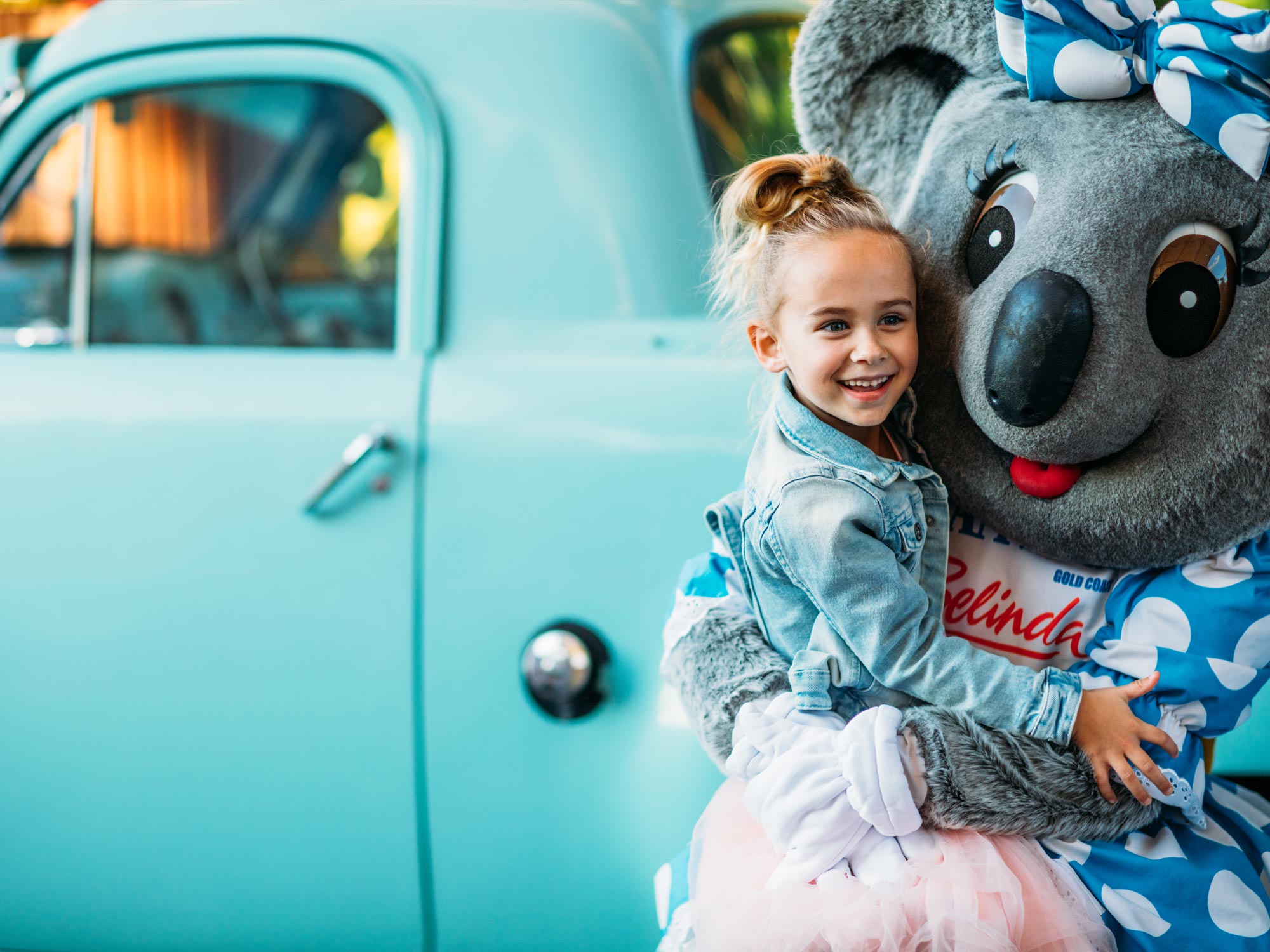 The theme parks of Gold Coast bring smiles to people of all ages and stages. With exhilarating rides, exotic animals and endless waterslides to help you cool off on hot summer days, your Gold Coast holiday offers a full spectrum of interactive entertainment. From conquering the BIG 9 rides in Dreamworld, or taking on Warner Bros. Movie World longest, fastest, tallest DC Rival hypercoaster in the southern hemisphere or getting a kiss from a seal in Sea World – we recommend that you visit at least 1 theme park.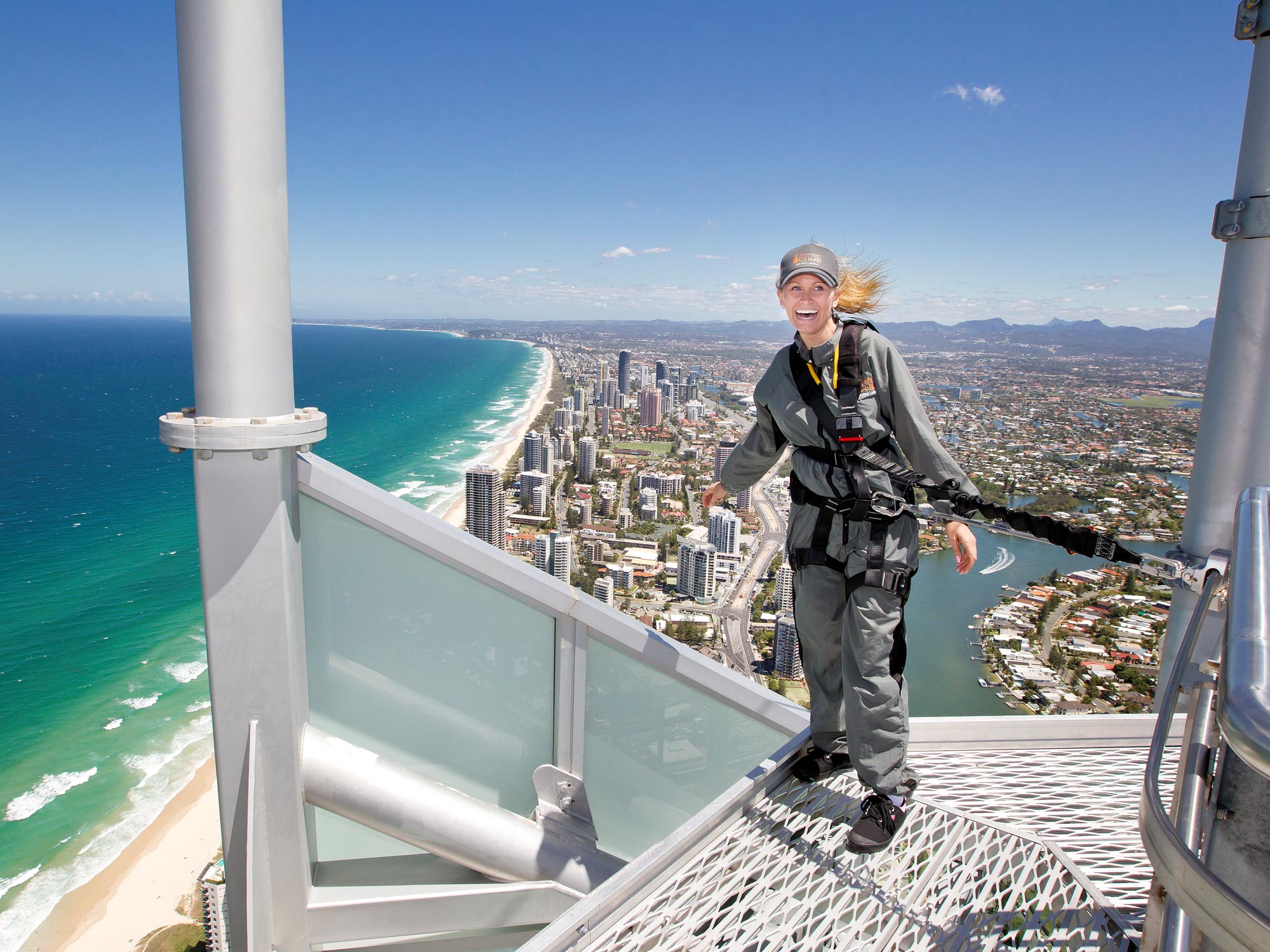 SkyPoint Climb is a must-do Gold Coast adventure, lasting 90 minutes from the beginning to the end and featuring an awe-inspiring, open-air adventure atop one of Queensland's most recognised land marks – the iconic Q1 Resort Building.
Rising 270m into the air, SkyPoint Climb is Australia's highest external building climb and provides unparalleled 360' views of the Gold Coast and beyond.
With morning, day and twilight climbs available it's time to take on the Gold Coast ultimate high altitude adventure.
Sunshine Coast, 1 hour north of Brisbane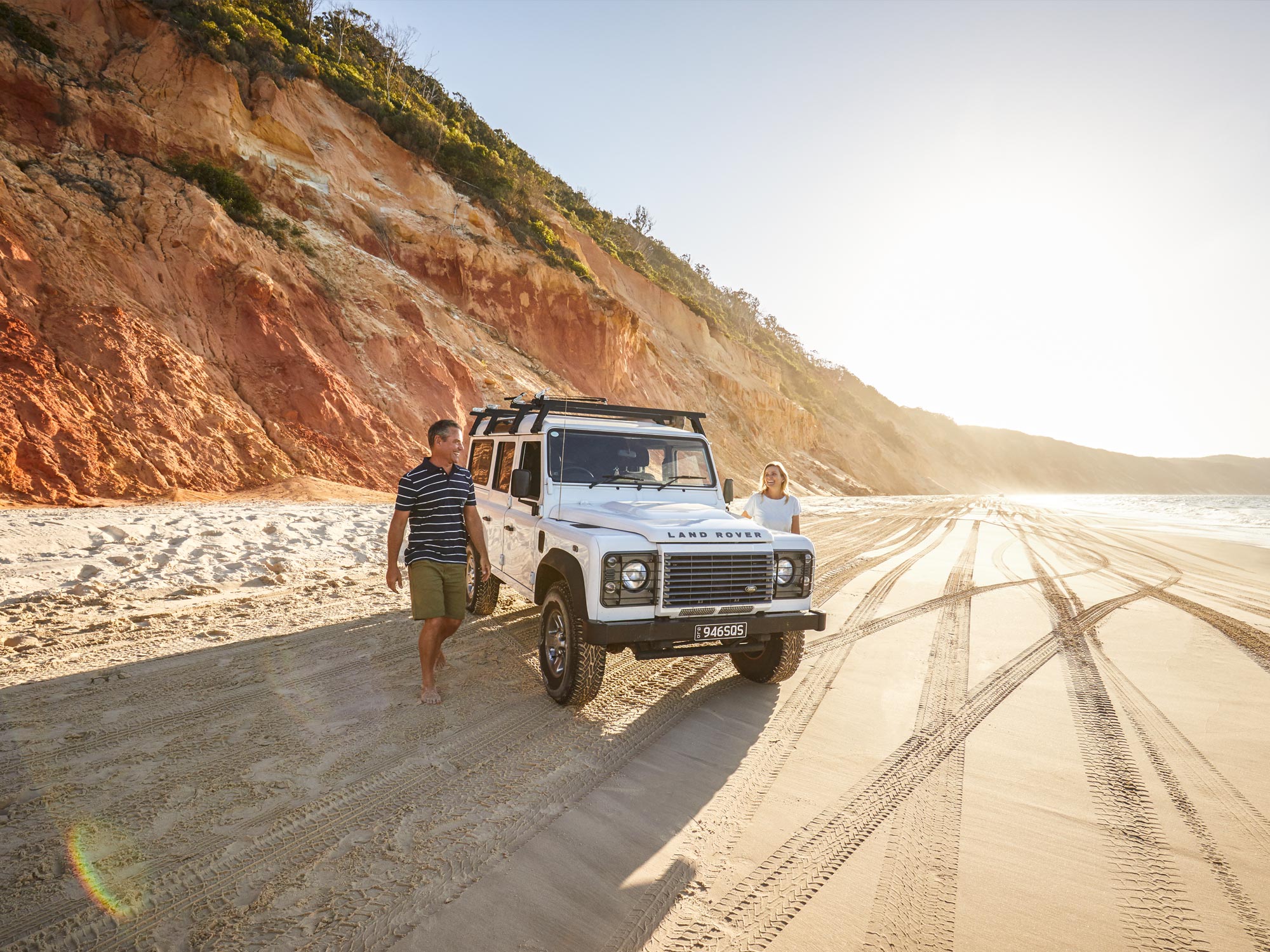 Sunshine Coast
Sunshine Coast offers a unique blend of relaxed beach lifestyle alongside lush subtropical rainforest. From the iconic Glass House Mountains just north of Brisbane to Noosa and the coloured sands of Rainbow Beach, the region is popular for hiking, surfing, fresh local food and world-class events.
Noosa Farmers Market and Eumundi Market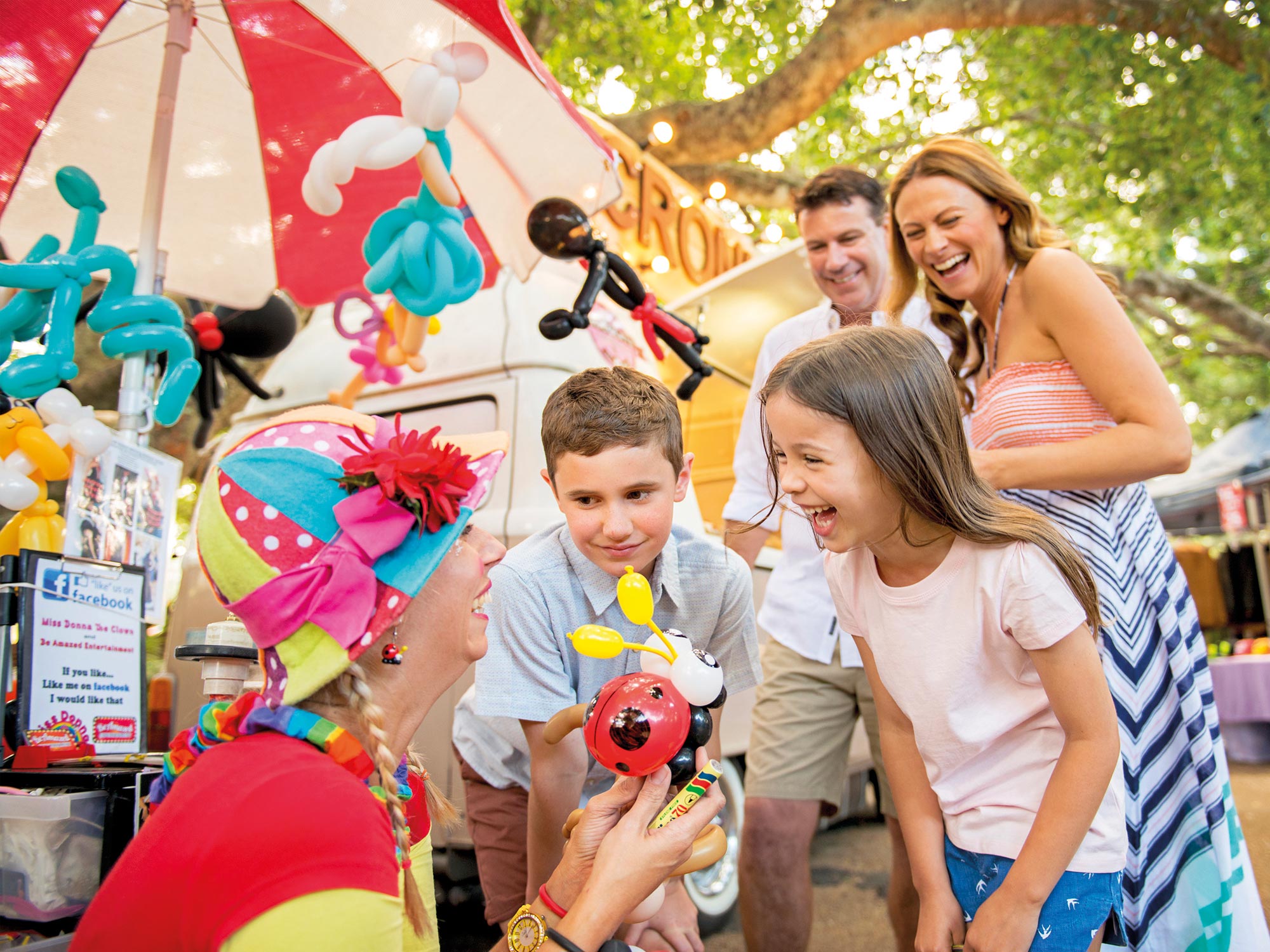 Whether you are looking for fresh local produce or local art and craft, these are the 2 markets on the Coast that you should be looking out for. Noosa Farmers Market is a great place to buy fresh seasonal specialities from local producers and hang out on with locals on a Sunday morning. The colourful Eumundi Market which opens every Wednesday and Sunday morning is one Australia's largest market where you will find original artwork, handmade jewellery from independent craftsman.
World famous Australia Zoo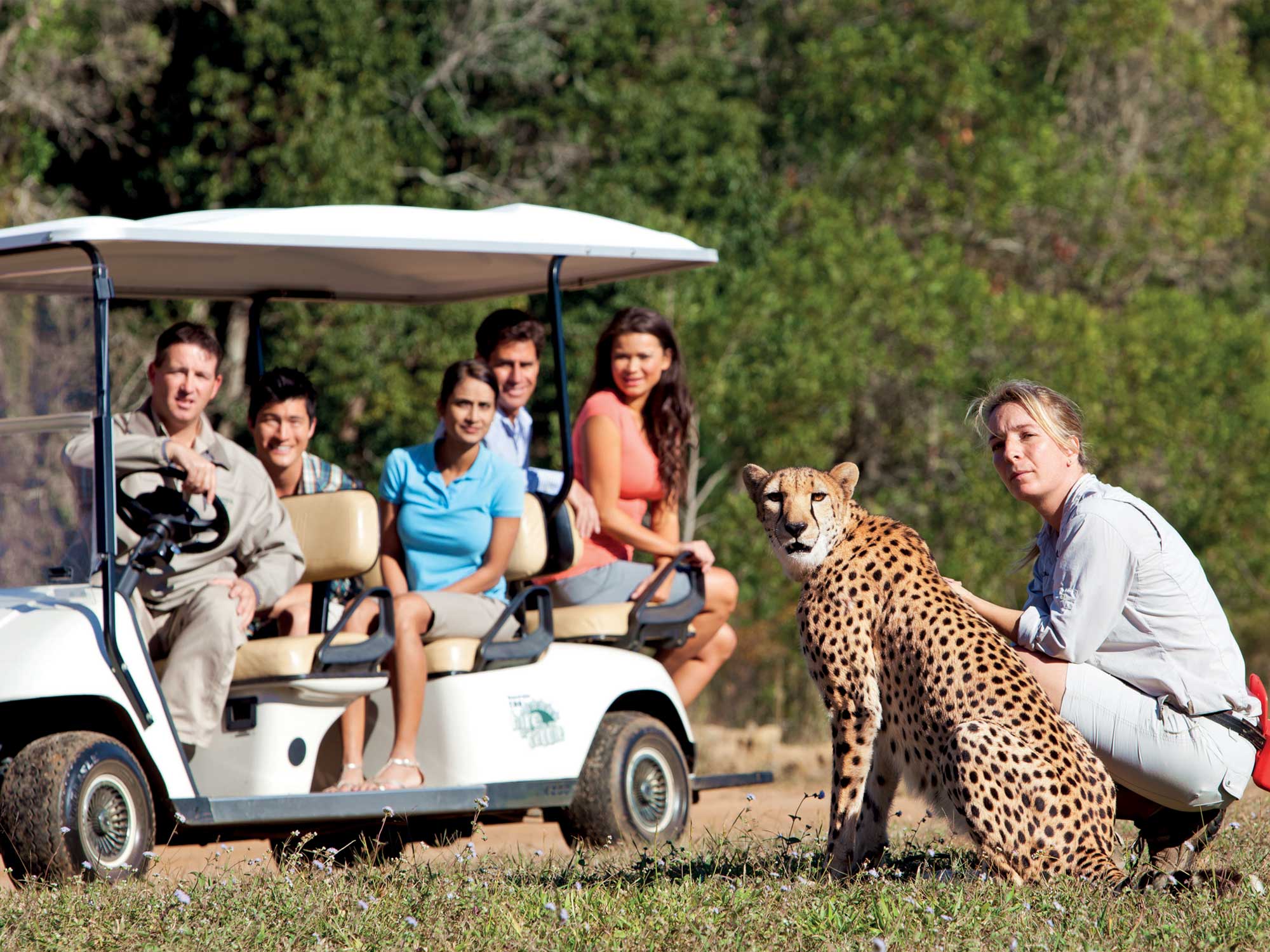 Go wild at crocodile hunter Steve Irwin's legacy zoo. Notable highlights include the magnificent Bengal tigers, African rhino and shows at The Crocoseum where stealthy crocs display some jaw-snapping action!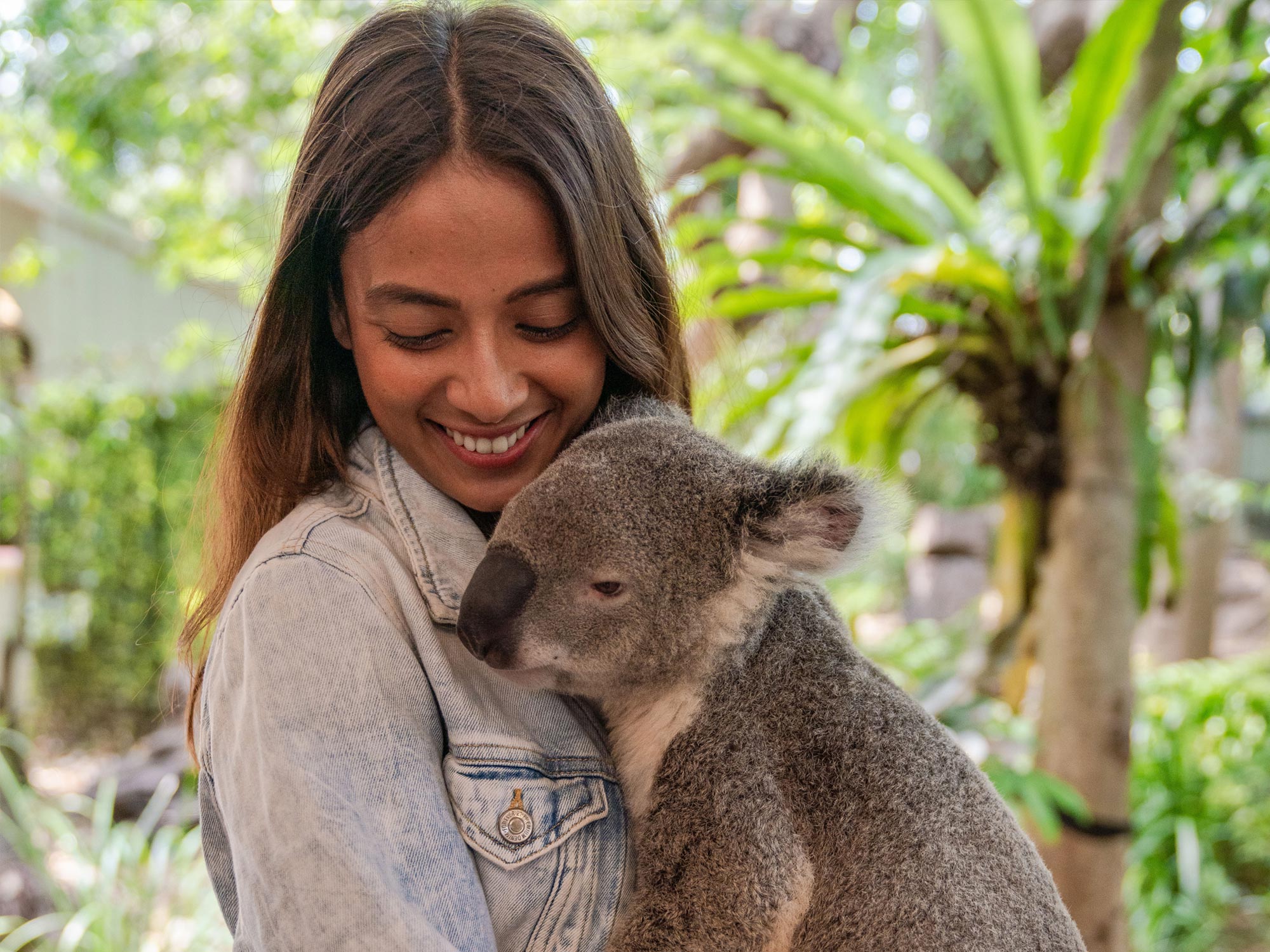 Recognised by the Guinness Book of World Records, Lone Pine Koala Sanctuary is the world's first and largest koala sanctuary, with over 90 years of experience and 130 koalas.
Interact with 100 species of Australian animals, with hands-on experiences and presentations. Hand-feed kangaroos and wild lorikeets, or hold a koala. Lone Pine is also home to two platypus, residing in a AUD1 million exhibit, who will entertain you with their playful antics.
Unwind with a coffee in the 'Koala Forest', surrounded by 30 koalas, or catch the action in the Free Flight Raptor Show. You can also enjoy an Australian outback farm experience at the daily Sheepdog Show, performed by experienced and award-winning sheepdog handlers and their loyal dogs.