Enjoy up to 15% off fares

Get up to 15% savings when booking for flights with Malaysia Airlines departing from New Delhi, Mumbai, Bengaluru, Hyderabad and Chennai.
Booking period: now until 31 Oct 2018 
Travel period: now until 31 Mar 2019 
Coupon code: AMEX2018
STEP 1: On our booking widget, choose at least 1 passenger.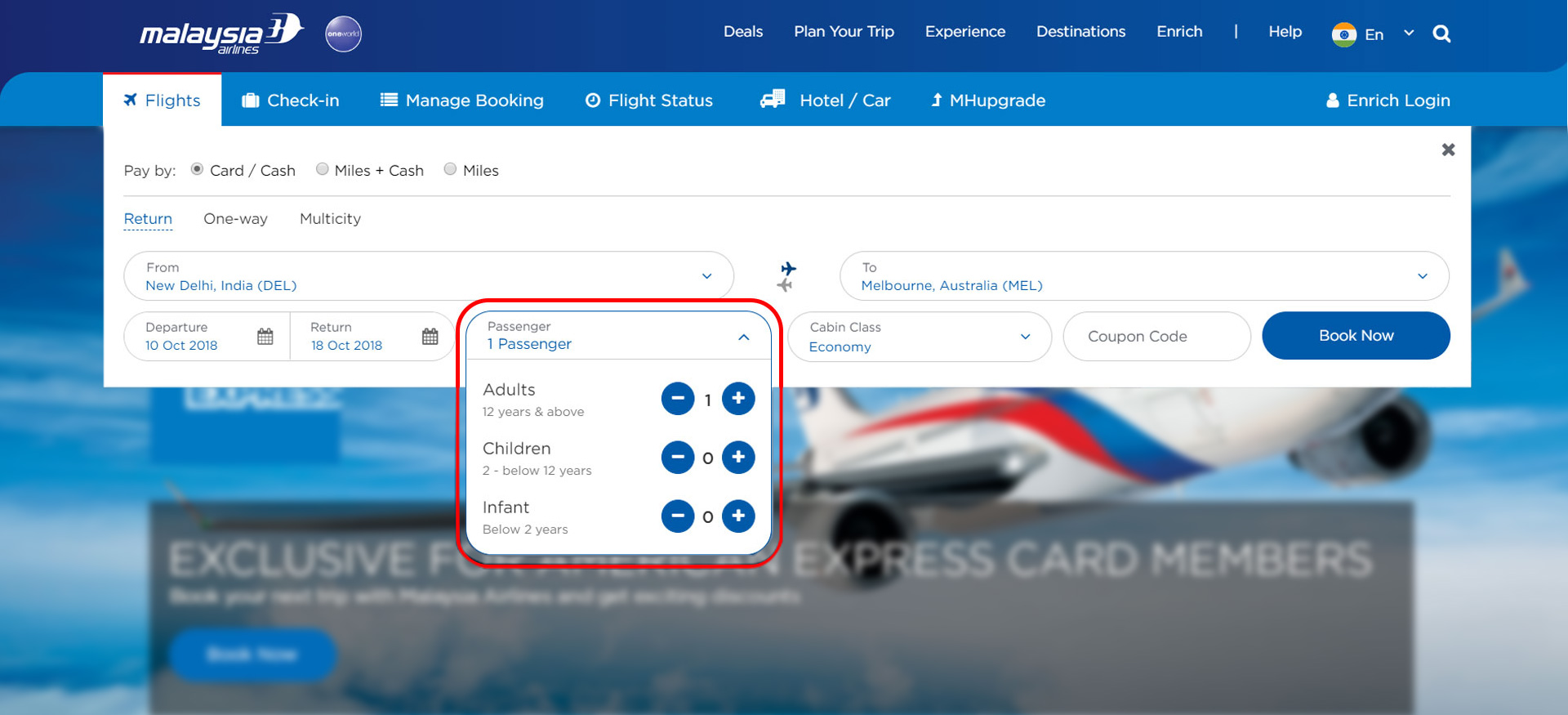 STEP 2: Choose Economy or Business Class as your cabin class.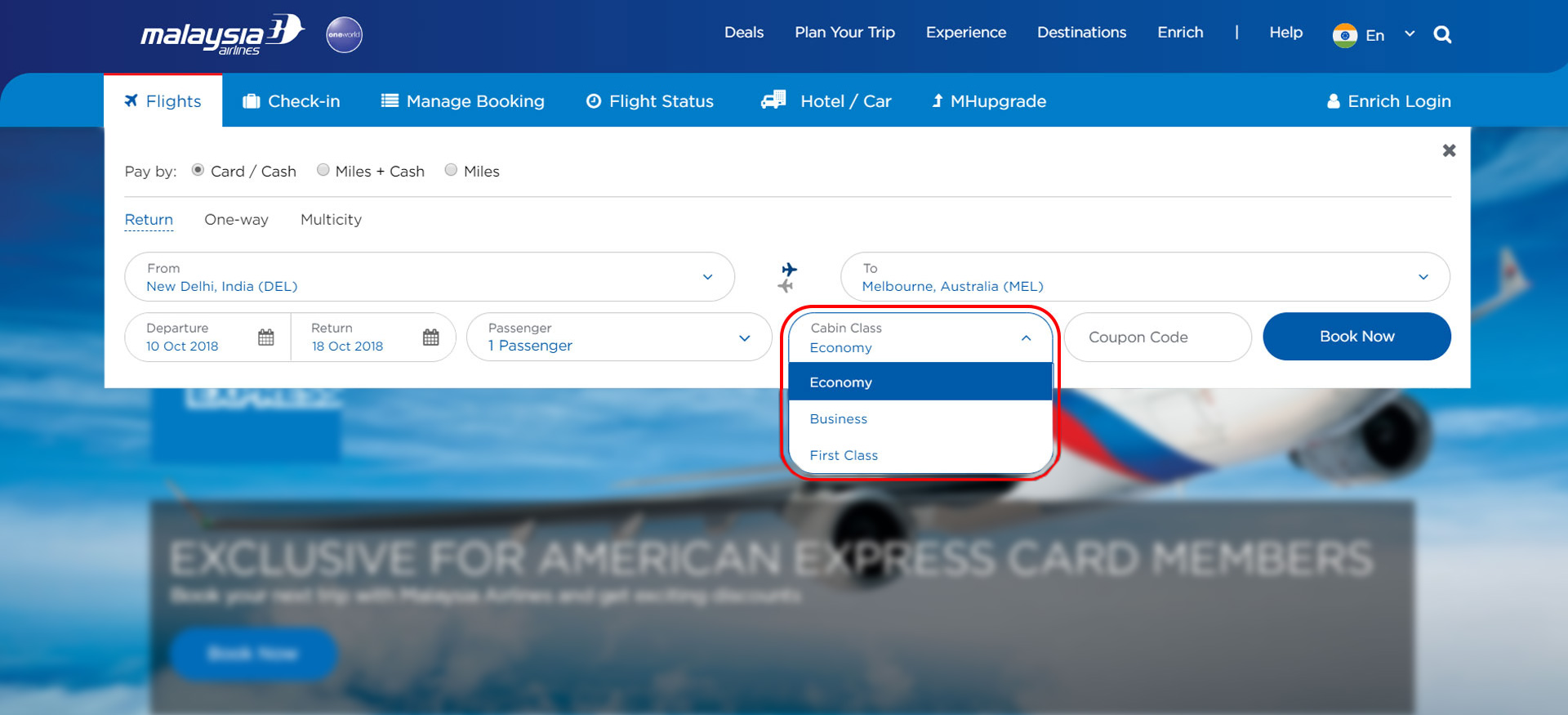 STEP 3: Enter AMEX2018 in the coupon code field (case sensitive).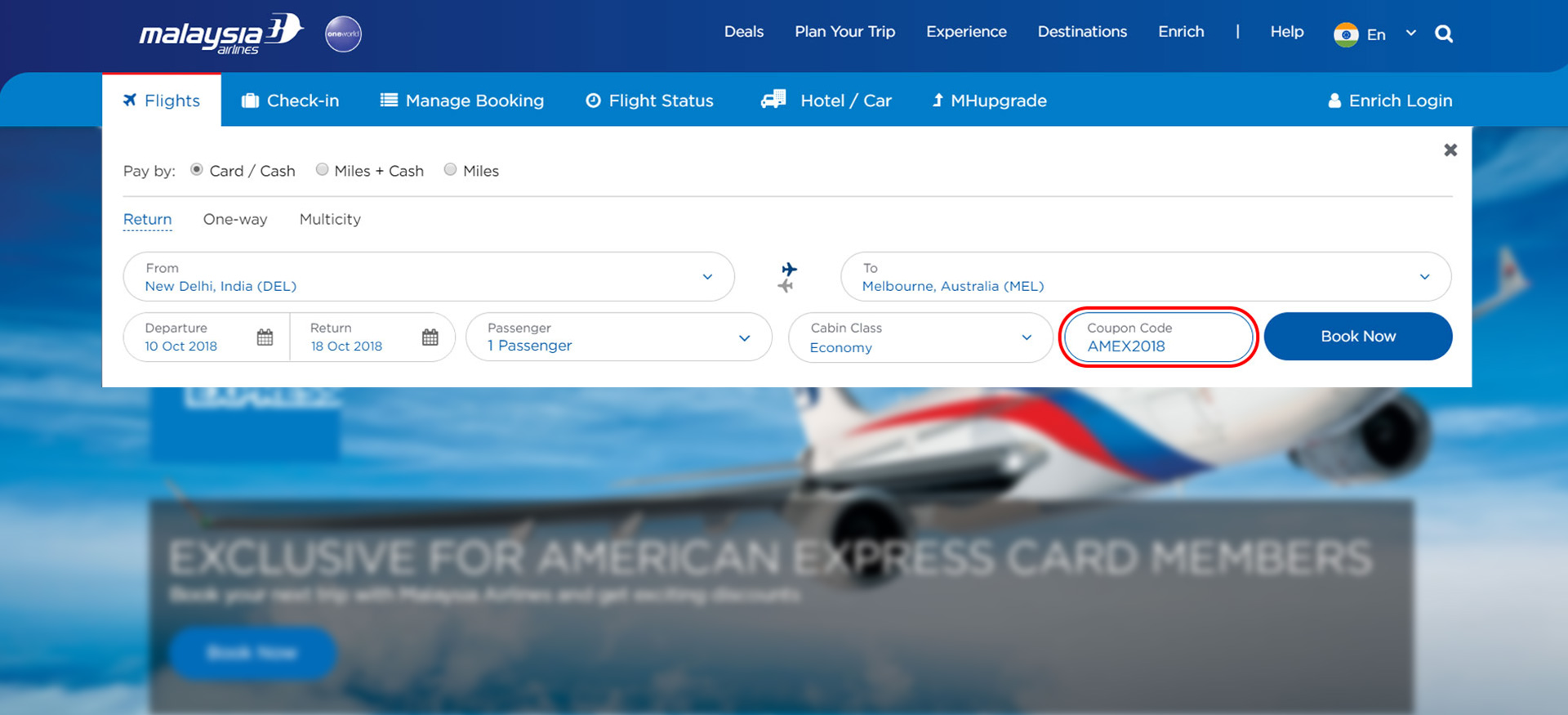 American Express - Terms and Conditions
This offer is open to all American Express Cardmembers whose accounts are valid and in good standing. An American Express Cardmember ("Cardmember") for the purpose of this Offer means a person holding a Card, issued either by American Express® or by the following licensed network partners in India: ICICI Bank and IndusInd Bank.
This offer is valid for Corporate Cardmember.
This program is being offered by the participating service establishment only and shall be valid for the period mentioned in the offer.
All the offers in this program will be fulfilled at the merchants' end only.
This offer is being made purely on a "best effort" basis. Cardmembers are not bound in any manner to participate in this offer and any such participation is purely voluntary.
American Express is neither responsible for availability of services nor guarantees the quality of the goods/services and is not liable for any defect or deficiency of goods or services so obtained/availed of by the Cardmembers under this offer. Any disputes with regard to the quality of goods/services availed shall be taken up with the merchant/service establishment directly. American Express shall have no liability whatsoever with regard to the same.
American Express shall not be liable whatsoever for any loss/damage/claims that may arise out of use or non-use of any goods or services availed by Cardmember under this offer. American Express reserves its absolute right to withdraw and/or alter any of the terms and conditions of the offer at any time without prior notice.
Nothing expressed or implied in the program shall in any way waive or amend any of the terms and conditions of the existing Cardmember agreement with the Card issuer.
To receive this offer, purchase should be charged in full to the American Express Card. No cash alternative is available.
Any disputes arising out of and in connection with this program shall be subject to the exclusive jurisdiction of the courts in the state of Delhi only.
Terms and conditions of the partner apply. 
 Malaysia Airlines – Merchant Offer Terms and Conditions
The offer is valid for fares purchased from now until 31 Oct 2018 (inclusive) for travel to be completed by 31 Mar 2019.
 Get up to 15% savings when booking a flight with Malaysia Airlines.  
Business Flex

Business Smart

Economy Flex

Economy Smart

Economy Promo

J – 0%
C – 10%
D – 15%

Z – 15%

Y – 0%
B, H – 5%

K, M, L, V – 10%

S, N – 15%
Q, O – 0%
The offer is valid on selected Economy Promo, Economy Smart, Economy Flex, Business Smart and Business Flex fares. 
The offer is valid on B/H/K/M/L/V/S/N fare classes in Economy and C/D/Z fare classes in Business Cabins.
Payment must be made with an American Express Card and Card member must be part of the travelling party.
Offer is valid on One-way and Return trip fares only and does not apply to Multicity destinations/Stopover bookings.
The offer is valid for flights departing from New Delhi, Mumbai, Bengaluru, Hyderabad and Chennai.
The offer is valid for flights that are sold by Malaysia Airlines and operated by Malaysia Airlines or their codeshare partners.
To be eligible for the Offer, booking must be made through Malaysia Airlines 

website at

www.malaysiaairlines.com/in

.

The offer is valid on using Coupon Code – AMEX2018.

The discount applies to the base fare and excludes optional charges such as taxes, service fees, date change fees and cancellation fees.
Changes and cancellations are subject to charges and fees as per published fare rules.
The offer cannot be used in conjunction with any other promotions.
Flights and fare types are subject to availability at the time of booking.
Refund/Cancellation/Changes are as per normal ticketing terms & conditions.
Fulfilment of this offer is the sole responsibility of Malaysia Airlines.
For queries pertaining to the offer, please contact Malaysia Airlines Customer Service at 1800 102 7778.
Queries pertaining to the offer will not be entertained post 30 days from offer end date.