Browser outdated: Flight search is not supported in IE version 10 or lesser. Please visit malaysiaairlines.com with supported browser.

Browser update: Please use Microsoft edge for better experience.
Flight search is not supported in IE version 10 or lesser. Please visit malaysiaairlines.com with supported browser.
Please use Microsoft edge for better experience.
Cabin baggage is baggage that is carried and stowed in the cabin under the passengers control and custody. It is commonly referred to as hand baggage, carry-on baggage or unchecked baggage.

Customers with a seat are entitled to:
| | | |
| --- | --- | --- |
| Class of Travel | No. of Pieces Allowed | Max. Weight |
| Economy Class (EYCL) | One piece | 7 kg (15 lbs.) |
| Business Class (BSCL) | Two pieces | Total of 14 kg (Total of 31 lbs.) |
| Business Suite, First Class or equivalent (FRCL) | Two pieces | Total of 14 kg (Total of 31 lbs.) |
Dimension

Height
Length
Width

Total

All Aircrafts Type

56 cm
(22 in)
36 cm
(14 in)

23 cm
(09 in)

155 cm
(45 in)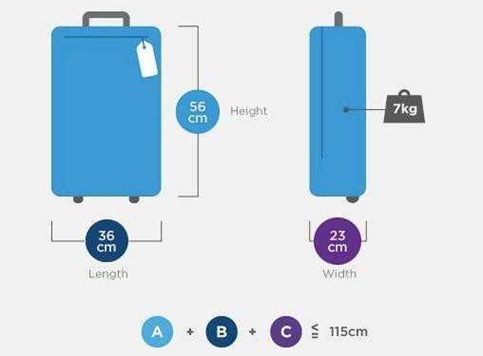 >
Note: The cabin baggage allowance for Enrich Platinum and Gold/ one world Emerald and Sapphire members remains as per their ticketed class of travel. The additional free baggage allowance applies to the checked baggage only.
In addition to the free cabin baggage allowance, the passenger may carry ONE of these personal items below free of charge (either option A, B or C) and all the combined items (as a total) must be within the maximum weight of the cabin baggage allowance stated in the table above with respective travel classes:
A. Either one of the following:
One (1) briefcase,
One (1) handbag (male/female),
One (1) notebook or a laptop computer bag, OR
One (1) small camera bag.
B. For a passenger travelling with an infant, in any case, are permitted to bring ONE of the followings at no charge in addition to the personal items as mentioned in item A:
An infant amenities bag (containing infant food for consumption on board and nappies during flight) not more than 5 kg,
Small infant carrycot, OR
Cabin size fully collapsible lightweight baby stroller.
C. Other items allowed at no charge are as follows:
One (1) duty-free shopping bag for goods purchased at the airport on the day of your flight.
A pair of crutches or walking stick, OR One (1) overcoat
Controlled and Banned Items
Bringing liquids, aerosols and gels in Cabin Baggage

All forms of liquid should be carried in containers with a capacity not greater than 100ml, or the equivalent in other volumetric measurements. See below for details.
Containers should be placed in a transparent, re-sealable plastic bag of a maximum capacity of one litre. See samples below:
The plastic bag should be presented for x-ray screening separately from other cabin baggage to facilitate screening process and avoid cluttered x-ray image. Each passenger is allowed to carry one transparent, re-sealable plastic bag.
Exempted Items

Exemptions are only for medications/medicines, baby milk/foods, and special dietary requirements needed during the flight. Airport security will ask passengers carrying medicines or special dietary requirements for letters from doctors, clinics, hospitals or prescription for verification purposes. Baby milk/foods carried by passengers with a child below the age of seven will also be exempted.
LAG purchased by passengers on the day of journey at Airport Duty Free Shops or on-board aircraft is also exempted but the items must be packed in a sealed plastic bag that is both tamper-evident and displays satisfactory proof of purchase.
Insulated Packages Containing Refrigerated Liquid Nitrogen

Liquid nitrogen dry shipper carrying human embryo samples is permitted as checked or carry-on baggage with the approval of AVMED.
Perishables Packages Containing Carbon Dioxide, Solid (Dry Ice)

Per passenger, and in carry-on baggage only, solid carbon dioxide (dry ice) shall not exceed 2.5 kg (5 Ib) when used to pack perishables that are not subject to DGR in their carry-on baggage.

Passenger is required to declare when carrying solid carbon dioxide (dry ice) as hand-carry/cabin baggage/carry-on baggage upon booking/check-in.
MH does not permit seafood to be checked-in. Fresh and/or frozen seafood may be accepted as cabin baggage only, subject to the destination's quarantine regulations and provided that such items are properly packed (usage of crush ice is not permitted) and meets the cabin baggage weight and size requirements.